Young family swap London for Lambton Park life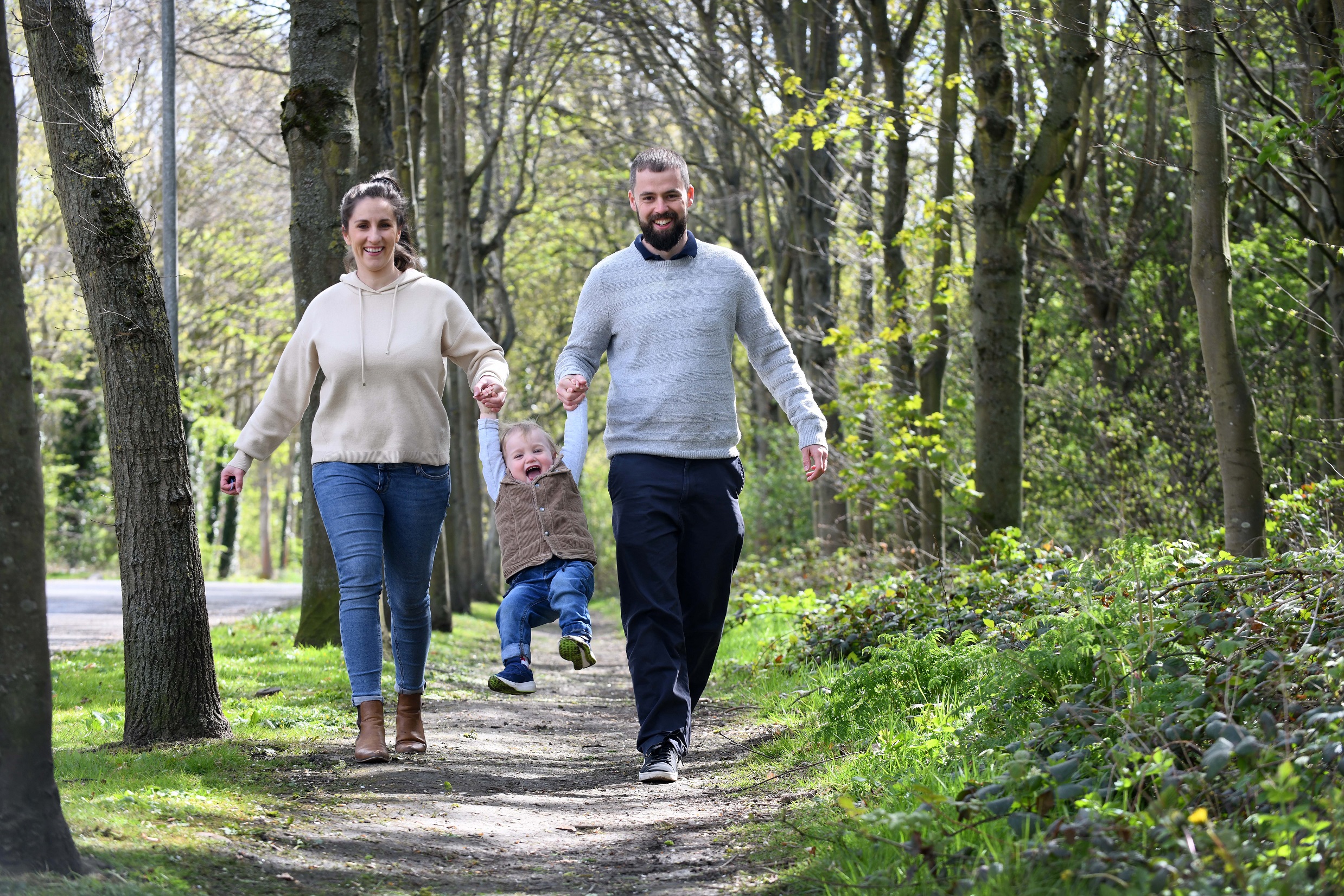 A young family have found a new life in the country, swapping their one-bedroom flat in London for a five-bedroom home with its own estate and castle right on the doorstep.
Keiran and Sarah were Londoners for many years but the arrival of their son Freddie who is now 18 months old meant they'd outgrown their flat in Hammersmith, so the trio were ready for change.
When the Coronavirus pandemic hit they decided to relocate back to their North East roots to be closer to family, and settle into a family home of their own.
Keiran and Sarah fell in love with Miller Homes' Lambton Park development, which offered everything their life in London didn't. Plus, it gave them an opportunity to live in a larger property and save money, as the mortgage on their new five-bedroom home is considerably less than the rent they were paying for their one-bedroom London flat.
Keiran said: "First impressions of the development were amazing. The build quality and the look of the homes stood head and shoulders above all of the other developments we'd visited. We fell in love with the place the moment we saw it and knew we had to live there."
Located within the iconic Lambton Estate near Chester-le-Street, the development is surrounded by over 1,000 acres of private woodland and parkland. The family love the walking trails that homeowners can enjoy every day, taking in views of the Estate's castle (Lambton Castle), wildlife and beautiful landscapes.
They moved into The Aspen house style in November, after five months of living with Sarah's parents while they searched for their dream home and saved the rest of their deposit.
The new homes have all been designed in keeping with the heritage of Lambton Estate and other buildings found on the Estate, by renowned architect and interior designer Ben Pentreath. Unlike traditional new build homes, they have unique features from Victorian style sash windows to red brick detailing, which materials sourced from around the world.
Keiran added: "After living in London for so long the peace and quiet we have now living at Lambton Park is so refreshing. We go on walks all the time and Freddie loves listening to the birds, which we didn't have in London. From when we first moved in it just felt like home, which is an amazing feeling.
"I'm a director at an Ecomm furniture retailer and the pandemic inspired us to take our business entirely online with a fully remote working model, so this freed us up to head back home to the North East. I'm lucky to have my own office in our new home and for when I need to be in London for the occasional meeting, Durham and Newcastle train stations are so easy to get to. We've definitely got the best of both worlds, feeling so remote yet close to everything we need.
"I must say the Miller Homes team were really great during the whole process, from our first visit and even now, checking that we're happy with our home and doing everything they can to give us a top class experience. We couldn't recommend Miller and Lambton Park anymore. It's a fantastic place to live."
Lambton Park was awarded silver at the 2020 WhatHouse Awards for 'best development' and bronze for 'best exterior design'. Miller Homes also picked up silver for 'best large housebuilder of the year'.
The development currently offers three to five-bedroom homes and two-bedroom apartments. A five-bedroom show home and two-bedroom show apartment are available for viewings. To book an appointment, visit www.millerhomes.co.uk/new-homes/north-east/lambton-park-lambton-park.aspx or call 03301 629 844.
Be first to know! Register or login now so you don't miss out on priority email alerts, exclusive offers and more!
Save your amazing homes and developments

Use our app to help find your new home

Exclusive alerts about new homes and offers

Plus, pre-reserve your new home online