David is Miller Homes' Safety, Healthy and Environment Champion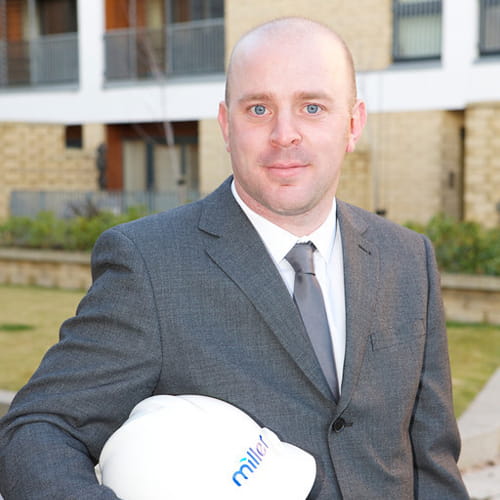 Miller Homes site manager, David Mathie, is celebrating after winning the top accolade in the house builder's inaugural Safety, Health and Environment Awards.
David, site manager at Dalmore Mill in Penicuik near Edinburgh, was named 'Best in Company' for his hard work and dedication in driving home the safety, health and environment message on site.
The judges were specifically impressed with the organisation and standards implemented by David on a very challenging site, which features a number of complex issues and upwards of 40 operatives on site and 28 properties under construction at the time of judging.
Other factors recognised included liaison with SEPA and the implementation of measures to prevent contamination of water courses, rewards for co-operation and engagement for all those involved in the development, management of public safety, use of gated access, excellent directional signage and controls for exiting the compound.
David commented: "I am absolutely delighted to receive this award. I really believe that high standards in safety, health and environment can make a significant difference to the smooth running of a site, particularly one like Dalmore Mill which presents many challenges from the outset, so to be recognised for the efforts made to deliver this is very rewarding."
Chris Endsor, Chief Executive of Miller Homes, said: "We introduced these awards to recognise those employees on site making a real commitment to driving standards in safety, health and environment and also to encourage all our employees to take a proactive approach to making the workplace a safer and healthier working environment.
"We have been extremely impressed with the efforts being made by our employees to continually raise safety, health and environment standards and David really stood out for the fantastic job he is doing on what is a very complex and challenging site. He has demonstrated great organisational skills and forward thinking to effectively manage the challenges presented as well as ensuring all those involved have played their part in supporting this."
All employees based on one of the company's developments were eligible to be involved in the awards and were assessed on a specific criteria designed to identify the best performing sites during a twelve month period from September 2011 to August 2012.
The assessment criteria included compliance with relevant Miller Homes standards, safety, health and environment site inspection reports, observed worker behaviour, accident statistics, positive indicators, management system compliance and completion of corrective actions within an agreed timescale as well as the implementation of any initiative or action which has made a significant, positive impact.
Awards were presented in three categories; Best in Region, Best in Area and Best in Company. Eight winners received Best in Region Awards, with three of those, including David, receiving Best in Area before being put forward for the Best in Company award.
David Bird, site manager for Aspect in High Wycombe, and Paul Young, site manager at Cleminson Halls in Cottingham, were also Best in Area winners and the other regional winners were John Kearns, Highfield Manor in East Kilbride; Richard Goacher, Dukes Mead in Bingham; Lee Howard, Mariner's Way in Seaham; Mark Atherton, Cartrefle in Wrexham; and Keir Jones, Limekiln View in Telford.
Be first to know! Register or login now so you don't miss out on priority email alerts, exclusive offers and more!
Save your amazing homes and developments

Use our app to help find your new home

Exclusive alerts about new homes and offers

Plus, pre-reserve your new home online