Little Library created for Paisley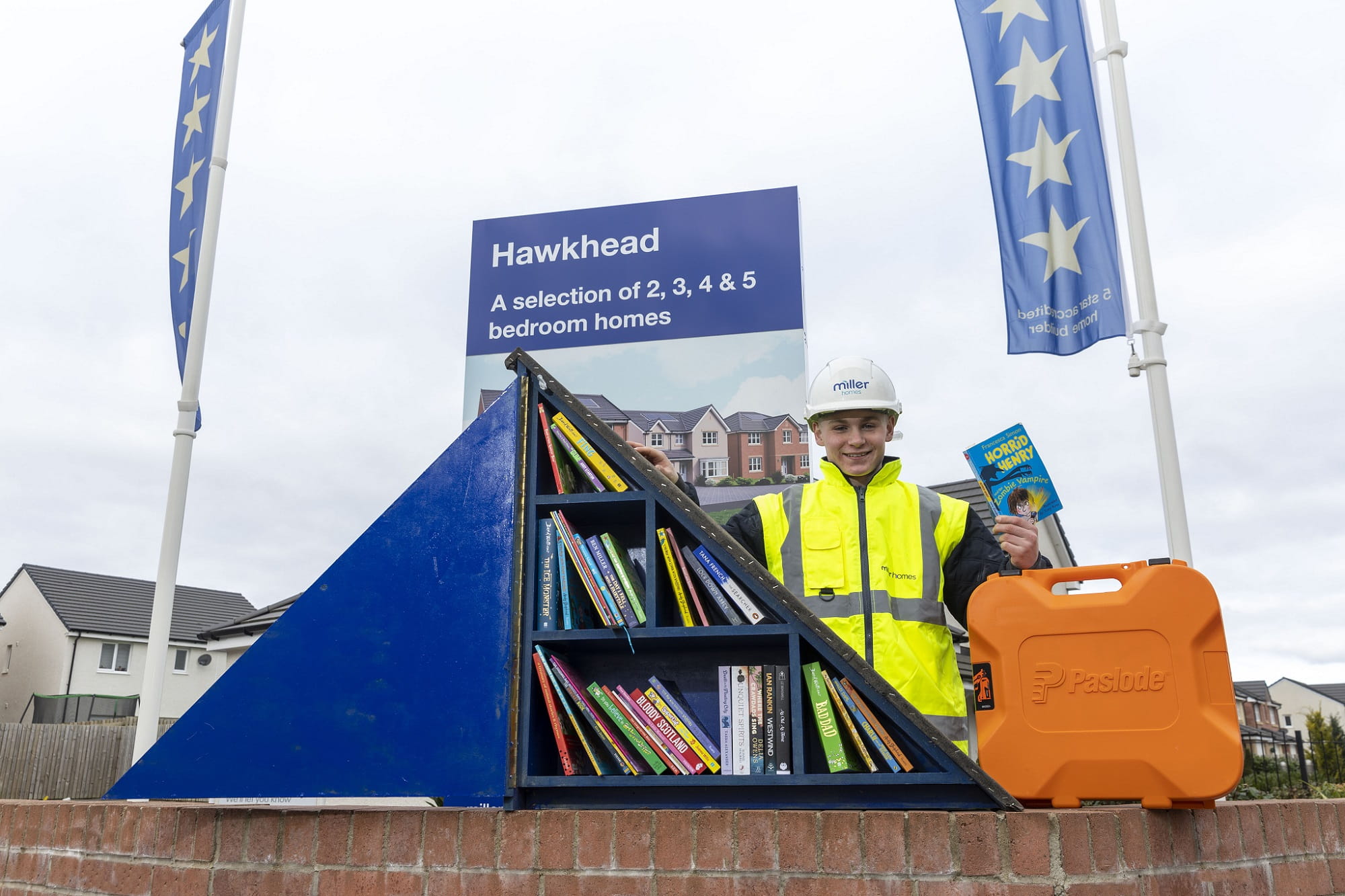 This Scottish Apprenticeship Week (6-10 March), Miller Homes unveils plans for a community Little Library at its Hawkhead development in Paisley.
The Little Library was created by Nathan Armour, a sub-contractor trainee at Martin and White joinery for Scotland West, who won a challenge set by the homebuilder to develop a concept for the local community to enjoy.
Nathan from Kilmaurs, East Ayrshire was awarded the winning prize of a nail gun for his creation, which will be installed in the coming weeks and permanently located at Miller Homes' Hawkhead development on Hawkhead Road.
Nathan tells us about his design using a combination of surplus materials from the site and purchasing some items himself for the project. He said: "I'm thrilled to have won first place for my Little Library, and I'm excited to see it come to life. The design is in keeping with the Miller Homes' blue branding, and I've created it to look like a bookshelf snug you'd find under the stairs. We've filled the Little Library with children's books, including my favourite childhood book, Horrid Henry. I'm looking forward to local kids getting involved and enjoying the books we have on offer when installed."
Andrew McArthur, Operations Director for Miller Homes Scotland West, said: "Apprentices are the future of our business, and it's important for us to keep challenging and developing them, to help them progress in their chosen trade. We were impressed with the workmanship the trainees showcased through their Little Library creations. We had eight trainees take on the Little Library challenge all in their own time, making use of site materials and reusing them where possible to keep the libraries eco-friendly.
"Collaboration is a fundamental part of our business, and the Little Library project is a fantastic example of the combined efforts of our sales team, construction team and sub-contractors. It has been great to see the project develop from initial concept to completion.
"The result from Nathan means we can give something useful back to our local community in the coming weeks and warmly welcome residents at Hawkhead to borrow the books in our Little Library when it is installed."
For more information on Miller Homes, visit www.millerhomes.co.uk
Be first to know! Register or login now so you don't miss out on priority email alerts, exclusive offers and more!
Save your amazing homes and developments

Use our app to help find your new home

Exclusive alerts about new homes and offers

Plus, pre-reserve your new home online