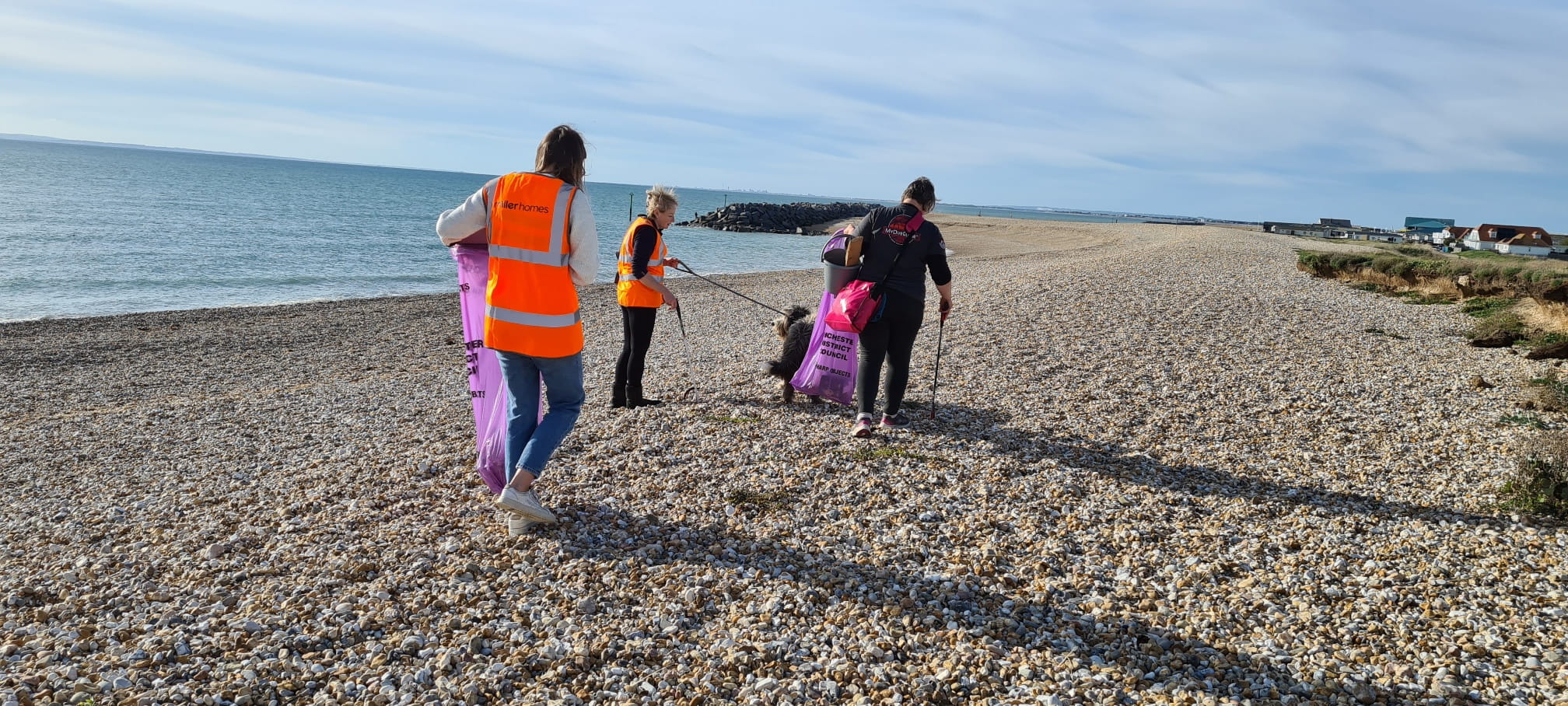 As environmental concerns and keeping our oceans and beaches rubbish-free are at the forefront of all our minds, staff at Miller Homes have been doing their bit to clean up a Sussex beach.
A team of willing volunteers from the Minerva Heights development in Chichester descended on Windmill Beach in Selsey to litter pick, and remove any rubbish they could find from the sea and surrounding areas.
The beach cleans are organised monthly by Mulberry Marine Experiences which works with volunteers to walk along the shore or wade, snorkel or dive into the sea to clean up microplastics, discarded litter and tangled fishing lines. The finds are then recorded and weighed to help understand the main problems for the area and support their ecology and conservation work in the area.
Anya Frampton from Mulberry Marine Experiences said: "It is sadly inevitable that a large percentage of the rubbish we produce ends up in our seas and can travel far from the starting location as it is carried by winds and currents.
"We are passionate about caring for our seas and our beautiful beaches so it is greatly welcomed when we get help to do this. It was a pleasure to have the team from Miller Homes on board to accompany us on our recent beach clean and we hope others will be encouraged to join future beach cleans."
Katrina Crawford, Sales and Marketing Director for Miller Homes Southern, said: "With our Minerva Heights development being so close to the English coast the wellbeing of the nearby beaches and sea are at the forefront of our minds.
"It was wonderful our team was able to get involved with the Mulberry staff who are doing incredible work in the community to educate residents about Selsey's marine inhabitants and how to protect it for future generations."
Phase 4 of the Miller Homes Minerva Heights neighbourhood launched last month. The site is less than two miles away from Chichester city centre, Chichester Cathedral and the famous Chichester Festival Theatre. The five-and-a-half mile Centurion Way cycle path passes the southern edge of the development and connects with the South Coast Cycle Route for long-distance walking or cycling.
The Miller Homes @ Minerva Heights showhome is open daily between 10:30 to 17:30, with buyers also able to reserve a new home or book an appointment online.
For more information on the Minerva Heights development, visit here, or for further details on all Miller Homes' Southern developments, click here.
Be first to know! Register or login now so you don't miss out on priority email alerts, exclusive offers and more!
Save your amazing homes and developments

Use our app to help find your new home

Exclusive alerts about new homes and offers

Plus, pre-reserve your new home online