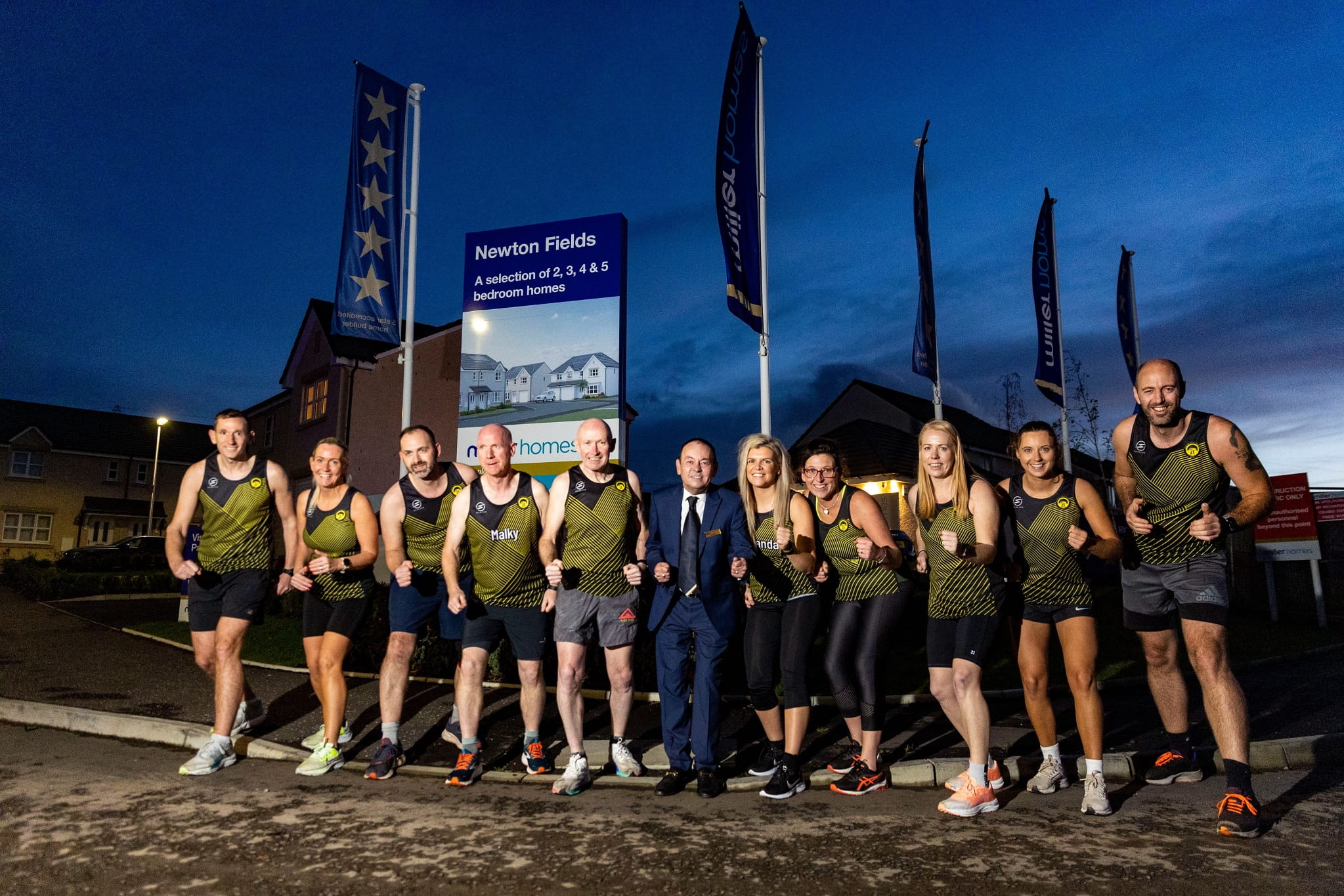 Miller Homes' Newton Fields development is spurring runners of Newton Road Runners on with a donation of £300 towards the fundraiser event in memory of former member Cat Gaskell, who sadly passed away last year.
The Newton running club is welcoming members of the wider public to come along to the 10k and 3k races on Saturday, 12 November, and get involved in helping raise vital funds to support mental health charities.
If running isn't for you, the club is also hosting a raffle at the Newton Arms to help boost donations.
Development Sales Manager of Newton Fields, Tommy Dunlop, met with Club President Joanne Thorburn and other club members in Cambuslang to hand over the donation and hear more about the fundraiser.
Joanne Thorburn, Club President of Newton Road Runners, thanked Miller Homes for its generosity: "The club is delighted with the kind donation from Miller Homes, who has given us a head start on our fundraising efforts. Cat was a much-loved member of Newton Road Runners, and we are honoured to be celebrating the fantastic runner she was."
Louise Caldwell, Sales Director for Miller Homes Scotland West, said: "Community fundraisers are a great way to bring everyone together and raise vital funds for those in need. It's been a pleasure to do our part in supporting the Newton Road Runners' event in memory of Cat, and we'd encourage members of the wider community in Cambuslang to get involved."
For more information on the event timings and how to get involved visit www.entrycentral.com/newtonroadraces.
Be first to know! Register or login now so you don't miss out on priority email alerts, exclusive offers and more!
Save your amazing homes and developments

Use our app to help find your new home

Exclusive alerts about new homes and offers

Plus, pre-reserve your new home online