Tim takes on marathon challenge for Habitat for Humanity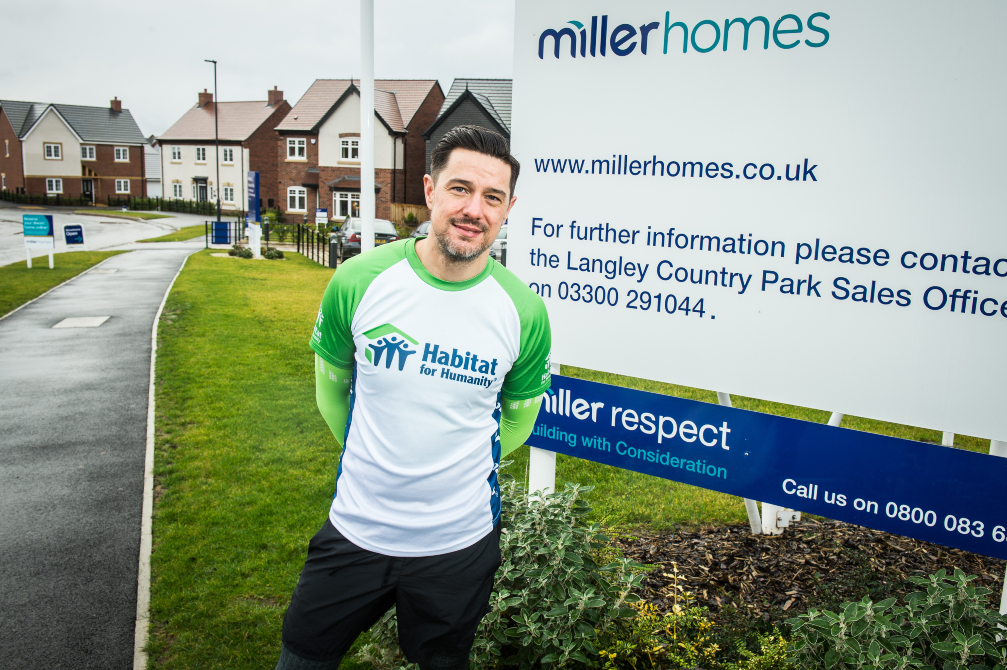 Miller Homes Group Head of Design, Tim Hartwell, is embarking on a marathon challenge to support global housing charity, Habitat for Humanity GB, after being selected to run the Virgin London Marathon on the charity's behalf in 2020.
Thirty-six year old Tim, from Ripley in Derbyshire, put himself forward for the challenge after hearing about his colleagues' experiences during their Habitat for Humanity Global Village Trips to Malawi earlier this year.
Tim explains: "Miller Homes has been supporting Habitat for Humanity for a couple of years now and through that I've seen what amazing work they do to support some of the poorest and most vulnerable people in the world. Earlier this year some of my colleagues took part in a trip to Malawi with the charity to build homes for families in desperate need. The experiences they shared really hit home with me and I was keen to get involved.
"I have a young family of my own so am unable to take part in a trip like that at the moment. However putting myself forward to represent Habitat for Humanity in the London Marathon felt like a great opportunity to challenge myself and support a charity which is really close to my heart and those I work with."
Each year, Habitat for Humanity GB has one highly prized place in the Virgin London Marathon and supporters are invited to submit an application explaining why they deserve to be chosen to run and fundraise on the charity's behalf. Tim's desire to make a difference and his commitment to raise £3,000 rather than the minimum £2,000 made his application stand out.
Katie Chedgey, Corporate Partnerships Manager at Habitat for Humanity GB, said: "We are delighted that Tim will represent Habitat for Humanity GB at the Virgin London Marathon in 2020. Tim's commitment to our vision of a world where everyone has a safe place to live stood out in his application and we look forward to helping him with his fundraising and training plans."
Habitat for Humanity is a global development charity which works to help eliminate poverty housing and homelessness by giving hope to some of the most vulnerable people in the world. This not only includes providing them with a safe, decent place to call home but creating thriving communities which they can become part of.
Miller Homes has supported Habitat for Humanity Great Britain since 2016 and since then has built 10 Habitat homes in Malawi and raised over £300,000 for the charity.
Support Tim's fundraising efforts, https://uk.virginmoneygiving.com/TimHartwell
Be first to know! Register or login now so you don't miss out on priority email alerts, exclusive offers and more!
Save your amazing homes and developments

Use our app to help find your new home

Exclusive alerts about new homes and offers

Plus, pre-reserve your new home online