Miller Malawi Partnership Makes A Difference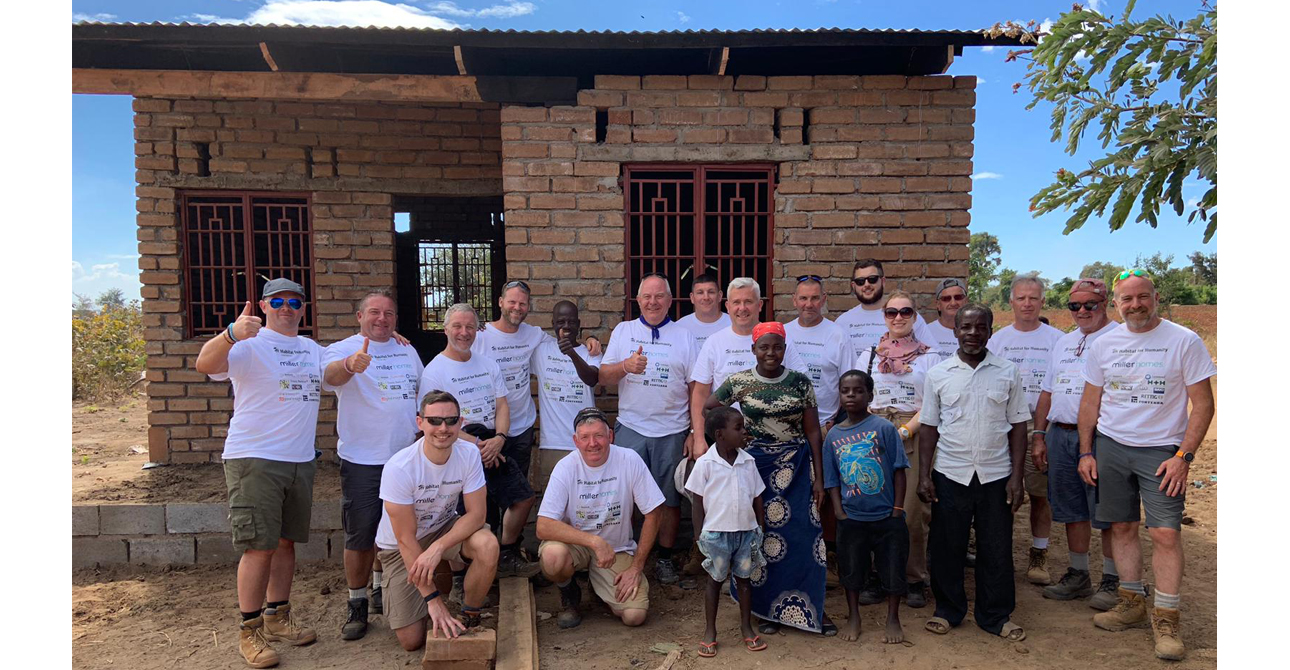 An initiative led by Miller Homes to help support some of the most vulnerable people in the world in conjunction with global housing charity Habitat for Humanity Great Britain, has resulted in the building of three Habitat homes in just over four days and over £50k raised to support the charity's WaSH (water, sanitation and hygiene) programme in Malawi.
The partnership, the first of its kind for both the homebuilding industry and Habitat for Humanity Great Britain, saw Miller Homes organise a global village trip to Malawi for senior members of its team accompanied by key partners and suppliers to build new homes for orphans and vulnerable children. The team also pledged to raise £30,000 to fund the construction of a new bridge in Chikwawa district which will allow for the construction of vital sanitation facilities serving Mazongoza Primary School.
Miller Homes Chief Executive, Chris Endsor; Procurement and Sustainability Director, Garry McDonald; and Production Director for Scotland, Andrew Fergusson; were joined on the global village trip in June by representatives from some of its national partners, including H+H UK, Ibtock Brick, Forterra Building Products Ltd, Tarmac Building Products, Baxi Heating, Rettig UK Ltd, Symphony Group, Travis Perkins, Egan Construction, D&S Joinery, Ideal Standard and the NHBC.
Garry McDonald said: "This was an amazing experience for all of us and I'm incredibly grateful to our partners for joining us on this trip. Their dedication and commitment was outstanding and it was a real team effort to ensure we achieved our goals by working together to make a difference. We are proud of the relationships we have built with our supply chain partners over the years; however being involved in a shared experience such as this, which is far removed from the corporate environment, has really consolidated that.
"Spending time with the families and understanding the enormous impact having a safe place to call home will have on their lives and prospects was a truly humbling experience for all of us and one we will never forget."
As well as helping one family with orphaned children, the team also provided homes for two families whose children have disabilities and therefore little prospects. However, these homes provide the entire family with a safe place to live, along with much needed security and hope for the future.
In addition to building the homes, the money raised by the team for the WaSH programme will provide funding for the necessary infrastructure to deploy a drilling rig to allow the programme to be implemented at Mazongoza Primary School. In addition to improved water, sanitation and hygiene at the school, the programme will have a long term broader impact for the entire village through increased access to services and income generating activities.
This was the second global village trip for Chris Endsor, who added: "I was privileged to be able to return to Malawi and once again witness first-hand the superb work Habitat for Humanity undertakes to improve the lives of some of the most disadvantaged people in the world. We are very proud of our relationship with Habitat for Humanity Great Britain and were delighted to be in a position to share this opportunity with our partners and raise greater awareness of the benefit the charity brings to those it helps. It was a fantastic experience and one which will have a lasting impact and everyone involved."
Miller Homes has supported Habitat for Humanity Great Britain since 2016 and since then has built 10 Habitat homes in Malawi and raised over £300,000 for the charity.
Tum Kazunga, Chief Executive of Habitat for Humanity Great Britain, commented: "Miller Homes has been a great supporter of our work over the last few years and has shown its commitment in a whole variety of ways. This latest trip was the first time we have ever worked with a homebuiler and their partners and it's been fantastic to see the benefit to the families they supported in Malawi and the wider community as well as the positive effect this will have on their working relationship for the future."
Be first to know! Register or login now so you don't miss out on priority email alerts, exclusive offers and more!
Save your amazing homes and developments

Use our app to help find your new home

Exclusive alerts about new homes and offers

Plus, pre-reserve your new home online