A Stress Free Move To Ferrygate Meadow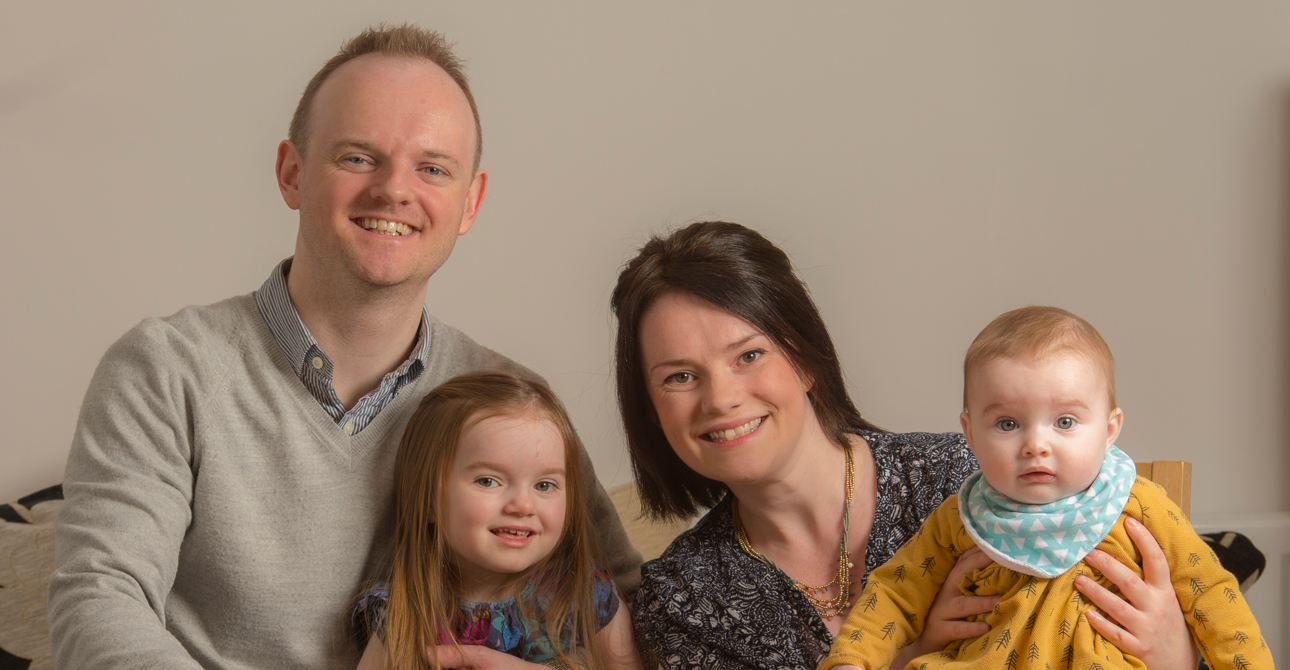 Natasha and Brian, along with their two daughters (Robyn aged 3 and Maisie aged 5 months) moved into their Douglas home at Ferrygate Meadow earlier this year. Natasha tells us a little more about life in North Berwick, the moving process and her experience with Miller Homes below:
I grew up in North Berwick and always wanted to return
We were staying in a two bedroom flat in a nearby village and knew that we needed a bigger home to suit our growing family. We couldn't believe what we could get for our money with Miller Homes in North Berwick, especially with it being such a sought-after area in Scotland. The development looks out to the Firth of Forth and North Berwick Law, and it's amazing to wake up each morning to such a beautiful view.
I grew up in North Berwick and I'm living in almost exactly the same spot as my previous childhood home, so it's fantastic to move back and have my own children grow up here.
The Douglas was the perfect fit for us
We needed a home to fit our growing family and the Douglas was perfect for us. Our favourite space is definitely downstairs. We love the open plan kitchen and dining/family room which leads the way into the adjoining lounge. Sunlight floods the space throughout the day making it bright and airy, and it's great that we can all spend time in the same place at once. The addition of the study downstairs is also brilliant for us and we currently use this as a playroom for Robyn, who loves it!
The sales team were with us every step of the way
The sales team at Ferrygate Meadow couldn't have been better and really made our move stress free and enjoyable. They were never pushy when it came to buying the property and were genuinely delighted when we got the keys to our brand-new home. The aftercare still continues today and the site manager and sales team are still in regular contact with us to make sure everything is okay, which a lovely touch and something we're truly grateful for.
The move was stress free
I was pregnant with Maisie when we moved into our new home and the staff at Miller Homes couldn't have been more accommodating. I thought that moving day was going to be stressful, but I couldn't have been more wrong. It was such a slick process; we knew exactly what was happening thanks to regular meetings with the site manager and we were already familiar with the layout of the home, meaning that there were no surprises on the day.
Family and friends love our home as much as us
Both sets of parents can't believe that we own this amazing home. Moving from a two bedroom flat to a four bedroom home is quite incredible, and every day we feel so lucky to live here. Everyone is blown away by the size and layout as soon as they walk in the door, and a few of our friends have even been looking at other plots at the development.
Already a real community feel
Ferrygate Meadow has a real mix of people, with lots of families, young couples and even older residents. It's brilliant to have such a diverse mix of people in the neighbourhood and the development has a close-knit community feel, perfect for our girls growing up.
Located in one of Scotland's most sought after residential areas, Ferrygate Meadow is a fantastic development positioned on the west of the town, just minutes from the train station, town centre and harbour. The vibrant local community was recently voted the best place to live in Scotland, and Miller Homes has created some stunning aerial footage to showcase the development and the surrounding area.
For more information on Ferrygate Meadow visit the development from Thursday to Monday from 11am-6pm, call 03331 308 774 or visit www.millerhomes.co.uk
Be first to know! Register or login now so you don't miss out on priority email alerts, exclusive offers and more!
Save your amazing homes and developments

Use our app to help find your new home

Exclusive alerts about new homes and offers

Plus, pre-reserve your new home online