Locally Listed Building Renovated As Part Of New Gateshead Housing Development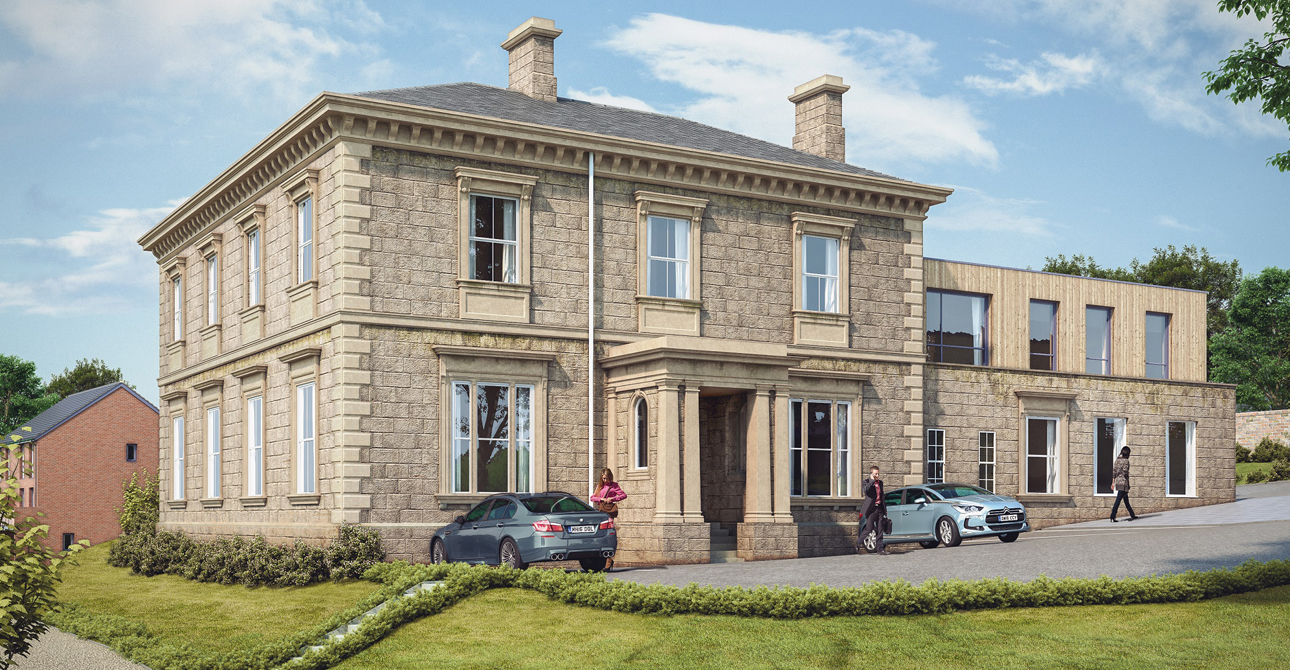 Work is underway to sympathetically transform a building of Special Interest into luxury apartments in Gateshead.
Working closely with Gateshead Council's planning and conservation teams, the renovation project by Miller Homes North East will see North Dene House in Gateshead converted into seven apartments, ranging from one-bedroom to three-bedroom homes.
Residing on Durham Road and forming part of Miller Homes' Park View development overlooking Saltwell Park, the historic house was originally built in 1853 after being commissioned by Richard Wellington Hodgson, and will have its outer structure retained and rescued from decline as part of the project.
The former Mayor of Gateshead lived there for over 30 years until his death, before the house was converted into North Dene Technical College in the 1950s, neighbouring Gateshead College which also opened its doors in the same decade. The college previously occupied the Park View site before relocating to a new campus on Gateshead Quayside.
Miller Homes started work on Park View in 2012, with the development set to consist of 175 homes in total.
Andrew Somerville, regional sales manager at Miller Homes North East, said: "North Dene House is a beautiful building having stood as a prominent fixture in this iconic area in Gateshead for many years, which we are pleased to have been able to rescue from decline.
"Working closely with Gateshead Council we hope to bring it back to life by maintaining the external look and renovating its interior to create luxury apartments as part of our popular Park View development. The apartments are already generating a lot of interest from buyers looking to put down roots in the city."
Councillor John McElroy, Gateshead Council's Cabinet Member for Culture, added: "This is very welcome news. North Dene House is an important part of Gateshead's history and heritage and a fine looking building in its own right.
"We are therefore delighted that Miller Homes is breathing new life into one of the borough's lesser-known cultural assets and giving future residents not only the chance to enjoy it, but for a lucky few to actually live there."
North Dene House apartments are now available for sale with prices starting from £169,950*.
For more information on the apartments, or on Park View, a development of one, two and three-bedroom apartments, as well as three, four and five-bedroom homes, call the sales office on 03334 142 421 or visit www.millerhomes.co.uk/new-homes/north-east/park-view-gateshead.
Disclaimer: *Upgrades available at additional costs.
Be first to know! Register or login now so you don't miss out on priority email alerts, exclusive offers and more!
Save your amazing homes and developments

Use our app to help find your new home

Exclusive alerts about new homes and offers

Plus, pre-reserve your new home online