Royal Prize for Young Miller Homes Apprentice at Princes Trust Awards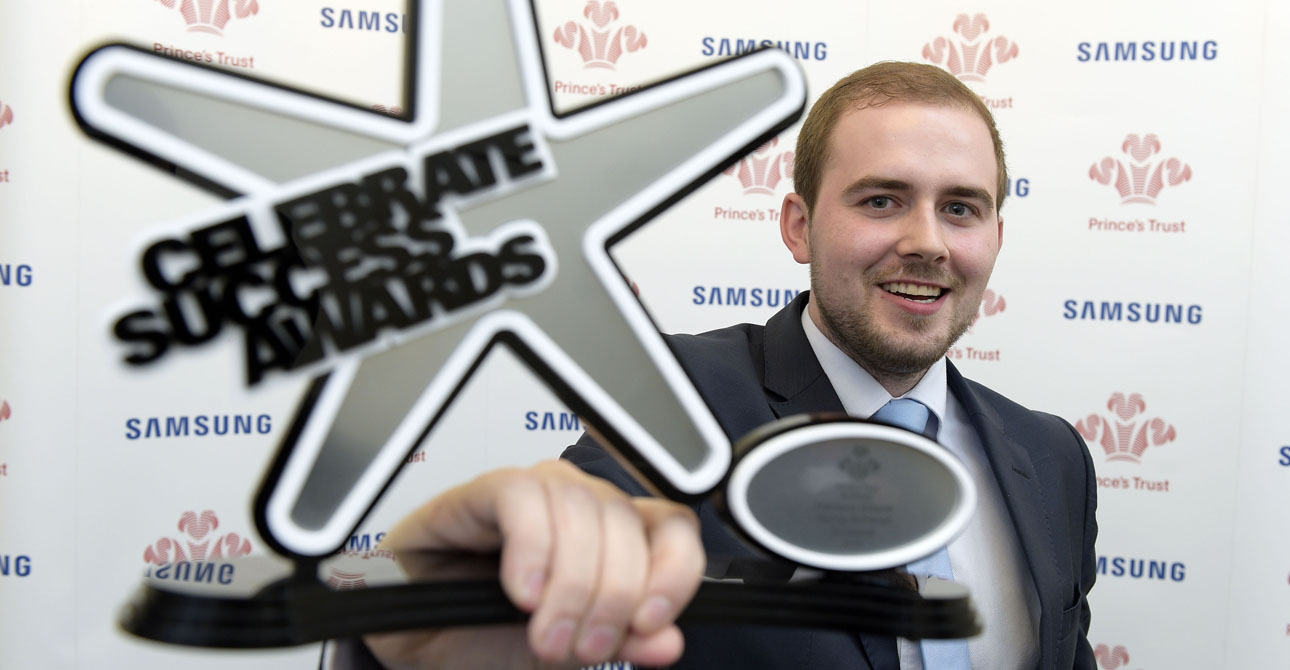 Harrison Gibson, an apprentice plumber at Miller Homes' Varcity North development in Edinburgh, has been named Young Achiever of the Year at the Prince's Trust Scotland Celebrate Success Awards.
Run by the youth charity and corporate partners Samsung, the red carpet award ceremony saw 450 guests attend to honour and celebrate the outstanding achievements of young people supported by the Trust.
Harrison, (24) from Edinburgh, won the Samsung Young Achiever Award which recognises young people who have struggled through difficulties to transform their lives; their stories are of resounding achievement and are now inspiring others to strive for such success.
Harrison joined the Prince's Trust Get into Home Building programme at Edinburgh College, which helps unemployed young people gain the skills they need to work in the construction and home building industry. The programme was created with Homes for Scotland to help tackle the growing skills shortage in the home building industry.
On the programme Harrison gained experience in a variety of trade disciplines - carpentry, plastering, brickwork and painting and decorating as well as 'hands on' practice with one of Scotland's leading home builders.
Harrison, said: "I am really proud of what I have achieved with the help and support of The Prince's Trust and Miller Homes. Get into Home Building has enabled me to attend Edinburgh College and learn a trade. It has really turned my life around and I am now hoping to become a Young Ambassador with the Prince's Trust so that I can encourage other young people to be positive about their life."
Stewart Lynes, Managing Director for Miller Homes Scotland, said: "Congratulations to Harrison on winning the Young Achiever Award. The Prince's Trust Get into Homebuilding programme helped Harrison to overcome a number of challenges in his early life; he has now successfully learned a trade and has turned his life around. This would not have been possible without the tremendous support and mentoring from our site and production teams and Paterson Plumbing. The Get into Home Building programme has proved itself to be very successful - valuable to the business and the young people involved."
-Ends-
Notes to editors:
Over the last 80 years Miller Homes has established a tradition for building family homes in the most desirable locations along with a reputation for delivering sector-leading quality, sustainable developments and providing outstanding levels of customer service.
In 2015 Miller Homes was awarded five star rating in the National Home Builders Federation New Home Customer Satisfaction Survey for the fourth consecutive and the results of independent research highlighted that 95% of its own customers would recommend Miller Homes to their best friend.
Miller Homes operates in six regions across the UK – Scotland, North West, Yorkshire, North East, Midlands and Southern.
Miller Homes offers a variety of incentives, including government-backed schemes and its own schemes, to assist homebuyers in purchasing a new home.
Further information is available by visiting www.millerhomes.co.uk
For further information please contact:
Marie Dunsmuir, Miller Homes
T: 0870 336 5084
Email: marie.dunsmuir@miller.co.uk
Kirsty Bruce, Miller Homes
T: 0870 336 5013
Email: Kirsty.bruce@miller.co.uk
Be first to know! Register or login now so you don't miss out on priority email alerts, exclusive offers and more!
Save your amazing homes and developments

Use our app to help find your new home

Exclusive alerts about new homes and offers

Plus, pre-reserve your new home online