Miller Homes Welcomes Lifelong Local Residents To New Development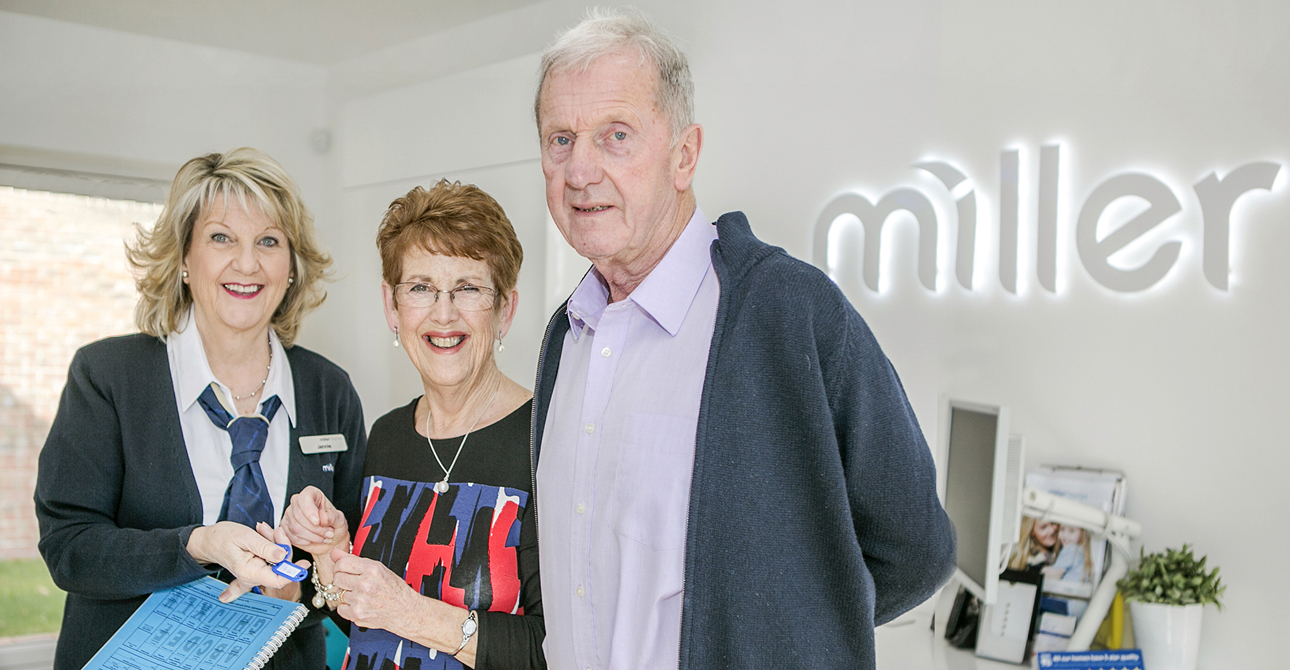 Miller Homes South is delighted to welcome the latest couple to its beautifully landscaped development at Sarisbury Green.
Carol and Barry Brown have lived locally for almost 50 years, having moved to Sarisbury Green in the swinging sixties.
Barry, who recently retired from owning his own electrical business, and Carol, a former accounts secretary, wanted the benefits and convenience of owning a new home without moving away from the much sought after location they have called home for so many years.
Carol explained: "We're both in our 70s, so wanted a new smaller house which would be easier to maintain than our current property, but we didn't want to move away from this fabulous location. We've been here since the sixties were in full swing and have made many friends along the way. Lots of our family live nearby too."
"As soon as we had a quick look at the house we just knew we had to have it. We viewed other developments in the locality but the options on offer and the flexibility offered by Miller Homes were far superior.
"The garden is very private with gorgeous trees at the bottom and we were given free turf. Carpets and flooring were also included in the package and we had the final say on the décor."
Admirals Wood is a development of individually designed two bedroom apartments and two, three and four bedroom homes. It's set in a delightful suburb with a strong sense of community and a welcoming, village-like ambience, near to the banks of the Solent estuary.
Set between Southampton and Fareham, the uncrowded, tree-lined layout of Admirals Wood offers an exceptional blend of seclusion, amenity and convenience.
Carol and Barry have moved into a three bedroom Montgomery style property with stylish French doors and windows to three sides of the large living/dining room, introducing lots of natural light.
Tracey Lee, area sales and marketing director for Miller Homes, said Carol and Barry's story is a perfect example of how Miller makes the home-buying experience as easy as possible: "It's wonderful that the Browns are able to stay in a place where they have built such long and happy lives together in a home that matches their aspirations. Our team worked hard to find their dream home, complete with a choice of options, to make sure the finishing touches were fully in keeping with their style and tastes.
"We are here to help customers with every aspect of their dream home, from initial enquiry until the moment the removals lorry draws away. Our 5 Star Award for Customer Satisfaction in the Home Builders Federation (HBF) National New Home Customer Satisfaction Survey, just goes to show our success in matching people like Carol and Barry with their perfect place."
For more information on Admirals Wood, call or visit the sales centre, which is open daily from 10am to 5pm or call 0808 250 6014. Details on other Miller Homes developments can be found at www.millerhomes.co.uk.
Be first to know! Register or login now so you don't miss out on priority email alerts, exclusive offers and more!
Save your amazing homes and developments

Use our app to help find your new home

Exclusive alerts about new homes and offers

Plus, pre-reserve your new home online