The Price Is Right At Pilgrims Gate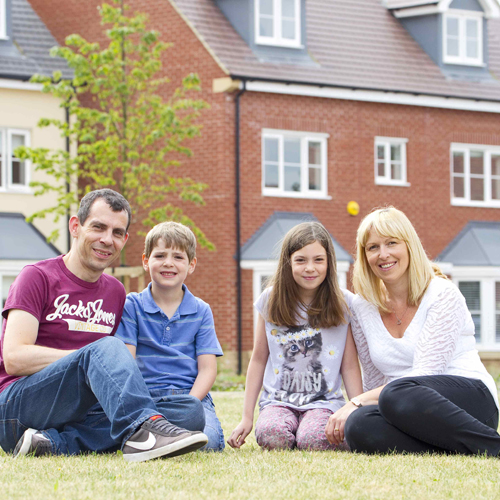 Miller Homes South is delighted to welcome a new family to its Pilgrims Gate development in Bedfordshire.

Like many buyers throughout the region, head of learning and development Adrian Price and his wife Julie, were searching for the perfect place to raise their young family. Following their first visit, Adrian and Julie, both 39-years-old, had their hearts set on Miller's popular Pilgrims Gate development in Wixams.

The couple were able to make their dream move and secured the five-bedroom, three storey, detached Kingsley style property. With a spacious kitchen and breakfast area, separate dining room, and a master bedroom with en-suite, the Kingsley was the Price's first choice for a new family home for themselves and their two children, eight-year-old Chloe and six-year-old Thomas.

"Location was key for us," commented Julie. "With a young family, the close proximity to high performing primary schools was vital. Also, the fact there's great transport links to both major roads and railways, really appealed to us. It also has the great benefit of being in easy reach of retail parks and supermarkets.

"After seeing Pilgrims Gate for the first time we just loved the overall feel of Wixams. The three lovely parks and lakes make it feel like we are permanently on holiday and there's also a real community feel which very important to us."

"When we visited the Pilgrims Gate sales office and viewed plans for The Kingsley, we knew it would offer us the lifestyle we wanted. The sales team at Miller were able to guide us through the process in a really simple way and sales advisers Debbie and Teresa were always available and quick to respond to any questions we may had.

"The property is airy and spacious and the layout is perfect – every bit of space is utilised. It's an added bonus to have a separate playroom and Chloe and Thomas love having their own floor with shower room."

Since moving to the popular development, the Price family believe they have found their perfect home.

"The views over the lake are stunning and it was a huge selling point. We think Pilgrims Gate is the perfect place to raise our family and the house is absolutely beautiful - we can't quite believe it's ours!"

Amongst the opportunities still available at Pilgrims Gate is the Burroughs style property priced at £195,000.

Tracey Lee, sales director for Miller Homes South, the Price's story is a great example of how Miller can help moving home as smooth as possible:

"We're delighted to welcome Adrian, Julie, Chloe and Thomas to Pilgrims Gate. We always strive to ensure our customer service is of the highest standard and we're really happy our efforts are appreciated. We wish the Price family the happiest future in their new home."

For more information on Pilgrims Gate call its sales centre on 0808 252 4347, or visit its sales centre open Thursday to Monday 10am to 5pm. Details on other Miller Homes' developments across the region can be found at www.millerhomes.co.uk.
Be first to know! Register or login now so you don't miss out on priority email alerts, exclusive offers and more!
Save your amazing homes and developments

Use our app to help find your new home

Exclusive alerts about new homes and offers

Plus, pre-reserve your new home online