Miller Homes' Summer of Sport Initiative Ends On A High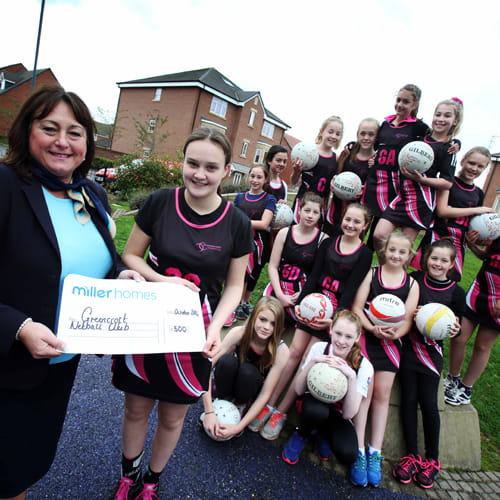 Miller Homes' fantastic Summer of Sport initiative has drawn to a close for 2014 with six regional winners were selected to win £500 for their sports clubs.
For the third successive year, clubs and teams across the country came forward in their droves throughout the summer months for their chance to win the cash and almost 80 clubs and organisations put forward their entries, stating in no more than 200 words why their sports club deserved to win the money, how it would benefit the club and what it would be spent on.
After much deliberation the chosen winners were:
- Perth and Kinross District Netball in Perth (Scotland region)
- Greencroft Netball Club in County Durham (North East region)
- Leyland Lions Junior Racket Club in Preston (North West region)
- Doncaster Wheelers Cycling Club in Doncaster (Yorkshire region)
- Trowell Football Club in Nottingham (Midlands region)
- Worthing Gymnastics Club in Worthing (Southern region)
The leading UK housebuilder initiated the campaign this summer for the third year running on the back of successful schemes run in 2013 and 2012. Local clubs and organisations within its six regional areas were encouraged to enter the contest by collecting an application form from their local Miller Homes development.
Chris Endsor, Chief Executive of Miller Homes, said: "We are delighted that so many sports clubs took the time to enter the competition. All entries were of an exceptionally high standard and once again our judges had a difficult job! In the end it was decided that the winning clubs would be able to make the most out of our donation.
"Building great communities is at the heart of our ethos and we firmly believe that initiatives such as our Summer of Sport campaign go a long way towards nurturing these. We hope the worthy winners will make the most of their donations to further enhance the great work they do promoting health and wellbeing in their local communities."
Be first to know! Register or login now so you don't miss out on priority email alerts, exclusive offers and more!
Save your amazing homes and developments

Use our app to help find your new home

Exclusive alerts about new homes and offers

Plus, pre-reserve your new home online