A 'Brill' Photo Wins Miller Homes' Photography Competition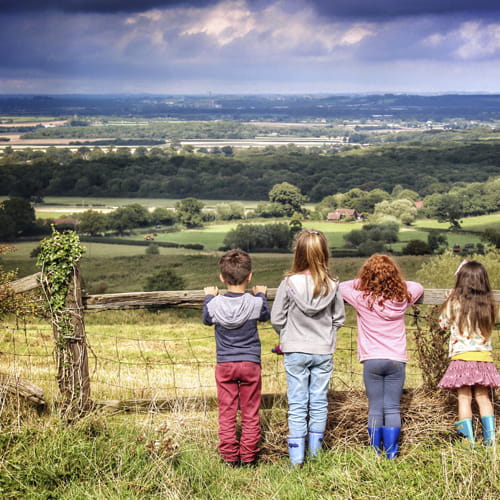 Victoria Timms from Brill in Buckinghamshire put herself firmly in the frame when she took first prize in Miller Homes' 'great locations' photography competition.
Competition judge and professional photographer, Gary Baker came to a snappy decision, choosing Victoria in a flash for her photograph of the village where she lives. However it wasn't an easy decision as competition was stiff.
Gary, who was asked to select an overall winner from six regional winners, said: "The standard of photography was extremely high and I was genuinely impressed by all six finalists.
"However, in the end I chose Victoria Timms as the overall competition winner. Her use of colour, composition and technical ability all contributed to the making of a well-executed image and a very deserving winner."
The purpose of the competition was to encourage people to consider location, particularly the location in which they live, and to have a shot at taking a photograph encapsulating all that is great about it.
Victoria commented: "I am absolutely thrilled to bits to win! This photograph is of my two children and their three friends looking out towards the beautiful Buckinghamshire countryside surrounding the village we live in. We are very fortunate to have such stunning views and I was lucky enough to capture this precious moment of them all."
The six regional winners are:
Scotland – Charles Garnett for his photograph of sunset at a country park in Barrhead
North East – Rob Cole for his shot of Newcastle's iconic bridges
North West – Brian Derbyshire for his photograph of a beautiful view across Lancashire
Yorkshire – Arron Woolley for his photograph of Sheffield at night
Midlands – Janine Lee for her photograph of the East Leicester countryside
Southern – Victoria Timms for her photograph of children taking in the beautiful view from Brill in Buckinghamshire

Chris Endsor, Chief Executive of Miller Homes, said: "With this competition we wanted to start conversations about place and to really tap into what makes a location appealing, exploring how vital this is to how people feel about where they live.
"We were overwhelmed by both the volume and the high standard of entries received and would like to thank everyone who took the time to send us a photograph. Our judges very much enjoyed looking through the entries and the task of selecting winners was not an enviable one! Congratulations to all regional winners and in particular to overall winner Victoria."
Regional winners received a £50 Amazon voucher plus the opportunity to have their photo framed and displayed in their nearest Miller Homes development; and on top of this the overall winner received a gift voucher for a one-day photography course as well as a framed copy of their photograph.
Be first to know! Register or login now so you don't miss out on priority email alerts, exclusive offers and more!
Save your amazing homes and developments

Use our app to help find your new home

Exclusive alerts about new homes and offers

Plus, pre-reserve your new home online