Miller's Home Exchange is the Jewel in the Crown for the Smiths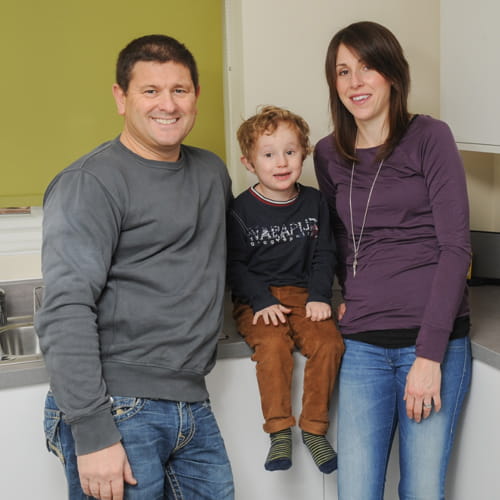 Miller Homes Midlands has given a right royal welcome to the first residents at its latest North Nottinghamshire development.

Paramedics Rebecca and Chris Smith have moved into the three-bedroom detached Adams style property at Royal View in Berry Hill, along with their three-year-old son Leo.

The couple, who met whilst working for East Midlands Ambulance Service, were already looking to move to the area to help secure Leo a place at their preferred school. However, with their current property already on the market for over a year, and no sign of a buyer, it looked like their dream move was not going to happen anytime soon.

When Rebecca and Chris heard about Miller Homes' latest development, they made sure they were one of the first in line the day that the sales centre opened its doors at Royal View. After viewing floor plans and talking to the sales adviser, they soon realised that they were eligible for the house builder's Home Exchange scheme.

"We reserved the very next day," said Rebecca. "Home Exchange presented the perfect solution for us and took away all of the hassle we'd been experiencing.

"It couldn't have been easier. Miller bought our property and gave us a full independent valuation report, which reassured us we were getting a price that really reflected market value. There were no more estate agents fees or the need to show potential buyers round. We could just get on with planning our new family life.

"The size of the development was also a big selling point for us. With only 18 properties being built it feels quite exclusive. We also love the fact that each plot is quite large. Having a large garden makes a big difference, especially having a three-year-old with lots of energy!"

The three-bedroom Adams property features French doors in both the living and dining areas, which open out into the spacious garden, as well as an en-suite in the master bedroom. By reserving off-plan, Rebecca and Chris felt more involved in the building process:

"It gave us the opportunity to upgrade certain interior features with the team at Miller's Options and Choices Centre," added Rebecca. "We felt we were really able to put our own stamp on the property. The site manager also gave us regular updates as our home was being built. It was really exciting for all three of us to see it take shape."

As Paul Walters, associate director at Miller Homes, explains, off-plan purchasing is becoming an increasingly popular option:

"Buying a new home can be a life changing experience and we find that many buyers are keen to take a more personal approach and be actively involved in key decisions.

"We're delighted that Rebecca and Chris were able to combine off-plan purchasing and Home Exchange to create their dream home for themselves and Leo."

Royal View in North Nottinghamshire offers a range of three, four and five-bedroom homes, with prices starting from £172,950. For more information, call 0808 163 3880 or visit the sales centre, which is open Thursday – Monday 10am-5pm. Details on other Miller Homes developments can be found at www.millerhomes.co.uk.
Be first to know! Register or login now so you don't miss out on priority email alerts, exclusive offers and more!
Save your amazing homes and developments

Use our app to help find your new home

Exclusive alerts about new homes and offers

Plus, pre-reserve your new home online