New Programme To Help Unemployed Young People Into Work and Tackle Home Building Skills Shortage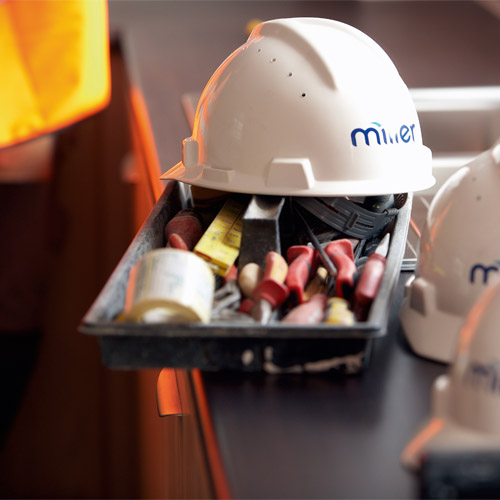 Scotland's home building industry is driving a new programme to address skills shortages and help unemployed young people into work.
With a pilot scheme launching at Edinburgh College (Granton Campus) today, the 'Get into Home Building' initiative is a five week pre-apprenticeship programme which has been developed to help 14 unemployed 16 to 25 year olds gain experience in a variety of trade disciplines. These include carpentry, plastering, brickwork and painting and decorating as well as an opportunity for "hands on" practice with some of Scotland's leading home builders.
In addition to gaining valuable site knowledge and a CSCS site safety card, students will also receive wider training to help improve communication, reliability, teamwork and CV/interview skills.
Those successfully completing the scheme who are interested in pursuing a full apprenticeship are then guaranteed an interview with participating home builders.
The home building industry is a major employer in Scotland with every new home built estimated to directly support two jobs and every nine homes built one apprenticeship. However, skill shortages have been identified as a major barrier to its ability to increase production as the economy and housing market recovers.
Supported by Homes for Scotland and Edinburgh College, the Prince's Trust 'Get into Home Building' course is being funded by the Construction Industry Training Board (CITB).
Philip Hogg, Chief Executive of Homes for Scotland said:
"There is an urgent requirement to address the skills shortages which exist and develop new routes into our industry if we are to be able to deliver the many thousands of new homes our country needs.
"We believe that apprenticeships remain the cornerstone of trade skills development, helping to build a more successful Scotland. But positive action needs to be taken now if we are to make any significant impact on our future labour market.
"We are delighted with the support home builders have given to the pilot and, if successful, look forward to it being rolled out throughout Scotland to offer a taste of the many different career paths our industry offers."
Allan Watt, Director of The Prince's Trust, Scotland continued:

"The Prince's Trust is delighted to help young people 'Get into Home Building' with a fantastic package of training and hands-on experience. Thanks to our work with Homes for Scotland and its member companies, we will be able to give even more young people the chance to reach their full potential."
Miller Homes is one of the home builders supporting the programme. Highlighting the importance of the scheme, Alan Cadenhead, HR Manager at Miller Homes, said:
"As an industry we have a responsibility to provide opportunities for young people and as well as helping them recognise the benefits of a career in home building, this initiative will also support us in developing a well-trained, sustainable workforce.
"The Prince's Trust does some outstanding work with young people across the UK and we look forward to working with them on the Get into Home Building initiative over the coming weeks."
Be first to know! Register or login now so you don't miss out on priority email alerts, exclusive offers and more!
Save your amazing homes and developments

Use our app to help find your new home

Exclusive alerts about new homes and offers

Plus, pre-reserve your new home online