Housebuilder Helps Green Fingered Local Charity Celebrate Its 30th Birthday!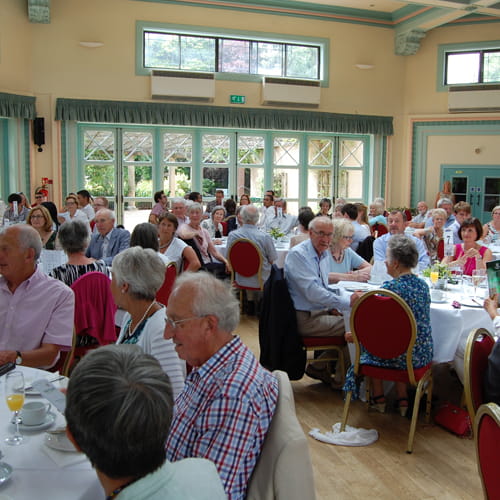 A leading housebuilder working on two new homes developments in the spa town of Harrogate has made a generous donation to a local gardening charity so that its 30th birthday celebrations could go ahead.
Miller Homes stepped in at the last minute to support Horticap – a charity which teaches gardening to people with learning difficulties – enjoy the party which was held in the Sun Pavilion, Valley Gardens.
"We are most appreciative that Miller Homes was able to sponsor the event at such short notice after our original sponsor pulled out," said Joy Allen, Chair of Trustees at Horticap. "The weather was kind to us and everyone had a super day as the good work that the charity does was recognised."
Horticap was formed in 1984 and provides horticultural education programmes for children at all stages of their education.
Jan Hanaby, Area Sales Manager at Miller Homes Yorkshire, said: "It was a pleasure to help this worthwhile charity that lies close to our Harlow One development due to open later this summer. We shall look forward to their ongoing work within the local Harrogate community."
Miller Homes has a sustainability policy that supports ethical house building and sustainable living. Indeed, it was the first housebuilder to publish a corporate responsibility strategy. Homes are constructed to maximise efficiency capabilities and internal fittings include energy efficient appliances and flow restricted taps as standard.
Its Harlow One development is located on Harlow Moor Road, Harrogate, HG2 0AE. Further details can be found by visiting www.millerhomes.co.uk.
Quercus Green is also now open and is located on Bogs Lane, Harrogate, HG1 4EB. The sales centre is open Thursday – Monday, 10.30am to 5.30pm. The team can be contacted on 0808 278 6074.
Be first to know! Register or login now so you don't miss out on priority email alerts, exclusive offers and more!
Save your amazing homes and developments

Use our app to help find your new home

Exclusive alerts about new homes and offers

Plus, pre-reserve your new home online