A Gateshead Family Make the Dream of Owning Their First Home a Reality with Miller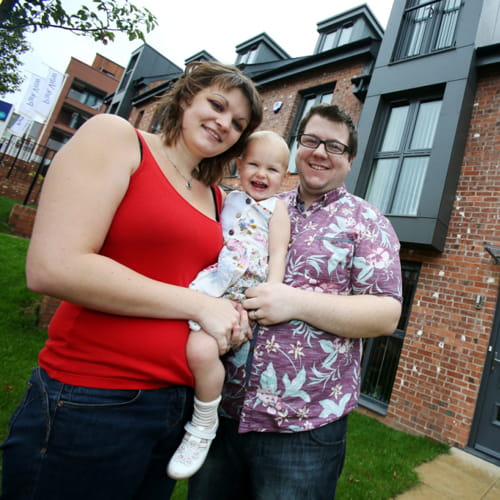 A young Gateshead couple locked in a cycle of renting has opened the door to their perfect family home after becoming the first buyers to reserve a home at Miller Homes' Park View development, with a little help from the leading housebuilder.
Richard and Christine Marshall, who were first to secure a home on the former Gateshead College site, were thrilled to move into their new three-bedroom 'Endcliffe A' home this summer along with their two-year-old daughter Emily, after taking advantage of a Miller Homes incentive scheme.
Richard, 26, said: "After being married for six years we had fallen into the cycle of renting and we never felt we would be able to make that all important first step onto the property ladder. However, after starting our family we were eager to have the added security of living in a home that we owned.
"The first attraction to Park View was its superb location – you can't get a better position in Gateshead than here. We have lived in Low Fell before so we knew the area well and as the development is just a two minute walk from the north end of Saltwell Park we can take Emily for walks and playtime every day, which she loves.
"Prior to buying our home we did lots of research including reading reviews from other home owners and we also looked at recent NHBC customer satisfaction surveys which scored Miller Homes very highly, and we're pleased to say that even our high expectations were far surpassed. Throughout the entire process the Miller team was very informative, we were always kept fully up-to-date, and this outstanding customer service has continued since we moved in."
Lyndsey Clavery, sales advisor at Park View, was able to assist them through their home buying experience. She said: "When Richard and Christine first visited Park View I knew it would be the perfect place for them to make a home as their family continues to grow.
"They had previously only rented properties as they believed making the initial step onto the property ladder would be beyond them. I talked them through the possible incentive schemes available and the range of housetypes which we have at Park View that would suit their needs.
"After putting them in touch with a financial adviser who was able to help them arrange their finances, the family was delighted to find out they were eligible for our one of purchase incentive schemes."
Christine, 27, added: "To finally be living in a home that we own really is a dream come true and without Miller's help we may not have been able to make our much-needed move. Emily has been over the moon since we moved in as the builders on site always make a big fuss of her and she now has her own bedroom which she insists on showing off to people whenever they visit as she is so proud of it.
"We are also very pleased with the energy efficiency of our home as it is always warm and comfortable which has offered us great peace of mind."
Park View offers a modern mix of 175 new homes including one and two-bedroom apartments and three, four and five-bedroom homes. With prices starting from £239,950, currently available at the 9.77 acre site following a recent new release of homes is the three-bedroom Albert, the four-bedroom Nunsmoor, Numsmoor with Atelier, Mowbray and Ravenscourt, and the five-bedroom Victoria with Atelier and Richmond with Atelier.
For further information on Park View house hunters should contact the sales centre on 0808 250 6442, open Thursdays to Sundays from 10.30am to 5.30pm and Mondays from 12.30pm to 5.30pm. Alternatively visit www.millerhomes.co.uk/Developments/North-East/Park-View-Gateshead for more details, or to watch a computer generated fly-through of the development.
Be first to know! Register or login now so you don't miss out on priority email alerts, exclusive offers and more!
Save your amazing homes and developments

Use our app to help find your new home

Exclusive alerts about new homes and offers

Plus, pre-reserve your new home online