New rental initiative at Varcity North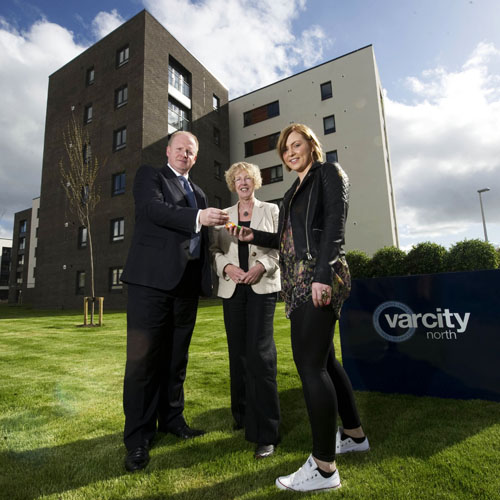 Housing Minister, Margaret Burgess and Miller Homes today welcomed new tenants to the first completed phase of its development at Varcity North in Edinburgh.
In total, 89 new apartments, consisting of one, two and three bedrooms, will be available at mid-market rental rates at the development.
In 2011, Miller Homes, the City of Edinburgh Council and Scottish Futures Trust (SFT) created a limited liability partnership (LLP) as part of the National Housing Trust's initiative (NHT), aimed at fast-tracking the delivery of new homes for mid-market rental throughout Scotland.
The LLP is working with managing agent, Places for People, to manage the completed properties, identify potential tenants and manage the rentals over the contract term.
Rent First@Varcity North will be available for rent to selected tenants, (employed on a minimum salary of £10k per annum, but struggling to find an affordable home to rent).
Under the NHT initiative's rules, homes must be available to rent for a five year period, following which, tenants will have the choice to purchase their house at the market value or move on. Should tenants select not to buy, Miller Homes will sell the property on the open market.
Housing Minister, Margaret Burgess said: "It is fantastic to see house developers like Miller Homes embrace the opportunities offered by the Scottish Government's pioneering National Housing Trust initiative.
"These new homes at Varcity North will go some way towards providing much needed affordable rented accommodation for Edinburgh residents.
"The initiative has been hugely successful, with deals secured with 13 developers to deliver over 1000 high quality homes for families throughout Scotland at very little cost to the taxpayer.
"A vibrant, expanding housing sector stimulates growth and protects and creates jobs in the construction sector and wider economy."
David Knight, Managing Director, Miller Homes Scotland said: "We are delighted to bring the mid-market rental homes to market slightly ahead of schedule. Securing affordable housing in Edinburgh remains difficult and the challenging lending environment also means that buying is still out of reach for some households.
"The 89 apartments will go some way to helping those in employment secure an affordable rental tenancy. The apartments are developed to Miller Homes' high standards of the quality of the build, fixtures and fittings and will form part of vibrant, modern development, which is quickly establishing its own sense of community.
"Rent First@Varcity North provides much needed homes at affordable rents for key workers and has also created vital local employment opportunities within the house building industry."
Rents per month are set at £457.20 for a one bedroom, £594.39 for a two bedroom en-suite apartment and a limited number of three bedroom apartments available. Further details are available from Miller Homes.
Councillor Cammy Day, Housing Leader for the City of Edinburgh Council, said: "The affordable homes available at Varcity North are a welcome addition to the market in Edinburgh. We continue to tackle the shortage in affordable homes and look for opportunities like the LLP with Miller Homes and Scottish Futures Trust to bring these very welcome homes to fruition.
"With around one half of the national uptake of NHT being in Edinburgh that gives us a sizable amount of homes available for rent. Not only will it enhance the local community, it will also offer a significant boost for those who are in work, who can't afford to rent at full market rent.
"It is a great model to increase availability of the number of homes for rent in the city and gives people a real opportunity to become tenants and secure a home of their own and save for the future."
Christa Reekie, commercial director at Scottish Futures Trust said: "I am delighted that the first phase of homes is now complete, providing hundreds of people in the capital with high-quality homes at affordable rents. We are pleases with the high standards of the Varcity North development which has already attracted a great deal of interest."
Miller Homes purchased the Varcity North site as part of a larger transaction from Telford College, which comprised three campuses (Telford South, Telford West and Telford North). The development of Telford West campus for Home Scotland Housing Association (40 affordable dwellings) was completed in 2010 on time and on budget.
Telford South, now known as Varcity South, has now become one of the city's, and Miller Homes' flagship development and the last campus, now known as Varcity North, comprises 327 apartments within five new build blocks and a possible converted building. The apartments under the NHT initiative are within the Dundas Campus and the Dean Campus.
Notes to Editors
1 - Miller Homes, CEC and SFT established a Limited Liability Paternership (LLP) under the NHT initiative. When each phase is completed and ready for handover, Miller Homes sells it into the LLP. The LLP funds the acquisition with 70% debt from the local authority (via the Public Works Loan Board), and 5% debt and 25% equity from Miller Homes.

2 - The completed plots remain as mid-market rental properties for between five and 10 years. During years six to 10 all the properties will be sold (potentially to existing tenants) for market value. Any residual profit (up to a capped Internal Rate of Return) after repayment of loans and any calls on the Scottish Government guarantee would be paid to Miller Homes.

3 - Miller Homes is the UK's largest privately-owned house builder and part of The Miller Group. Established in 1935, Miller Homes has built over 100,000 homes across the UK and has eight operating regions – Scotland East, Scotland West, North East, North West, Yorkshire, East Midlands, West Midlands and Southern.
Be first to know! Register or login now so you don't miss out on priority email alerts, exclusive offers and more!
Save your amazing homes and developments

Use our app to help find your new home

Exclusive alerts about new homes and offers

Plus, pre-reserve your new home online