MP Visits Eco Homes at Greenvale Park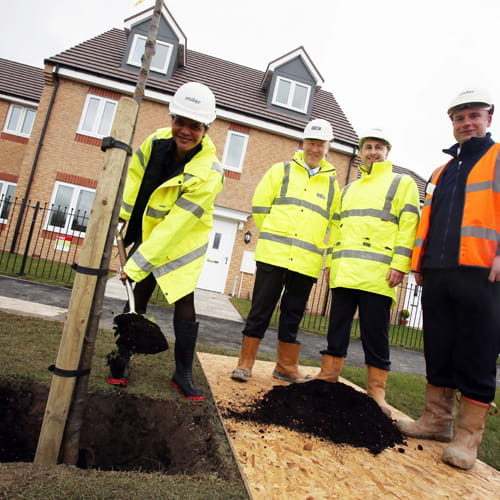 ECO friendly homes in Newcastle city centre were visited by shadow cabinet office minister Chi Onwurah MP recently to show support for the UK house building industry.
The energy efficient Greenvale Park development, just off Stamfordham Road in Newcastle, is Miller Homes' landmark site where all houses are built to at least code level three standard.
Ms Onwurah MP approached the NHBC to find out more about housing developments in her area, and visited the site to meet representatives from Miller Homes to discuss the housing market in general, planning and barriers builders are facing in the current climate.
Michael Dunthorne, operations director at Miller Homes North East, said: "Greenvale Park is a beacon development for our houses of the future, with energy-efficient features in every home including photovoltaic solar panels, rotary clothes driers, efficient boilers, low energy lighting, garden water butts and even a bike storage shed.
"Primarily though, it is a development of high quality homes for families; a new community they can enjoy in the heart of Newcastle. Chi was keen to hear about how we have been helping local families get on and move up the property ladder with the Government-backed NewBuy and FirstBuy incentive schemes and our own Home Exchange initiative, which have been very popular here in the North East."
As part of the development's launch, Miller Homes worked with children from Hilton Primary School to design posters around the theme, 'my community,' showing all the positive aspects of living in the East Denton area.
Chi Onwurah said of her visit, "I'm delighted to see new housing developments in Newcastle Central and Greenvale Park is a well positioned development offering a range of attractive family homes."
Geoff Egginton, NHBC regional director, added: "NHBC was delighted to show Ms Onwurah some of the key construction work happening right here in her constituency. For over three quarters of a century, NHBC has worked with builders like Miller Homes and parliamentarians to improve the build quality of new homes and meet the needs of new-home buyers. The homes being built in Greenvale Park will provide much needed housing here in Newcastle."
The Hawthorne and the Tolkien at Greenvale Park are Miller Homes' first code level three show homes to be unveiled in the region. Phase one of the development saw 93 new homes built, many of which have now been sold. Phase two will see 42 further two, three and four bedroom homes being released in the spring.
For more information on homes at Greenvale Park in East Denton the site sales office is open from Thursday to Monday between 10:30am and 5:30pm or visit www.millerhomes.co.uk or telephone 0800 840 8502.
Be first to know! Register or login now so you don't miss out on priority email alerts, exclusive offers and more!
Save your amazing homes and developments

Use our app to help find your new home

Exclusive alerts about new homes and offers

Plus, pre-reserve your new home online