Festive Boost for Miller Homes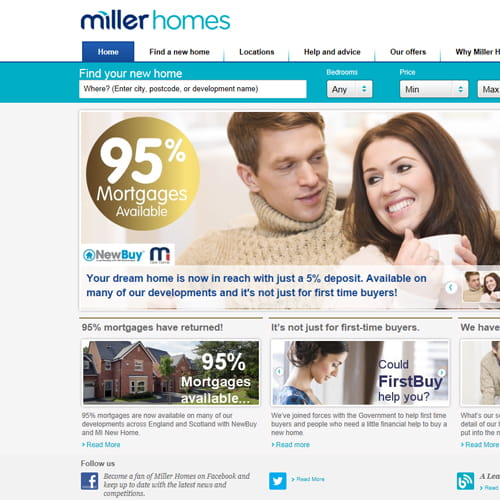 Figures from Miller Homes, which has been building award-winning homes for more than 75 years, suggest that house hunting was one of the most popular activities over the festive season.
Along with other pastimes such as watching TV, eating, drinking and spending time with family and friends, it appears many took advantage of their time off work to look for a new place to live.
Figures show that the number of people who logged on to the Miller Homes website to view new homes for sale between Christmas and New Year were up by more than 150% on monthly averages – peaking on 1 January. Of those who visited the site 60% were visiting for the first time, exploring what opportunities there are in the property market in the weeks and months ahead.
Chris Endsor, Chief Executive of Miller Homes, comments: "With family or friends staying over during the festive period, homes can suddenly feel smaller and this can spur people on to start the New Year in a new home. This, coupled with the fact that they have a little more time on their hands, means that the festive season is in fact a busy time for us as people make enquiries on a new home.
"With our wide range of properties which cater for the needs of a variety of buyers, from those looking to purchase their first home to growing families and downsizers, and a number of our own and government-backed incentive schemes available, we are confident we can help people start 2013 in their dream home."
The introduction of 95% mortgage schemes in both England and Scotland – NewBuy and MI New Home - are helping the market by supporting those who only have a small deposit. The schemes, which are available on properties at Miller Homes developments, allow loans to be secured at 95% of the property's value and provides a real opportunity for those who meet the qualifying criteria to buy a beautiful new build home.
As additional support to potential purchasers, Miller Homes also has some remaining funding available through the First Buy scheme on selected developments (for more information, visit www.millerhomes.co.uk/Locations ). The First Buy scheme gives aspiring homeowners the chance to buy a new home with the assistance of an equity loan. The value of the loan is a maximum of 20% of the full price of the property.
Miller Homes also offers its own range of incentive schemes, including Home Exchange, MiWay, Recommend a Friend, Deposit Match, Family Deposit and Assisted Move.
Be first to know! Register or login now so you don't miss out on priority email alerts, exclusive offers and more!
Save your amazing homes and developments

Use our app to help find your new home

Exclusive alerts about new homes and offers

Plus, pre-reserve your new home online