New Members of Team as House Builder Goes From Strength to Strength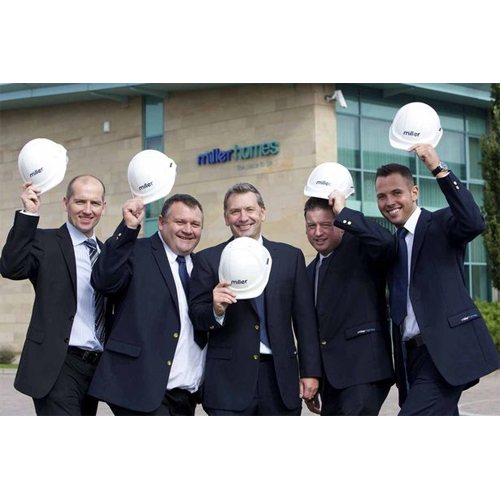 A handful of new recruits have added depth to the Miller Homes construction team as the housebuilder enjoys a busy year in the Yorkshire region.
The five new recruits are undertaking a variety of roles within the team ranging from Contracts Manager, Stuart Hall, to Michael Ramsbottom, Assistant Site Manager who left his self employed builders job to progress his career with Miller Homes.
"Miller Homes has a reputation as a great company to work for and one that takes pride in its operations and its employees," said John Birch new site manager Brooklands, Gainsborough. "For me, it was about career development and working for a reputable housebuilder and Miller Homes was able to offer both."
Similarly, Assistant Site Manager Marvin Jones cited career development and Miller Homes' approach to health and safety that particularly attracted him to his new role.
"The whole way in which Miller Homes operates is very well organised and its health and safety reputation is well known throughout the industry," said Marvin, 38, who has worked for other housebuilders in the region. "It's a pleasure to be part of such a great team and I'm looking forward to a long career with them."
During 2013 Miller Homes has opened three new sites in the Yorkshire region, Victoria Gardens at Altofts, Lindley Park at Lindley and The Brookes at Drighlington. 2014 will see a further two developments launched both in the Harrogate with the possibility of a further two in West Yorkshire.
Properties available across the region range from one bedroom apartments priced from £75,000 to five bedroom executive homes priced from £217,000. Miller Homes also offers a host of purchase initiatives to help buyers whether they are buying for the first time or have a home to sell.
Further information can be found by visiting www.millerhomes.co.uk.
Be first to know! Register or login now so you don't miss out on priority email alerts, exclusive offers and more!
Save your amazing homes and developments

Use our app to help find your new home

Exclusive alerts about new homes and offers

Plus, pre-reserve your new home online