Miller Homes Saves Family from a Prickly Situation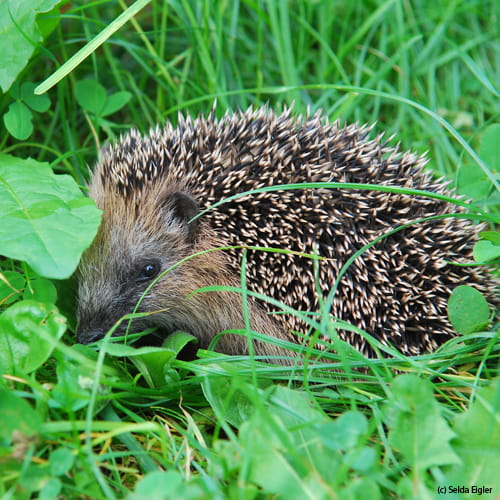 LEADING housebuilder Miller Homes recently took a break from helping the nation's families secure their new dream homes in order to help re-home a young family of hedgehogs.
Snuggled amongst storage cabins within the site compound at Greenvale Park in Newcastle, Miller Homes' flagship eco-friendly development, the five hoglets and their mother were discovered by site staff as they prepared to move the cabins as part of the second phase of the development.
After contacting the RSPCA, Miller Homes was directed to the Northumbrian Hedgehog Rescue Trust which advised staff on how to manage the secure removal of the nest. Ken Light, quality assurance inspector for Miller Homes North East, then delivered the nest and the hedgehogs safely to the rescue centre in Northumberland.
The Northumbrian Hedgehog Rescue Trust, a registered charity, cares for over 300 hedgehogs every year. It treats and nurtures the animals until they are healthy and of a large enough size to be released back into their natural environment.
Founder of the Northumbrian Hedgehog Rescue Trust, Carole Catchpole, said: "We were so impressed with how Miller Homes handled the situation. The safety of the young family was the main priority for the Greenvale Park team and they were keen to make sure they were taking all the right precautions to ensure the hedgehogs were safely transported to us with as little disturbance as possible.
"I think Millie, who we've named after Miller Homes, and her five hoglets may be the first intake we've ever received from a building site. The hoglets are now around eight-weeks-old and progressing really well. Millie has weaned her youngsters onto mealworms and continued providing milk for them until recently. We're certainly looking forward to releasing them back into the wild once they're large enough."
As Miller Homes' flagship eco development, every home at Greenvale Park is built to the highest quality and enjoys eco-friendly specifications, including solar panels and insulated wall and roof spaces to reduce energy waste, rotary clothes driers, efficient boilers, low energy lighting, water butts in the garden and a shed for bike storage, and caring for the surrounding natural environment is important to the leading housing developer.
Karl Morton, Miller Homes North East's associate sales director, said: "The team at Greenvale Park was certainly surprised to find the hedgehogs, especially in such a busy area of the development. The site compound is a real hive of activity but the family had certainly made themselves at home.
"We're all delighted to hear the young family is doing well and that they'll eventually be released back into their natural habitat, although in a much more suitable environment.
"At Miller Homes we have a high environmental culture and we always take great care to ensure that any construction work we do has minimal damage to nature and the surrounding environment. Making sure the hedgehogs were moved safely was extremely important to everyone on site and we're honoured that the mother has been named Millie."
The Northumbrian Hedgehog Rescue Trust is a registered charity located in Longframlington and is run on the support of volunteers. For more information, or to make a donation, visit www.hedgehogs-northumbria.org.uk.
Situated just a few miles North West of Newcastle City Centre, currently available at Greenvale Park is a selection of two, three and four-bedroom homes, priced from £118,950. For more information on Greenvale Park contact the sales centre on 0808 250 6358 or visit www.millerhomes.co.uk/Developments/North-East/Greenvale-Park-Birchvale-Avenue.aspx.
Be first to know! Register or login now so you don't miss out on priority email alerts, exclusive offers and more!
Save your amazing homes and developments

Use our app to help find your new home

Exclusive alerts about new homes and offers

Plus, pre-reserve your new home online