Helping School Kids to get Saving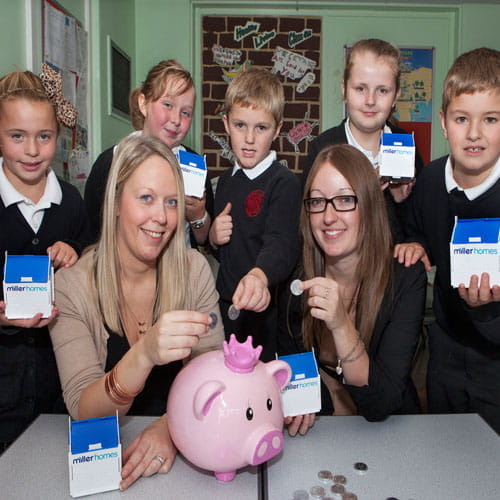 As the country struggles to regain any sort of economic composure a leading house builder has, together with an Ollerton school, created a school based campaign to highlight the importance of saving from an early age.
"The main objective is to ensure our future generations have an understanding of money and saving and how this knowledge can help in the longer term," said Sarah Whinfrey, area sales manager for Miller Homes. "We continually come across house hunters desperate to buy a home but just don't have enough for a deposit, and yes, there are ways in which we can help but the stringent requirements from the majority of lenders makes it much easier to get a mortgage if they have a substantial deposit."
The 'Save Your Pennies and Build Your Future' campaign aimed at children aged from nine to 11 looks at the average rate of pocket money which, according to the Halifax, for children in the East Midlands region is £4.44 per week. It includes, an interactive presentation by Miller Homes, which asks the school children to decide what they would do with their pocket money; would they spend it straight away, save it in their piggy bank or deposit it into a savings account. The presentation then goes on to talk about the cost of items relevant to today's children such as a packet of crisps, Nintendo DS or an Apple ipad, and how these costs compare to the bigger purchases in life such as a car or house.
Katrina Bradley, year 6 teacher at Forest View Junior School said: "It is extremely important that children learn about the value of money and how by understanding the concept of saving now, it will greatly help them later on in life. Children learn in a variety of ways and it certainly helps keep the children engaged when an external company comes in to deliver the message. We were pleased to have the opportunity to develop the campaign with Miller Homes and make sure we covered aspects of the curriculum from maths to personal, social and economic education.
"The children really enjoyed the presentation which was fun and informative, it really helped keep them focused and helped them understand the value of items from a simple packet of crisps to a major purchase, such as a house. It also got across the importance of saving and how in order to buy the expensive things we want we need to save."
Each child also received an activity pack to continue learning in their class which took the message of values and deposits further by problem solving and role play, in addition they each received a Miller Homes money box house to kick start their savings.
Sarah continued: "Our ethos is to fully engage with the local communities in the areas in which we build. It is with this in mind we have worked closely with Forest View Junior School to develop this initiative to help educate our future generations as to the value of money and how this translates into aspects of the national curriculum and life in general.
"We are delighted the children found our interactive presentation fun and informative and we look forward to delivering it to many more schools across the region. And, with statics such as those released by Estate Agency Prime Location that found parents pay around a staggering £39,000 on average towards the cost of getting their children on the property ladder, I'm sure we'll too have the support of parents encouraging their children to save for whatever their future may bring."
Miller Homes is a national housebuilder with developments across the region, including The Meadows at Ollerton. To find out more about the housebuilder and developments in the region call 0800 840 8600 or alternatively, visit www.millerhomes.co.uk.
Be first to know! Register or login now so you don't miss out on priority email alerts, exclusive offers and more!
Save your amazing homes and developments

Use our app to help find your new home

Exclusive alerts about new homes and offers

Plus, pre-reserve your new home online