What can you modify in a new build home?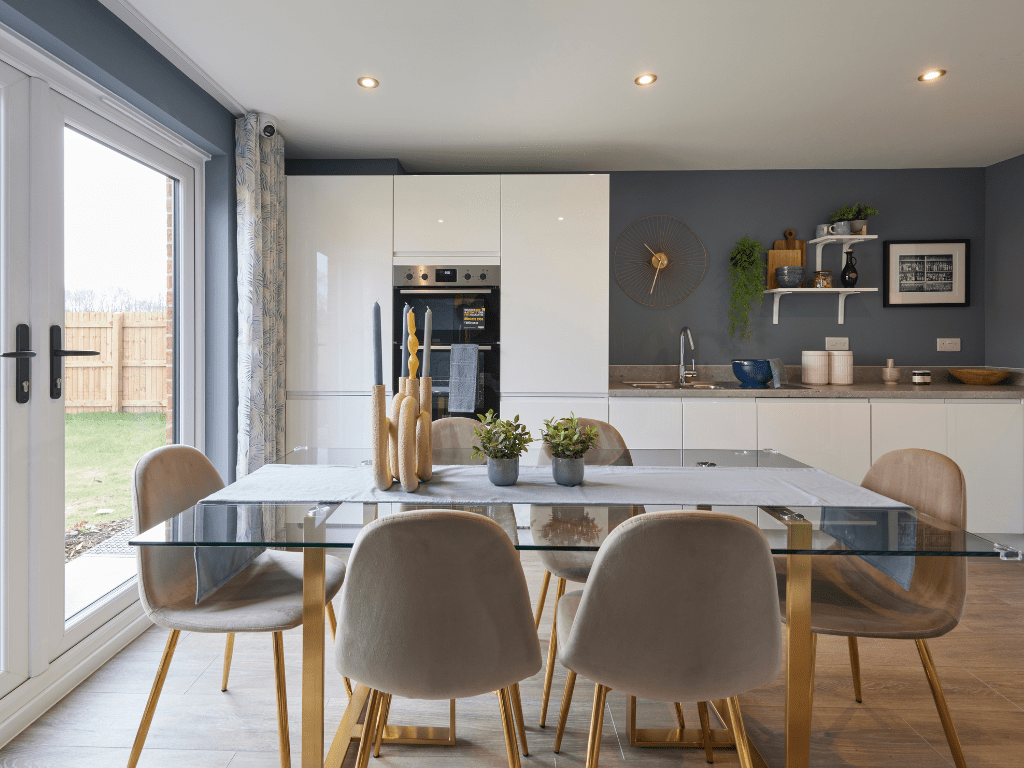 When you buy a home off plan, it gives you the opportunity to personalise your home right from the beginning. But what does that actually mean? In this blog we'll explore the modifications you can make in a new build home and the options you'll be presented with when you buy.
As a rule, the earlier you reserve your home, the better. At later stages in the build process, we will have to make a decision when it comes to the options in your home (always going with the latest trending colours and styles, but ones that are purposefully neutral too). If you want full autonomy over how your home is going to look, buying a home off plan or early in the build stage is best.
There are also certain elements to your new home that will need to be chosen earlier than others, for example, decisions on lighting and electrics often need to be made before things such as cupboard colours. So, if you'd like to upgrade your sockets, fancy an induction hob or would like downlighters throughout – be sure to check the final date you need to let your Development Sales Manager know about this.
What Can You Modify In A New Build Home?
The answer is…lots more than people often realise! When you visit our show homes, we include a number of upgrades within them so you can see some of the options available to you, so if there's a feature that takes your fancy, be sure to ask your Development Sales Manager how you add that option to your home. You can also try out some different styles with our online options visualiser.
Kitchen Appliances
You can pick a range of kitchen appliances including ovens, dishwashers, washing machines and more. Many of our customers choose this option as it makes moving in super easy. Our appliances are mostly Zanussi and AEG, reliable and eco-friendly.
Electrical Outlets
If you want something a bit different, you can upgrade your outlets to a brushed steel or stainless-steel finish. This includes plugs, switches and TV points. You can also put additional sockets in your new home if you think you might need them, including dimmer switches, and lighting and electrical sockets in garages and outside.
Lighting
Our downlights are popular and can be found in most show homes, they give your home a real luxury feel – this is another element you can modify in your new build home. We can also add in additional light pendants and loft lighting if you wish.
Kitchen Units & Worktops
One of the most exciting things (trust us) is picking your kitchen units and worktops. We have lots of options including neutrals and brighter colours, plus different finishes too. You can choose from our standard range, which is included in your purchase price, or upgrade your units for an additional cost. You'll be able to check out all your options when you visit the sales centre.
Kitchen & Bathroom Tiling
Tiling is something else you'll be able to modify in your new build home within your purchase price, provided you reserve early enough. Pick your options with your Development Sales Manager, you'll be surprised at how many there are! This applies to your bathroom and kitchen. As with kitchen units and worktops, there are upgrade options for tiles too.
Security
If you want to take the hassle out of setting up home security when you move in, you can arrange it with us when you pay your deposit and pick your options. We offer wireless alarms, motion detectors, and outside floodlighting.
Bathroom Features
Would you like a shower head in the bath, or perhaps you'd like the walls to be fully tiled? There are a lot of things you can modify in your new build home when it comes to the bathroom. As well as being able to upgrade your taps and toilets to soft close, you can add in towel radiators and even a wall mirror if you choose.
Flooring
To take some of the stress out of moving home, we can take care of the flooring for you – so it's all fitted by the time you move in. You can choose from tiling, vinyl, luxury vinyl, or carpet. There are a surprising number of colours and finishes available.
Wardrobes
We can add fitted wardrobes to your home to make the best use of space and also elevate the luxury of your bedrooms. A lot of our show homes have fitted wardrobes so you can take a look before you buy and decide on what style you like the most.
Garden
Last but by no means least, we can help get your garden off to a great start too. Selected developments have turfing and extended patio options. Plus, we can help in installing an outdoor tap, external sockets and lighting, so your garden is fully functional by the time you get your keys.
Whatever you'd like to modify in your new build home, you'll get the widest range of options when you buy early on in the build process. Ready to start the reservation process? Have a look at the latest developments on our website, or speak to a member of our team to find out more.
Published:
10 July 2023 at 09:07