The benefits of buying a new build home off-plan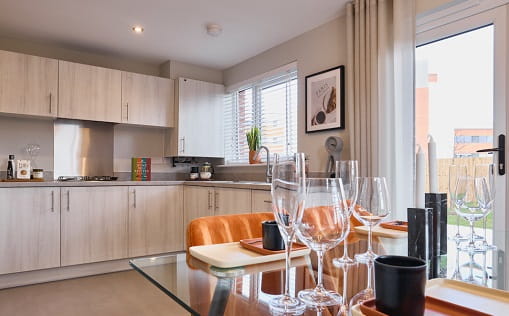 You can buy a new build home at different stages, including before work has even begun on the plot, during foundation or build level, or, of course, when the home has been completed.
Buying a home 'off-plan,' means purchasing before the work on your house has finished, which is what many of our customers at Miller Homes opt to do.
Purchasing off-plan is a popular choice because of the options and benefits available to buyers, that aren't always available later in the build stage. Below, we explore how it works and take a look at the benefits of buying a new build home off-plan.
How Does Buying A New Build Off-Plan Work?
Buying off-plan can sound scary – as you can't actually see your home before you make a reservation. But in reality, it's how a lot of customers start their new build home buying journey.
Our homes become available at different stages, starting when a development is 'digitally launched' (where plots are available to browse and pre-reserve online), through to when the sales centres and show homes for that site open up to the public.
With Miller Homes, at every stage there's always a dedicated person from our team there to talk you through your options, and it's likely there'll be another development not too far from you with show homes you can peruse before you make your decision if you'd like.
What Are The Benefits Of Buying A New Build Off-Plan?
Making your home your own
Probably the biggest benefit of buying a new home off-plan is that you'll be involved in a number of decisions to make your home truly personal to you. For example, if you purchase before fixtures and fittings go in, we'll give you the options to pick your own!
You'll have an options meeting during your buying process where you can choose things such as cupboard and worktop colours, tiling, and even things you might not have thought of such as switches and door handles.
You may even opt to take the hassle out of moving and add appliances, flooring, downlighters and more to your new home too so that it's all ready to go when you move in. Keep an eye out for incentives, on certain homes we offer, we include these too! Fancy having a look at what's available? You can start planning straight away with our options visualiser.
Following the build stage
Another thing we find our customers absolutely love when they buy off-plan is feeling as though they're a part of their new home coming to life. When you visit the sales centre there's a good chance your home would have advanced in its build stage, so you can follow it right from foundation levels through to completion.
You may even have the option to head into your house before it completes, to do your initial checks and walk around, which is always a really memorable experience.
Our Miller Homes team will support you no matter what stage you purchase your new build at, but when you buy off-plan, expect frequent updates as to how your build is going. If you've ever purchased a house before, you'll know how exciting these little details can be –we love making our buyers feel as though they're part of the process from beginning to end.
Being part of a new community
One of the big benefits of buying a new build home is that you have the chance to join a new community when you move in. Expect to get to know your neighbours and for children to make friends with others who've just moved on to the development. Buying off-plan takes this one step further, as it's likely you'll be one of the earlier new home occupants, meaning you can watch your community grow and meet new people as other homeowners move in.
Is Buying A New Build Off-Plan Cheaper?
Our off-plan plots often come with incentives to purchase which can make them cheaper, so keep an eye on this. You can always find these by browsing developments on our website. Or, if you'd like to talk about a specific development, reach out to our team who will always be happy to help you.
Browse our new homes by location to find a new build home to buy off-plan in your desired area.
Published:
01 September 2023 at 12:09