How To Create A Nursery Fit For Royalty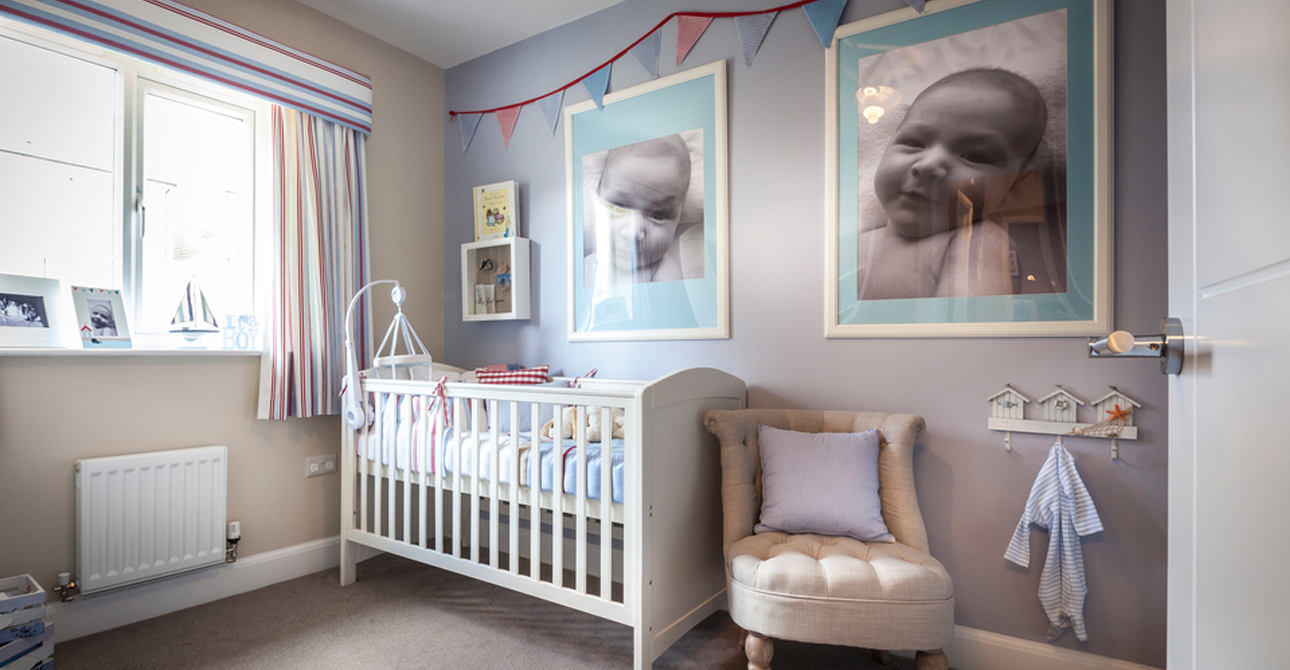 The countdown to welcome the new royal baby is well underway, and while the world speculates on what majestic moniker will be bestowed upon the new arrival, Prince William and the Duchess of Cambridge will be busy adding the finishing touches to their new bundle of joy's nursery.
To create the perfect environment for any new cherub, it is important to get your nursery ready in advance of your baby's arrival as you'll have plenty keeping you occupied afterwards. There's lots to consider when designing a nursery such as colours, textiles, accessories and practicalities. Here, we share our top tips to create a nursery fit for royalty.
Create a mood board
The first step is to decide on the all-important theme for the nursery. This could be something as simple as a pastel colour palette or a focus on jungle animals or nature. Whatever your choice, creating a mood board of colours, patterns, textiles and interior ideas is the perfect way to get the creative juices flowing, and ensure that you have an overarching theme in mind when it comes to decorating and dressing the room.
Choose the colours
Probably the most important part of the nursery design is the colour of the room. Whether you choose to go for a bright colour like pink, yellow or blue, or opt for a simple white or cream, it's necessary to get the right tones and hues.
A sophisticated nursery will have a mix of colours from your chosen palette rather than a single shade throughout. Soft whites and greys complemented by accents of brighter colours offer the perfect combination of neutral shades for a new baby's room. Take time to browse a selection of colours, and don't rush the process as it's a key step.
The layout
When deciding on the layout of the nursery you should consider many factors. Remember to place your little one's crib away from any areas that receive direct sunlight in the morning or that could be disturbed by outside noise. A rocking chair is an essential addition to a nursery, as you will be spending a lot of time feeding and nursing the baby in there; it's a good idea to put this chair in the window for extra daylight but be conscious that this area may often get too hot for a newborn so invest in some blinds or good quality curtains to shield it.
Identify a focal point
Most nurseries are centered around the cot, but there are many other possible focal points to choose from. It could be an armchair in the corner accessorised with cushions and blankets, or a piece of artwork on the wall. Wall art helps to add personality and can save on money if used instead of expensive wallpapers. When choosing artwork, go for simple prints that are not age-specific, as you will want the piece to last as your new addition grows older.
Storage, storage, storage
It's easy to get caught up in the interior design of the nursery, however it's key not to forget about the practicalities and importance of storage.
Why not use a chest or trunk as a piece of furniture doubled up as a storage solution? As long as the chest is muted in tone and not too heavily, it will be a timeless piece that can remain as a storage space for a good few years. Always try to incorporate dual purpose items in the nursery, such as a chest of drawers that doubles as a changing table.
Items like muslin cloths and softer accessories could be stored in canvas bags or rope baskets hanging on a door hook; these will add a quirky edge to the room and will be useful if drawer space is tight. If space is not an issue, consider investing in a good quality set of drawers that can be repurposed for an older child's bedroom as your baby grows, or re-used for future children.
With the right design, storage can be both a useful and stylish addition to a nursery.
Get creative
Whilst it's great to keep muted tones throughout and ensure that the nursery can be timeless and adaptable as your child grows older, having a baby is an exciting time in your life and the perfect opportunity to get creative in your home. If you have a bigger budget, you could consider investing in a themed bedroom, however this may only last a few years, or splurge on a special piece of art to commemorate your new arrival. Ultimately, this is your opportunity to do whatever you wish with your baby's room, so it's important to have fun with it.
We'd love to see how you've styled your little prince or princess' nursery. Share your interiors with us on Twitter.
Published:
13 March 2018 at 10:03