Spring Cleaning With Nature In Mind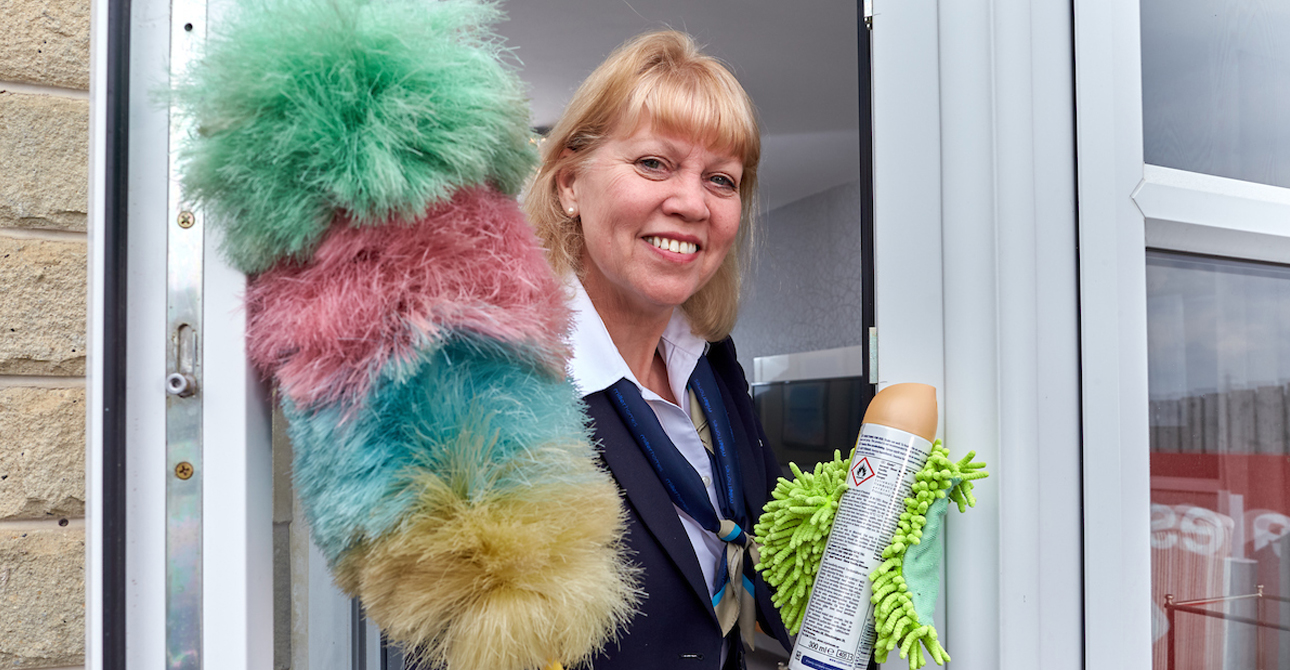 As the longer days arrive and the mercury creeps upwards our thoughts inevitably turn to spring and the time old activity of spring cleaning our homes.
And, with an ever-growing awareness of using chemicals and plastics in our homes, coupled with a desire to recycle and reuse wherever possible, we have put together a quick guide to making your home fresh, clean, tidy and sparkly without the need for harsh chemicals or waste. Many can be made with simple ingredients or you can find natural products in many supermarkets.
Window Wizardry
Cleaning windows is not often top of people's favourite jobs to do in the home but, with our natural cleaning method you will see great results with a little effort.
Make a solution of 1 cup of Vodka, ¼ cup of White vinegar and dilute with water. Spritz onto your windows and clean with a soft cloth. With a different soft cloth polish away final streaks for smear free, crystal clear windows. Remember to clean your windows on a cloudy day, a sunny one will just see the solution try too quickly create smears.
Limescale Removal
Many areas in the UK are subject to hard water which can leave annoying limescale on taps, sinks, showers and plug holes. Make a paste from baking powder and water, apply to the affected area and if necessary, such as on taps, wrap in a plastic bag or cling film and secure with an elastic band. Leave for five minutes, rinse well and polish with a soft cloth.
Banish Bedroom Blues
One of the best things you can do in here is declutter. Sort out what you no longer like or what doesn't fit, box up and take to the local charity shop. Sprinkle mattresses with Bicarbonate of Soda to de-odourise. Leave for a while and then vacuum off. Wash duvets and pillows or buy new if they have seen better days. Could you use the old ones as pet beds?
Dishwasher Devils
For truly clean dishes the washer itself needs to be clean. Grab a toothbrush, loosen all stubborn dirt and then pop in two lemons cut in half in the top tray. Put the washer on a hot wash and it will freshen it beautifully. And remember, once it's been cleaned that the trusty dishwasher is not just about doing the pots. It is a great way to clean children's plastic toys (minus the batteries of course). Pop them in, put on a gentle cycle and those building blocks and toy cars will be as good as new.
Recycle and Reuse
When sorting out make sure you recycle as much as possible. Place things in boxes rather than bags and be ruthless! Some if the old clothes may be used as cleaning rags – old T-Shirts are perfect. And, if you still want to reuse cloths but not your old clothes think about purchasing the ones that can be machine washed rather than the ones you throw away.
Bicarb Brilliance
Bicarbonate of Soda might just become your cleaning best friend! In addition to de-odourising mattresses, it also makes a great oven cleaner. Dilute in a spray bottle with water and spritz generously over the inside of your oven taking care to avoid the heating elements. Leave overnight and clean off in the morning. Similarly, sprinkling in the fridge can act as a de-odouriser whilst toothpaste and a toothbrush can get your fridge interior looking like new as it acts like a great stain remover.
Use a paste of bicarb to get your bathroom grout gleaming again and if the soft toys belonging to your children could do with a freshen, pop them in a bag, sprinkle generously with Bicarb and leave for a while. They'll emerge smelling much fresher, just make sure you have got all the Bicarb from them by giving them a good shake.
If you have any other great tips for cleaning please share them with us on one of our social media channels. We look forward to hearing from you.
Facebook - https://www.facebook.com/MillerHomesLtd/
Twitter - https://twitter.com/MillerHomesUK
Published:
05 April 2018 at 10:04