How to create the perfect laundry room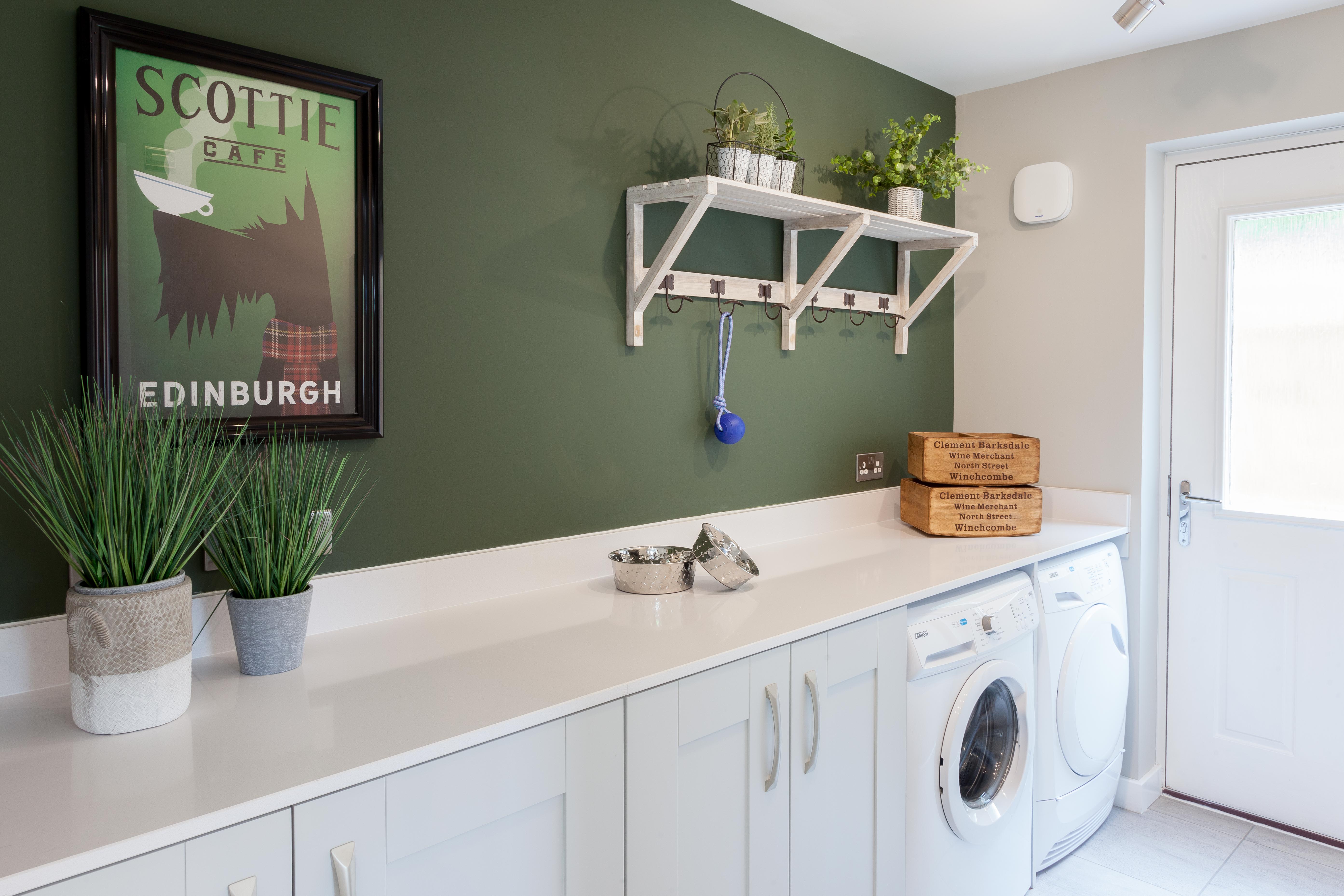 The laundry room – a hidden gem designed to ensure your daily chores don't start to spill over into your living space. It's one of the most popular areas of our homes with buyers and we ensured it was carefully designed to act as a practical space, as well as providing even more great storage options. Here's some inspiration on ways to maximise this marvellous, multipurpose space.
Ways to use your laundry room
This flexible space can have so many uses. Whether used in its traditional form as a washing and drying area, as a place for your pets to call home or to be used as a boot room – the space can flex to suit a family's daily needs. Keeping appliances in this room, such as your washing machine and tumble-dryer, allows a dedicated space for household organisation, where you can store essential items like your ironing board, laundry basket or clothes racks. It's also a great space for walking boots and jackets – keeping the rest of the home free of trailing mud!
Storage ideas
The laundry room is a great place to tuck away household items that you might not reach for every day. Our homes that boast laundry rooms come with plenty of additional integrated cupboard space, which can be used for storing cleaning products, equipment, clean linen, pantry items and even pet food, so you can keep everything tidied away easily.
Bring out your inner Marie Kondo and play around with this space to suit your needs. By using stylish boxes and baskets to organise your items, you can add a bit of colour and texture, making the room look sleek and stylish. You can also add statement shelving, handy hooks or even a retro drying rack, to keep your laundry room organised at all times.
We'd recommend keeping a clean bench space as this will really help when it comes to washing day, providing a handy area for folding and sorting through your laundry.
Decorating your space
You can have a lot of fun decorating the laundry room. Brighten it up with statement wallpaper or an eye-catching shade of paint to put your stamp on the room.
Keeping this space bright and easy to clean is key. A light, bright space feels fresh, so try playing around with lighting options to see what works for you, whether that's a statement pendant, or simple spotlights, to create the right ambiance. Tiles are so easy to maintain and clean so are a great option for your laundry room.
Working in partnership with Porcelanosa, Miller Homes offers a fantastic range of options of tiling and ceramics, allowing buyers to tailor their home to suit their requirements.
We really like the use of freestanding shelves, a perfect place to add a house plant (or two) to bring the outside in, and to add your own personality, we'd recommend hanging some of your favourite art, or even styling up some counter accessories such as scented candles.
These ideas should make your laundry room a stylish yet practical space that helps make the household chores that little bit more exciting.
Let us know what you love about your laundry room and share your pictures with us on social media @MillerHomesUK
Published:
22 January 2021 at 10:01