How to choose the right tiles for your home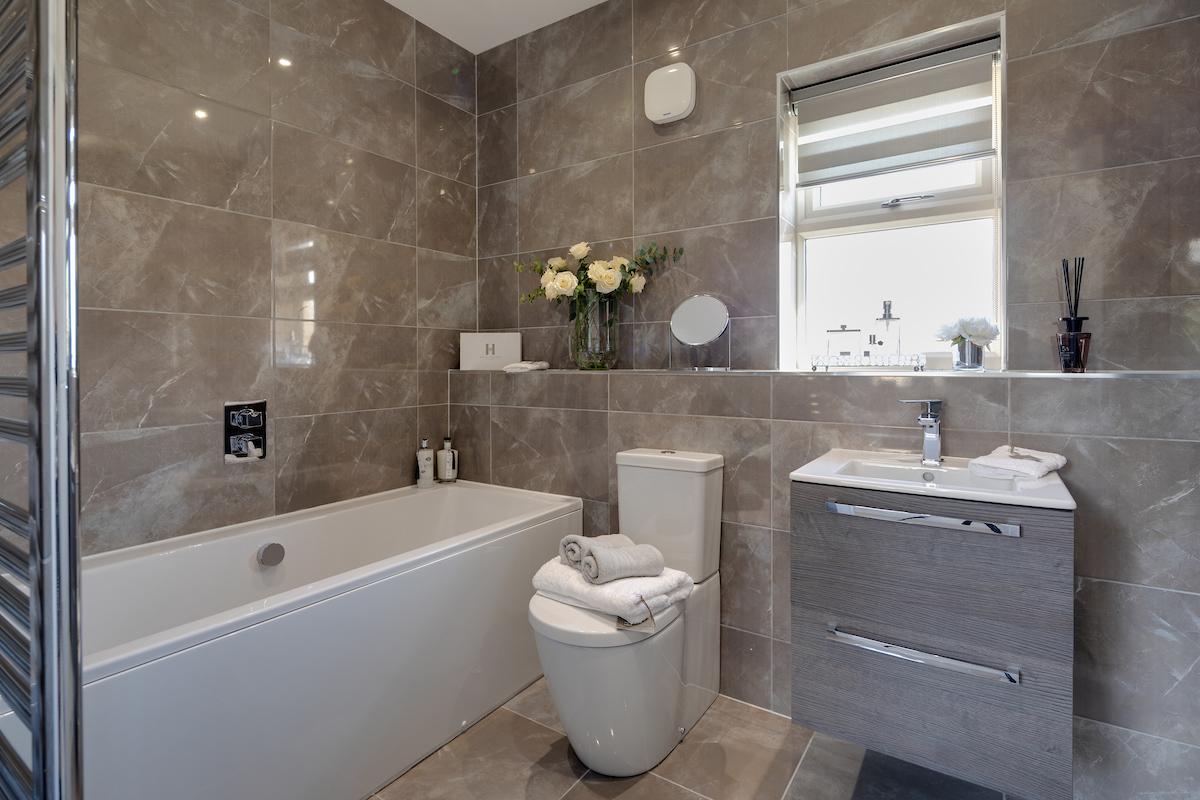 Buying a new home gives you lots of options and new tiles are just one of the delightful choices that you may have to make to personalise your home.
Whilst it may be OK to change wallpaper and paint colours more often if you have either fallen out of love with them, or just made the wrong choice, when it comes to tiles, whether that is wall or floor, you have to be more heavily invested in your choice. After all, it's a big decision and chances are you're going to have to live with it for a while.
Here are a few things to consider before you have a night out on your tiles!
Size doesn't matter
If you've heard of 'rules' saying what size tiles need to be used in what sized rooms, just dismiss them! If you want to use large tiles in a small bathroom, go ahead – the grout lines will be reduced and will actually make your room look larger. Similarly, if you want to use mosaic or smaller tiles in a large area, do so! You can create all manner of wonderful effects by laying them at angles or contrasting directions – a tiler worth their salt will be a master at using different materials to create really eye-catching and individual looks.
Usage and occupants
It's always worth considering how often the room is going to be used and who's going to use it. If it's an area of high traffic, such as a kitchen or hall floor, you need to go for something unswervingly hard wearing and with dark grout – if you choose a pale one you will be forever redoing it if you've got children, dogs or just enjoying being out in the garden and don't take your shoes off every time you step inside to put the kettle on!
Similarly, in a bathroom, different choices will probably be made whether it's a family bathroom or a guest shower room. The first one will need lots of cleaning and therefore less grout and untextured tiles will make cleaning and polishing those tiles infinitely easier. But if you're creating an stunning en-suite that will only be used occasionally, let your imagination run wild! Rich jewel like colours can be used to amazing effect and create a real focal, and talking, point for your guests.
Wall or floor?
Not all tiles are suitable for walls and floors, generally due to the thickness of them and the material from which they are made. It goes without saying that you need to ensure your floor tiles are suitable for lots of foot traffic, without intrinsic strength you may find that they are prone to cracking or twisting – a problem you can well do without.
Buy what you like
Ok, so printed tiles might not be everyone's cup of tea, but not everyone is living in your home. Because tiling is a big investment, both in cost terms and the fact that most people have to get an expert in to carry out the work, you really want to be bowled over by it when its finished. So, if it's eye-catching vintage tiles that are going to create a feature splashback, a floor to ceiling wall of black onyx against which a pristine white bath sits, or smoky mirror tiles that create an alluring shower partition, just go for it!
Material gains
It's also really important to consider the material and finish of the tile that you choose to make sure it's compatible with the activities that are going to be taking place in that room.
High shine porcelain tiles are a big no for a bathroom floor. Already very shiny, they become incredibly slippery and therefore dangerous when a little water is added to them. Similarly, make sure the tiles that you choose are waterproof if they are going to be used in an area of high-water usage. Believe it or not, not all tiles are waterproof, natural materials such as terracotta and travertine aren't unless you treat them. Even then, completely waterproofing can prove tricky to achieve.
If you are choosing a floor for a wet room, there are several anti-slip options out there that will provide style and safety in equal measure. And, if you choose a small format tile in your shower floor there will be more grout, which will give you more grip in your bare feet.
Tiles are one of the most hardwearing and versatile materials that we can use in our homes, and who said that they have to be contained purely within our kitchens and bathrooms.
They can make amazing design statements and focal features in other parts of our home too – imagine a contemporary living room wall in smoked glass and a period feature fireplace with a nod back to the roaring twenties.
We hope you feel suitably inspired to tackle the tiles in your home and make them a focal point to be enjoyed, not just merely a practical solution.
Published:
24 September 2021 at 01:09