Children's nursery inspiration from celebrity homes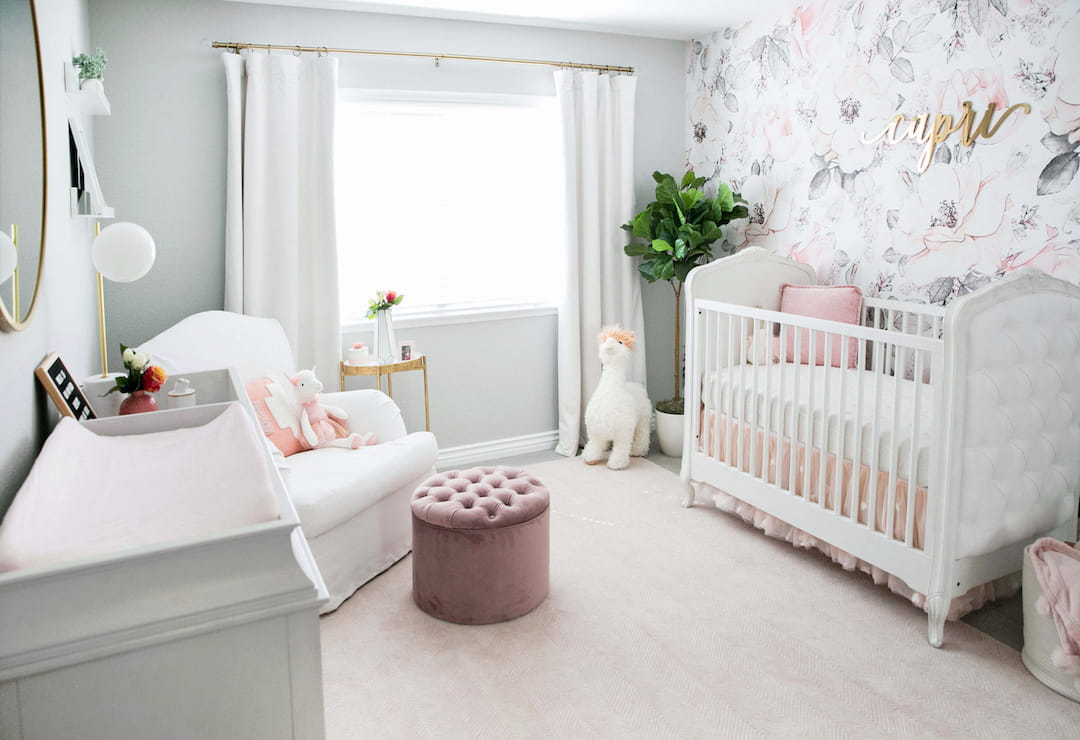 Every parent wants the perfect space for their expected little one; whether it's your first or fifth, you want that stylish and chic nursery that is cosy and calm for your baby.
Celebrity parents' homes provide an excellent place to start if you're in need of some creative inspiration to plan your own scheme.
There is an abundance of ideas on how to decorate your little darling's nursery, whatever your budget. Whether you go for a traditional or modern, classic or colourful theme – there's lots of ways you can style that special space for your little one.
Here's a collection of our favourite celeb nurseries…
Millie Mackintosh and Hugo Taylor
This adorable decor gives a soft and warm twist to the jungle theme, which is really popular at the moment. The combination of neutral colours and wooden furnishings helps create that natural space. Use of animal-themed soft toys, prints and a fantastic watercolour print really complete to look.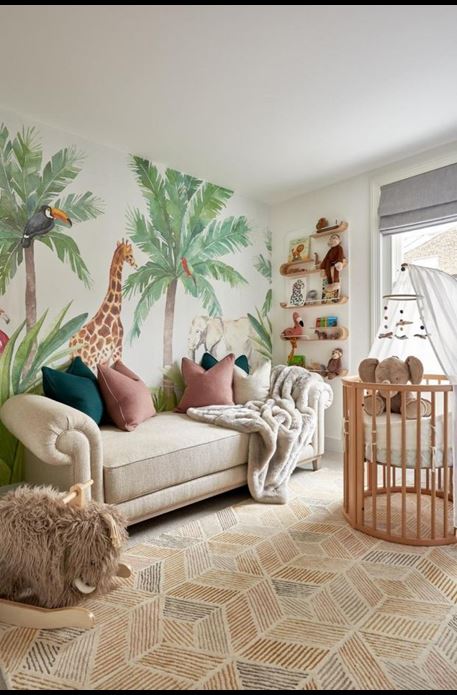 Tom and Giovanna Fletcher
Tom and Giovanna wanted a gender-neutral space as they didn't know the gender of their baby. A base colour combination of grey and white makes the room clean and simple, accented with yellow and mint green elements to make the colour scheme pop. Regardless of gender, this is a cute space for both parent and baby to enjoy together.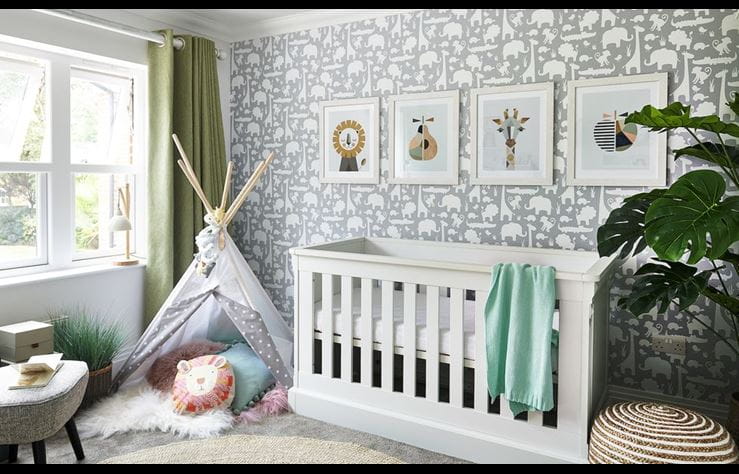 Chris and Rosie Ramsey
The couple have created a warm, classic feel for their new baby Rafe. Traditional white furniture provides a clean and practical space plus the whimsical patterned armchair and motif wallpaper both add a charming animal theme to the room. Features around his name, including a calligraphy wall art piece and an 'R' cushion, personalises the room to their new baby-boy.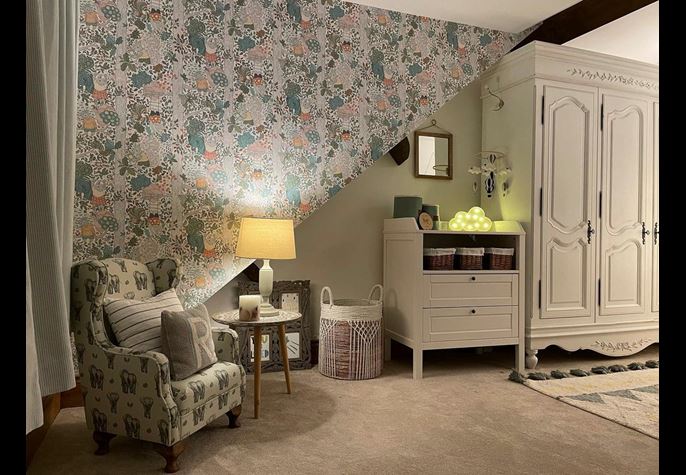 Mrs Hinch
Mrs Hinch has successfully created the epitome of a baby boy's room. In the background, an adorable blue polka dot wallpaper immediately sets the tone. Embellished by more blue, with thermal blue curtains and a baby blue giraffe. The white accents through the patterns in cushions and the white wooded furniture, such as the rocking chair, shelf and floor lamp, helps break up the blue tones.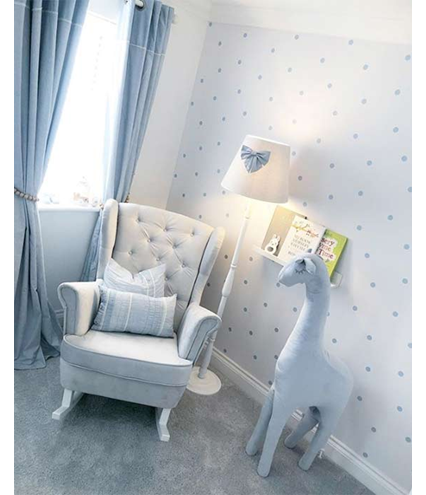 Sierra Dallas and Brent Mallozzi
This feature wall is everything! Beautiful tones of pink and blush amongst the floral patterns, the white furniture and light background make the somewhat smaller space seem roomy and bright. Soothing accents of pink, white and gold make this a luxurious and stylish space for your little girl.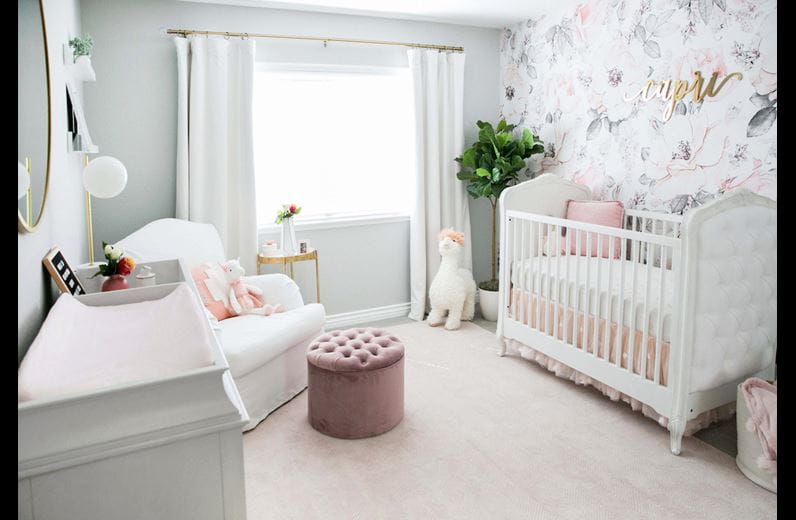 Dani Dyer and Sammy Kimmence
Animal themes are a great way to create a gender-neutral bedroom for your expected baby. The choice of the delightful elephant print wallpaper from Wayfair sets the grey and soothing design for this nursery. Adding cosy elements like the fur rug, rocking chair and crib canopy help to make this nursery a snug space for the parents and baby.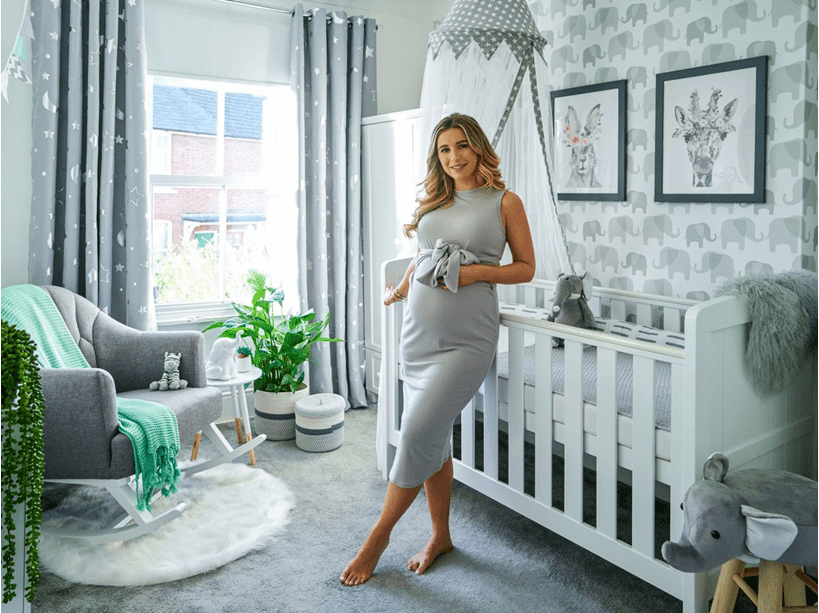 Which celeb nursery has caught your eye and inspired your little one's bedroom? For more interiors inspiration from our show homes across the UK, follow us on Instagram @millerhomesuk.
Published:
03 March 2021 at 09:03