Location, location, location: Burnley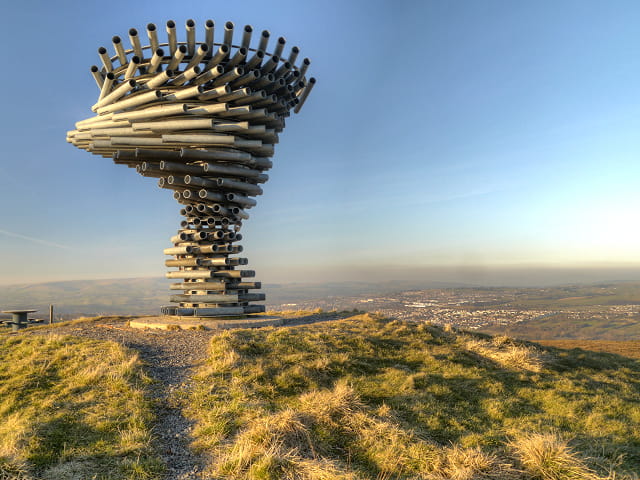 The popular town of Burnley is just 21 miles north of Manchester but still within easy reach of the beautiful Lancashire countryside. It's the perfect mix of being a commutable destination for professionals, whilst boasting the benefits of a semi-rural location. Have you ever considered living in Burnley? Read on to discover some of the fascinating history of Burnley and the secrets it holds, as well as some insight into what living here is like for those looking to find their perfect new home in Burnley.
The history of Burnley
The name 'Burnley' is said to be derived from the term 'Brun Lea', which translates to "meadow by the River Brun." Burnley has a rich and colourful history, did you know that in its early days, the now vibrant town was once home to a small farming community? It gained a corn mill in 1290, a market in 1294 and a fulling mill in 1296. If you're looking to live in an area that has a charming history, but all the benefits of modern-day living, then Burnley is a great choice.
This spirited Lancashire town is also home to many famous faces. Did you know that Sir Ian McKellen, Radio 1's Jordan North and acclaimed TV writer Paul Abbott are all from Burnley? Though they might differ in professions, one thing ties these three together, they're all very proud of their northern roots.
Those aren't the only famous faces that Burnley has to offer. Do you have a passion for sports? Burnley has strong sports ties through and through. The town is the home of England cricketing legend James Anderson, and conveniently, is also within easy reach of Lancashire Cricket Club. The club is one of the most renowned in the country and has produced sporting legends such as Freddie Flintoff, Brian Statham and Glen Chapple. Let's also not forget that Burnley is home to The Clarets, otherwise known as Burnley FC, the renowned Premier League football club who were winners of the FA cup in 1914!
Things to do in Burnley
If you're considering making Burnley your new home, then you're in luck. There's plenty to do and explore in the local area, and it's also jam packed full of local amenities. Below, we've highlighted some of the key places you should add to your Burnley bucket list.
Towneley Hall
For a spot of culture, Towneley Hall is a popular park and visitor attraction. The hall was originally the home of the Towneleys, an English upper-class family that dates back to around 1200. The family once owned extensive estates in and around Lancashire and the West Riding of Yorkshire. Today visitors can see the 15th-century Whalley Abbey vestments and its own chapel – with a finely carved altarpiece made in Antwerp around 1525. If you're into art, the hall is also packed with Victorian and pre-Raphaelite paintings by Waterhouse, Burne-Jones and Zoffany and there's a charming walk around the Deer Pond, a local nature reserve. It's the perfect day out for history buffs and nature lovers alike.
The Singing Ringing Tree
A piece of modern art with a very intriguing name, the 'Singing Ringing Tree' is a sculpture set in the Pennines overlooking Burnley. It's a must see for anyone visiting (or indeed living) in the local area. The tree is 3-metres tall, and is made up of galvanised steel pipes, which use the energy of the wind to produce a choral sound covering a range of several octaves. Basically, it's all in the name: it's a real singing tree! The result is an ethereal, but slightly haunting sound (so you might want to visit during the daytime if you're easily spooked).
Burnley Market
It's never been more important to support small, local businesses and Burnley Market is the perfect place for finding them. Offering everything from food produce to beauty treatments and technology products, Burnley Market is often the go-to shopping location for residents and visitors. It's not just stalls you'll find at the market too, there's also an impressive range of world food including as Thai, Chinese, Indian and Italian. There are also cafes where you can sit and chill with a coffee, and watch the world go by.
The Weavers' Triangle Visitor Centre
Burnley has a famous mining history, but did you know that it also has a rich manufacturing past? The town was once a hub of the British textile industry, and this is definitely something worth exploring when looking for things to do in Burnley. The Weavers' Triangle is a modern name for an area on the banks of the Leeds and Liverpool Canal that was at the heart of it all and where you can now take a trip to find out more about Burnley's historic past. Guided tours that run alongside the canal are available, and at the Visitor's Centre there's plenty for the little ones to do too. This includes a children's corner, various trails, and quizzes. There's even a wonderfully captivating working model fairground based on the old Burnley Fair. Why not see how cotton was made and chance your hand at some real weaving?
With a rich history and plenty to see and do, there's no surprise that many choose Burnley as a place to put down their roots. If Burnley seems like the perfect place for you, our new development The Calders could be where your new journey begins. With a collection of three-and-four bedroom homes with dedicated home office space there will be something for everyone. You can find out more on our website, or follow our social media channels for development updates too.
Published:
09 June 2021 at 09:06