Plan the perfect pancake day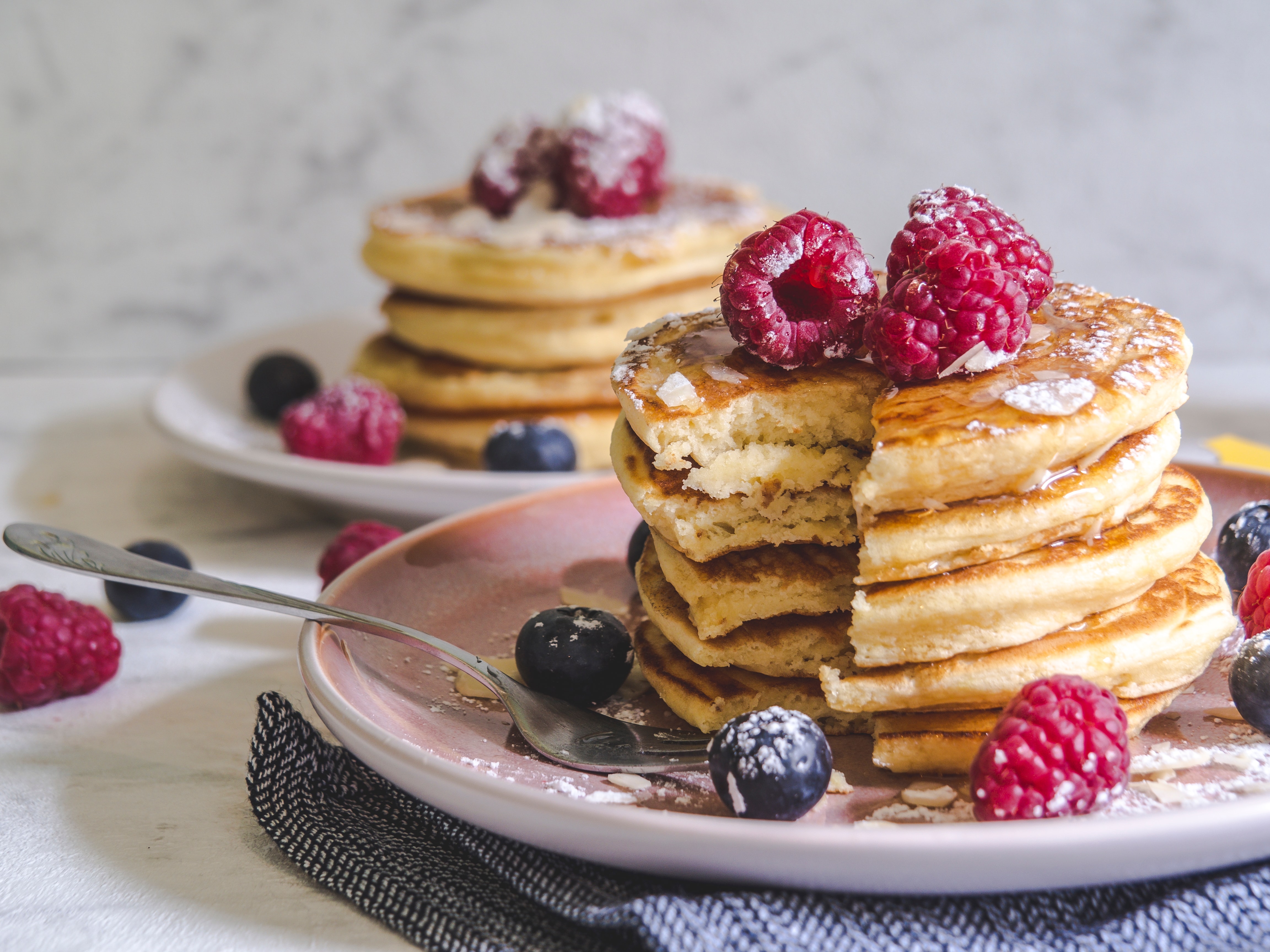 Tuesday 16th February, Pancake Day 2021, and the perfect opportunity to spend time with your family and bond over age old traditions.
Whether you like your pancakes thin, thick, sweet or savoury, Shrove Tuesday is a great chance to celebrate this once-a-year occasion at home and serve up delicious new takes, if you fancy it, on the traditional pancake.
Where it all began
Starting as a Pagan tradition, its roots stem from the need to use up all fatty and fresh products before Lent began, the day after, on Ash Wednesday. For 40 days, abstinence from foods that brought pleasure was to be strictly adhered to, so Shrove Tuesday became the day when it seemed like an invitation to consume as many calories as you possibly could all in one day!
Here, we give you a quick rundown on how to make the perfect pancake mix, ways to include all the family in the celebration, and the perfect toppings to decorate your creations with.
The right recipe
The first step to creating your perfect pancake is finding the mix that suits you. Whether that be thick American-style pancakes, some ambitious French crepes, or the convenient and reliable packet-mix; Shrove Tuesday is the perfect time to discover which style is the perfect pancake to satisfy all of your food-y cravings.
If light and fluffy, but substantial, is the pancake for you, then look no further than this quick and easy recipe for the perfect American pancakes. It can easily be scaled up to suit the requirements of your family. All you need is eggs, flour, milk, butter, baking powder and your chosen topping (see below for inspiration) to create three tasty pancakes for each of you.
If the lighter French style crepe is more your idea of an indulgent pancake treat then this simple recipe of flour, eggs and milk will do just the trick.
Let's not forget that if you're pushed for time this Pancake Day, or just don't fancy whipping up your own mix, there are several box, packet and shaker mixes available at supermarkets across the country giving you plenty of options to satisfy your sweet, or savoury, tooth and keep the family happy
Sweet or Savoury – what will you choose?
There is a whole choice of ways that people serve their pancakes, some traditional, some not so. If you're a fan of American pancakes, then we guess you can't really beat a generous slug of Maple Syrup drizzled over them! Simply stack up 3-4 of your freshly made batch and then generously drizzle; add some berries for a fruity twist, or some fried bacon to fully harness the traditional American pancake stack.
For those of you that like to keep it simple, or follow the tradition to the letter, a wafer-thin crepe style pancake is simply delicious with the classic topping of lemon juice and a sprinkling of sugar. This topping is a classic for a reason…it provides the perfect contrast of sweet and sour between pure sugar and the biting acidity of the lemon juice. You can't go wrong!
To really up your pancake game and create some truly eye-catching creations think about some delicious ice-cream. Whether you wish to place a scoop of ice cream on top of a fluffy stack, or roll it up in a crepe, ice cream is a topping you simply can't go wrong with, providing a lovely cold contrast to your freshly flipped pancakes. Also, why not add a sprinkling of fresh berries to complement your chosen flavour, or drizzle with Maple Syrup or hot chocolate sauce to add an extra layer of sticky goodness.
Savoury has not been quite as popular in recent decades as the sweet varieties however, we think this could be about to change – there are some amazing ideas for them out there which we can't wait to try!
Our mouths are watering at the thought of creating this Eggs Benedict special – ideal for Pancake Day breakfast! Layer your pancakes with some spinach leaves and thick cut ham, then top with a vibrant runny egg and a shake of pepper.
Or, if you're not satisfied with pancakes as simply breakfast or dessert, then just turn your pancakes into a meal in themselves. Add a touch of coriander to your mixture for an aromatic and savoury pancake, and then get started on a beautiful spicy tomato filling, jam packed with flavours from slow cooked pork and chorizo. Sounds delightful!
So, whether you fancy a simple, traditional crepe style pancake or want to create a family cooking marathon with toppings to suit everyone, 2021 is the perfect year to resurrect, or simply enjoy once more, the indulgent tradition that is Pancake Day.
Published:
10 February 2021 at 08:02