How to make the perfect festive wreath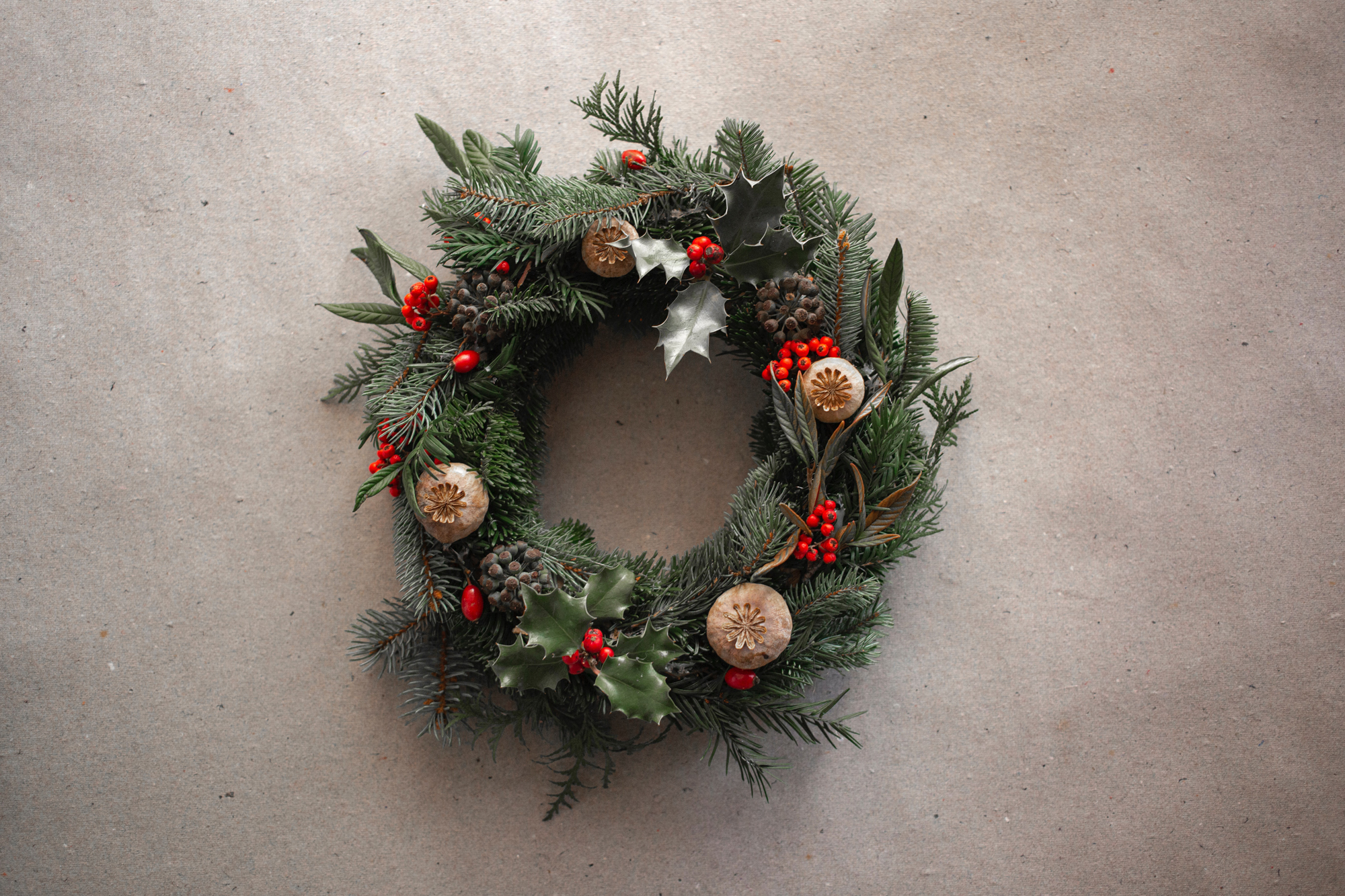 The Christmas wreath is not a new addition to our festive décor schemes; however, it has become one of the most popular in recent years.
Believed to have originated in ancient Rome and Greece, the 'corona' - a ring shaped decoration - would be made from fresh branches, flora, fruit and fauna and hung on doors as a symbol of victory.
Fast forward a few centuries or so, and today's wreaths can encapsulate a wonderland of many different things including baubles, candy canes, and the more traditional holly wreath.
We take a look at some of the favourites, and hope that it inspires you to have a go at making your own this year.
Getting started
Before you do anything else, you need to make sure that you have a good base to start upon. You will need:
Wicker, steel or foam circles, stars or other shapes can be easily bought online to the size that will suit you best. Or, if you have a metal coat hanger, the type used by dry cleaners, you can easily bend this to make the circle.

Fresh foliage and any other decorations to suit your theme

Gloves to avoid spiking your hands and fingers if using fresh foliage and holly

You may also need a glue gun, thin wire, ribbon, and scissors or secateurs to help with the process
Here's a great 'how to' guide to wreath making by The Range that you may find helpful. Read on for some style inspo.
A traditional take
Traditional wreaths using fresh foliage remain one of the most popular. Purchasing fresh foliage, pinecones, berries, and other decorations can create a vibrant scheme that will last for up to four weeks outside, and two weeks indoors. Hessian ribbon complements this type of wreath perfectly, as does simple winter flowers. And who says that you only need to have one wreath on your door? Adding more than one in a line down your door looks incredibly striking.
Sweet as candy
This is a great fun wreath to make and would be particularly suitable in a simple, yet traditional home scheme. We particularly like this one where the canes are arrange in eye catching shapes, although you can also pile the canes high to make a round shaped, more traditional wreath. Just be careful not to eat them! Another sweet treat that can be added to wreaths is dried orange slices. Complemented by cinnamon sticks, the wreath will add a lovely festive fragrance to your home.
Baubles and bells
A combination of different sized baubles and sleigh bells can make a wonderfully fun welcome to your door. After you have decided on a colour scheme, source the baubles; choosing ones in different shades and different sizes will add variety and interest to your creation. Pop in a sleigh bell or two, and when the door is opened the bells will make a fantastic festive sound heralding the sound of all visitors, not just the man in the red suit!
Twinkle, twinkle
A wreath that has fairy lights intertwined really sums up the festive season and there are many ways in which you can add some festive sparkle to your wreath making. Buying a pre-made willow wreath gives you a great basis to wind some fairy lights in and then add a few tasteful decorations to personalise to your colour scheme or festive theme. Or you could start from scratch and create a wreath where the lights are the main feature. Remember that it's probably best to buy battery powered fairy lights as this gives you the greatest flexibility as to where to hang your wreath, both indoors and out.
A little bit woolly
If you, like Tom Daley, love to knit, you will probably have small bits of wool left everywhere! Why not put them to good use and make pom poms - the type that children make when winding wool around cardboard circles – and then arrange the various sizes and colours in a wreath shape. Simple, but very effective, and this is a great one that the younger members of the family can get involved with too!
Crafty with a cookie cutter
Star shaped cookie cutters make the most simple and contemporary wreath and we just loved this idea! Simply tie together with festive ribbon, create a ribbon loop at the top to hang, and add a few extra accessories - perhaps a little foliage, some sleigh bells or festive flowers would make a welcome addition to the simple elegance.
What a corker!
Unless you've been saving wine corks over the last few months, you may need to wait until next year to make this one! Arranging the corks in a circular fashion and interspersing with small baubles and a sprig of holly makes a great feature. This one could even work well on smaller scale as a tree decoration. If you're saving the idea for next year, make sure you get your friends and family to save their wine corks too – no more screw cap bottles please!
We hope you feel suitably inspired to have a go at making your own wreaths this year, just remember to share them with us on our social channels, we would love to see what you create!
Published:
08 December 2021 at 09:12