Tantalisingly tasty BBQ recipes to satisfy your stomach this summer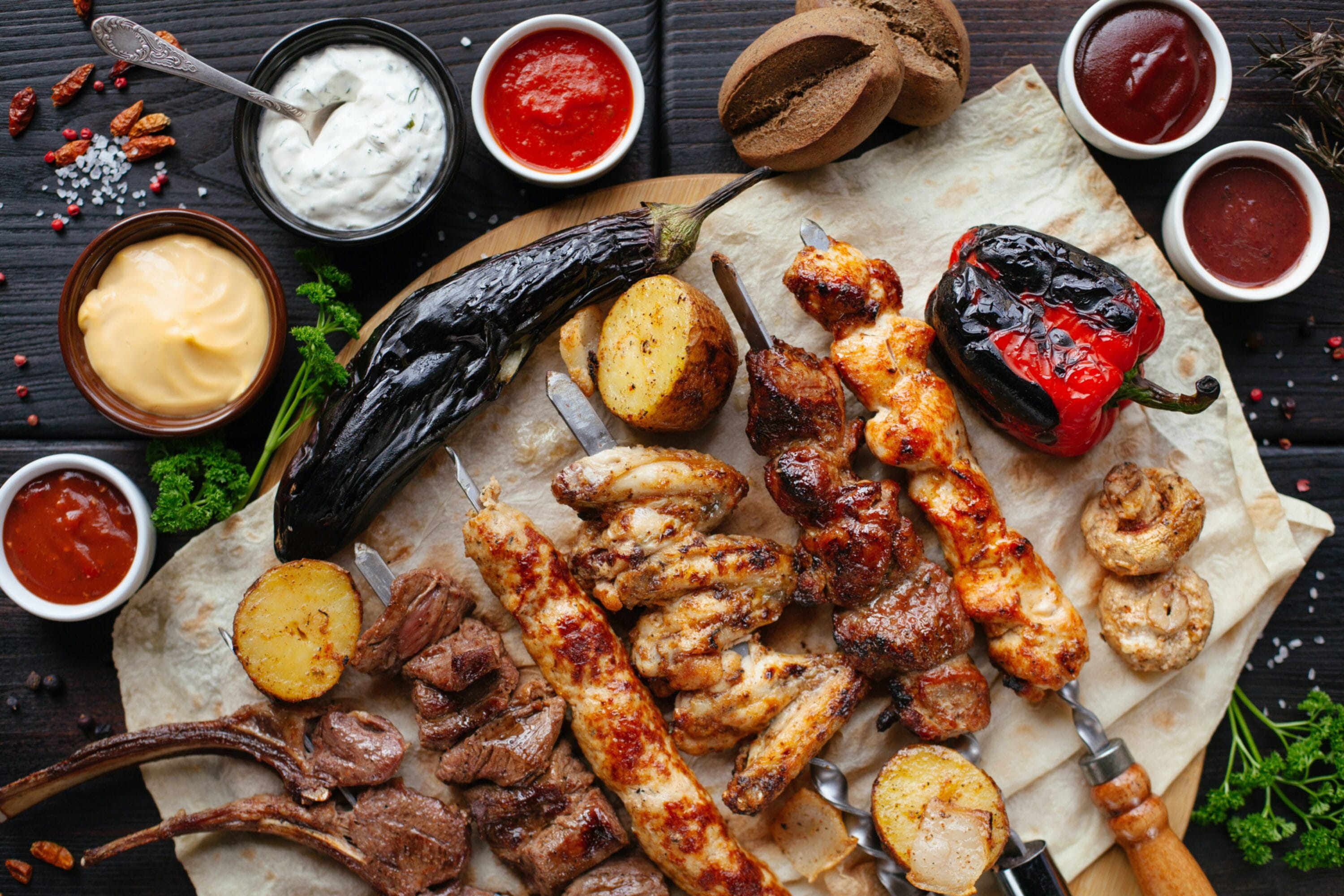 As summer approaches and the warmer weather creeps in, we can't get one thing off our minds…barbeques!
So pop on your apron and fire up the grill, as we're about to share our favourite BBQ recipes that will be sure to get your tastebuds tingling.
Basil and mozzarella focaccia fingers
A delicious starter, or pre BBQ nibble for peckish fingers, these basil and mozzarella bites are easy to make and suitable for vegetarians. And the best part – you only need four ingredients. Sound like your kind of thing? Our friends over at Delicious magazine show you how:
https://www.deliciousmagazine.co.uk/recipes/basil-and-mozzarella-focaccia-fingers/
Korean chilli, sesame and honey chicken thighs
An Asian twist on a classic kebab recipe – this Korean chilli chicken is sure to get your mouth watering…and perhaps your nose running! Succulent chicken thighs coated in a spicy, tangy dressing – it's the perfect "wild card" addition to your classic BBQ spread:
https://www.bbcgoodfood.com/recipes/korean-chilli-sesame-honey-chicken
BBQ Steakhouse burger
Ever wish you could recreate the almighty American steakhouse burger? Well now you can!
After working at a fine dining steakhouse for six years, Jenn Segal shows us how to make the crème de la crème of BBQ dishes…the staple succulent beef burger. The most surprising ingredients…bread, milk and Worcestershire sauce!
https://www.onceuponachef.com/recipes/steakhouse-burgers.html
Creamy fish kebabs
It wouldn't be a British BBQ without a recipe from good old Jamie Oliver! We love his tangy take on fish kebabs. Super easy to make, coupled with baby potatoes and a fresh herby sauce, this recipe is sure to please the seafood lovers among you!
https://jamieoliver.com/recipes/fish-recipes/the-best-marinated-fish-kebabs/
Italian pasta salad
It isn't a barbecue without a delicious selection of sides and salads, and the humble pasta salad has been a staple BBQ side dish for years. We love this Italian spin on a classic recipe – the mixture of textures and flavours is what makes this dish so irresistible, you won't be able to help going back for more!
https://www.delish.com/cooking/recipe-ideas/a19601468/easy-pasta-salad-recipe/
Grilled halloumi burgers
Quick, easy and possibly the best veggie burger you'll ever try, you'll be surprised at how well these grilled halloumi burgers go down at your BBQ. Packed with delicious toppings and held together in a sweet brioche bun, we can guarantee you won't even miss the meat!
https://scrummylane.com/crispy-halloumi-burgers/
Grilled chocolate filled bananas
What better way to round off a BBQ than with the absolute pinnacle of grilled desserts – the chocolate filled banana. A staple at most summer parties, this tasty classic is easy to make, and not too heavy on the stomach! Need a quick refresh on how to make it – Kitchen Stories shows you how:
https://www.kitchenstories.com/en/recipes/grilled-banana-with-chocolate
What are your staple BBQ meals? We'd love it if you shared some of your favourite recipes with us via out social media channels:
Twitter: @MillerHomesUK
Facebook: @MillerHomesUK
Published:
20 May 2020 at 10:05