Jilly McCord's Festive Nibbles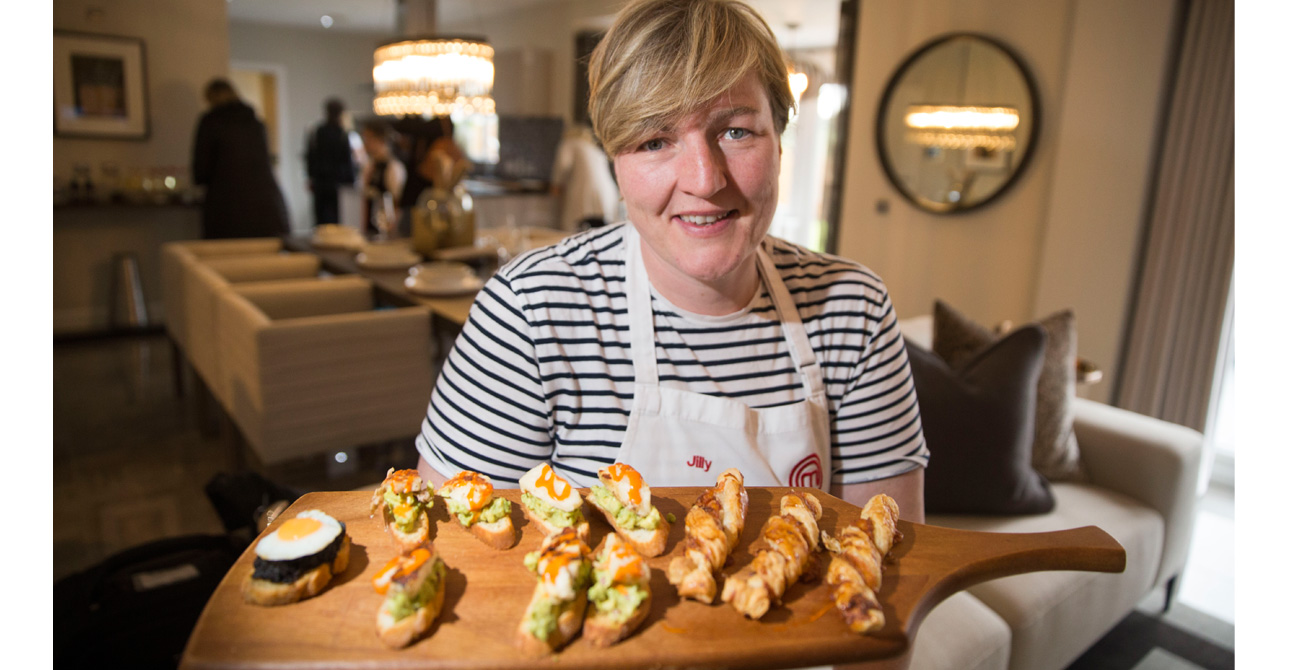 This year, we hosted an exclusive brunch event with BBC MasterChef finalist, Jilly McCord at our beautiful Bothwellbank development on the outskirts of Glasgow.
Jilly served up delicious brunch canapés, and here, she gives us her own recipe for a perfect festive canapé – a little roast dinner in one mouthful.
Jilly told us: "This is a lovely recipe for a really crowd-pleasing canapé. Once you've mastered the Yorkshire pudding, you can then change up the toppings – if you're catering for vegetarians, try doing some with Brie and Cranberry sauce on top and put the Yorkshires back in the oven for a couple of minutes to melt the cheese. Or if you're cooking on a budget, you can make these with chipolata sausages and red onion marmalade."
Mini Yorkshire Puddings festive toppings
Yorkshire Puddings - Ingredients
175g plain flour

2 eggs

175ml milk

120ml water

Pinch of salt

Beef dripping or vegetable oil
To make the Yorkshire puddings
Place the flour and salt in a bowl and create a well in the centre

Whisk the eggs in a separate bowl and then add to the flour, whisking gradually

Mix the water and milk together in a jug

Gradually add the water and milk mix to the flour to create a smooth batter (should be the consistency of single cream)

If you have any lumps, you can use a stick blender or sieve to remove them

Allow the mix to stand for an hour or so (this can also be done the day before and actually gets better if left overnight)

Heat the oven to 225°C

Take a mini muffin tin and place a little of the oil or dripping in each hole

Put in oven for 5 mins, or until the fat is smoking hot

Place the batter in a jug and fill each hole (about 2/3rds of the way up). If you can do this by sliding the tray out whilst still in the oven, this is ideal. If not – work quickly!

Cook the Yorkshires for around 10 minutes and make sure they are fully risen and golden brown. Keep an eye on them as ovens do vary.
Rare roast beef and horseradish cream topping - ingredients
Small piece of beef fillet (this could be the end parts, which are a little cheaper) or rare roast beef from a deli counter sliced.

100ml crème fraiche

Teaspoon horseradish sauce (you could replace with mustard)

Parsley
Method:
Take a frying pan with a little sunflower oil and get the pan very hot

Season the meat and add to the pan to sear on all sides

Cook for a couple of minutes on each side or until the middle still feels soft to touch, but not overly bouncy

Add a knob of butter halfway through cooking and baste the meat.

Leave to rest until just warm (you can do this before the Yorkshires)

Slice very thinly

Mix the horseradish with crème fraiche
Assemble:
Remove Yorkshires from the pan and place on kitchen paper to absorb some of the fat and prevent going soggy

Place a little of the rare roast beef in the dip in the middle of the Yorkshire

Add a dollop of the horseradish cream

Garnish with a sprig of flat-leaf parsley
We'd love to see photos of your Christmas canapés – share them with us on Instagram and let us know what your favourite recipes are on Twitter @MillerHomesUK!
Published:
18 December 2019 at 01:12