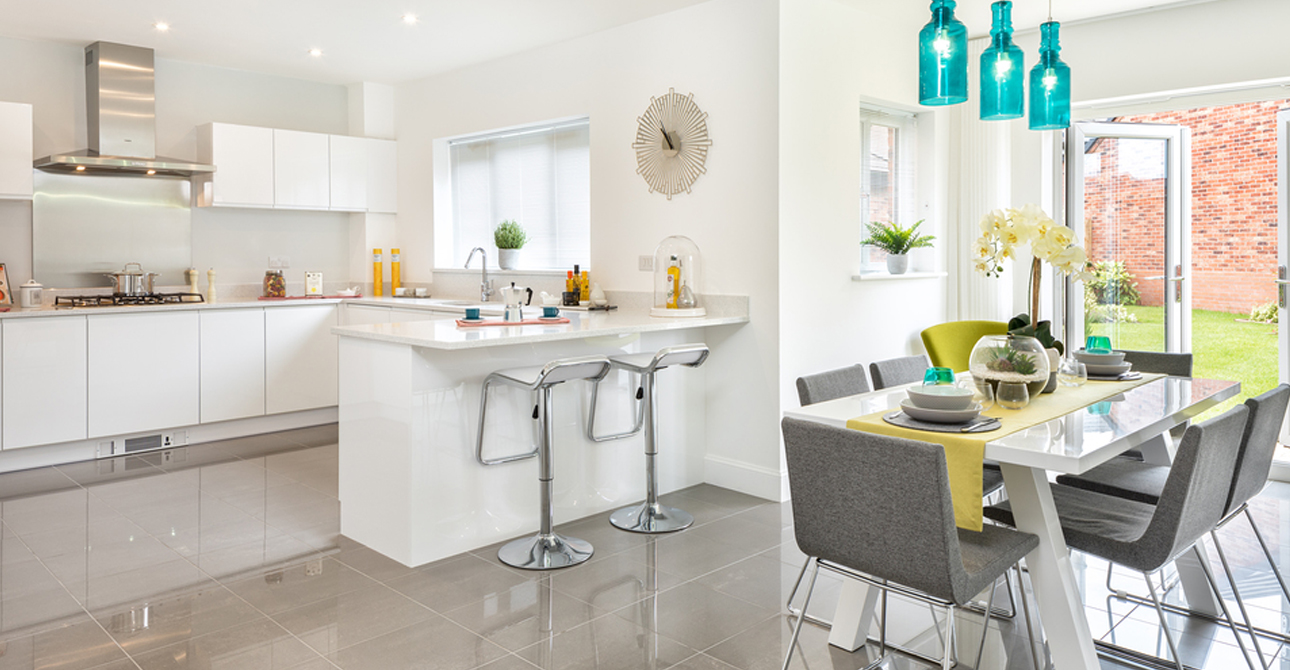 2018 is here and as is often the case, our thoughts turn to the year ahead and the changes we'd like to make in different aspects of our lives. Perhaps you're thinking of saving for a deposit, moving to a new house or re-decorating? Here at Miller Homes, we've been inspired by kitchen trends from Ideal Home and Better Homes and Gardens, set to take hold in 2018, more specifically: white kitchens. The reason? White never goes out of style – you'll have a modern kitchen that exudes style and luxury.
Splashes of colour
Opting for a neutral scheme in a kitchen that overlooks a garden is the perfect blend, especially with large windows or French doors. The pops of green and florals from your garden will enhance your white interior. To get the full experience of the outdoors, why not position your dining table in view of your garden and take advantage of the natural light? Our kitchen visualiser tool showcases our Woodbury kitchen style which offers a sleek gloss finish, perfect for the natural light to bounce off, creating a brighter environment. Investing in some beautiful wooden furniture such as an elegant oak dining table will then create the right amount of texture to break up the colour scheme. House of Oak supply beautiful dining tables including the Manor Oak which extends, allowing up to 12 people – ideal for entertaining guests in your brand new kitchen!
Achieve a splash of colour by bringing the outdoors in and creatively exhibit house plants. Hanging planters and jam jars for small blooms are a quirky way to bring flowers into your home. Succulents and small potted flowers will also bring a fresh feel to your kitchen and stand out perfectly against white. Pastel flower pots like the ones from Not On The High Street would make a great addition, coming in blue, green and pink – colours that will certainly compliment your new kitchen.
Insta-worthy kitchen
To bring some warm accents to your white kitchen, why not add copper to the palette? We love the copper utensil holder and metal dish drainer from Habitat, as well as their contemporary tea light candelabra for your dining table. The copper doesn't have to stop there, using this ever-popular tone for your appliances will also help bring the look together. The copper glass jug kettle from Dunelm and their digital microwave will definitely bring that little something extra to your kitchen.
If you have an eye for art, consider hanging a few canvases around the room – choosing colours that will complement the white colour scheme. If you prefer cooler colours, opting for pastel colours will look great against the white and bring a relaxed calm vibe to the room. The Sea Bliss canvas from Society 6 would achieve this perfectly with the scene of the sea washing up over the beach. To bring a more majestic feel to your kitchen, we love the Sven canvas from Maisons Du Monde, a beautiful geometric design, reminiscent of Nordic style – bound to stand out on your wall.
For keen cooks who have to display their favourite ingredients, Kilner jars from Silver Mushroom are a classic option that can even be customised with your own labels to brighten them up – instantly creating an "insta-ready" kitchen!
Kitchen counter choices
Here at Miller Homes we make sure that we provide a huge range of kitchen styles to choose from, and we of course offer the on-trend white kitchen. For our Woodbury kitchen, we have worktops in three different styles, including: Dark Ash, Liberty Rock, and Stella Mare. Each option brings a different contrast from the white cupboards with Dark Ash being the lightest colour and Stella Mare the darkest, echoing the style of granite. You can use our kitchen visualiser tool to work out which would be best suited to your taste. If you're interested in the Oregon kitchen, as opposed to the Dark Ash worktop, you'll have the choice of the Copper Slate which would look great as the backdrop for copper accessories and utensils.
We hope we've provided plenty of inspiration on how to style this year's hottest kitchen trend, and if you need further assistance, don't hesitate to get in touch with our team.
Published:
16 January 2018 at 10:01