A Guide To Gin In The Home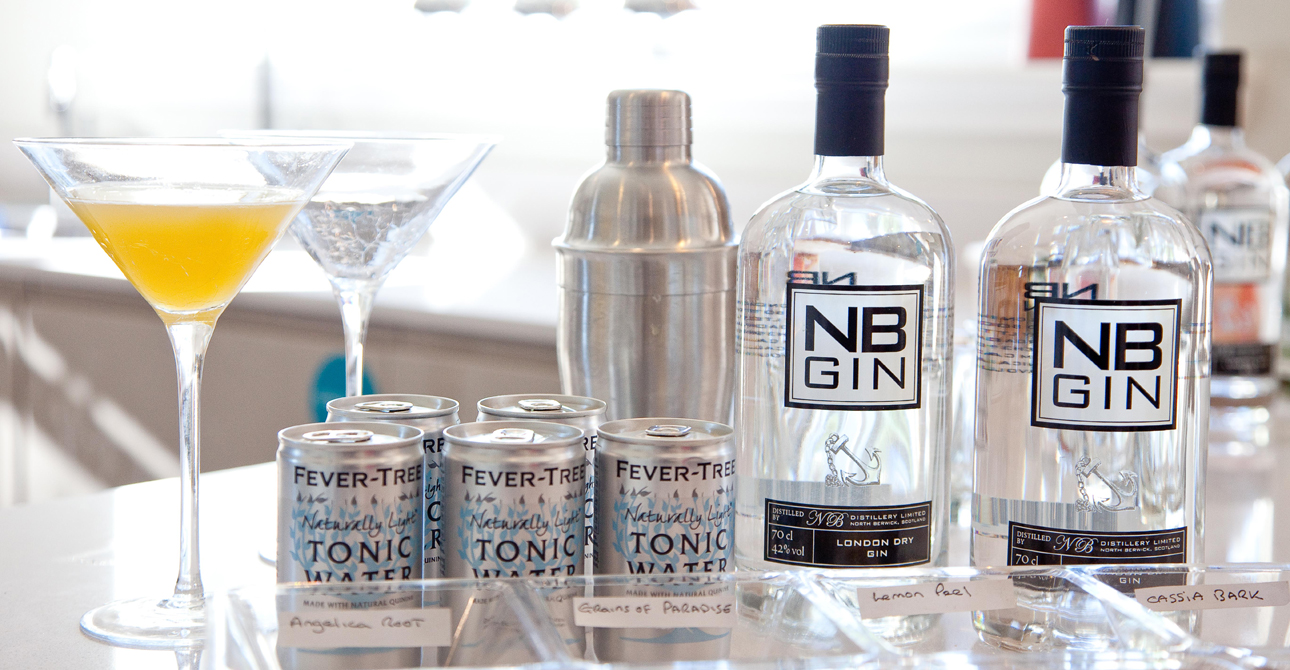 Its official, gin has become the in thing…or should we say, the "gin" thing. Growing vastly in popularity over the past few years, more of us than ever are buying the stuff, but what's the best way to drink it? How should it be served? And with so many on the market, how exactly do you pick the perfect one for your taste?
Vivienne Muir, CEO of North Berwick Gin recently visited our Ferrygate Meadow development to give house hunters a taste of the world's best London Dry Gin as they toured our brand new Chichester showhome. We sat down with her to discuss all things gin.
Its history…
Gin has a very fascinating history. It was first produced in Holland in the 17th century - originally used as a medicine to treat stomach complaints, gout and gallstones. The popularity of gin then soared in the UK during the 18th century, causing the infamous "gin craze" – a literal epidemic of extreme drunkenness in cities throughout Britain. This was so serious that parliament passed five major Acts to try and stop its production.
Ever since, gin has constantly evolved and is still evolving in the UK, especially in recent years as we see lots of momentum in its production and a wealth of different gins available on the market.
Different types of gin…
The most simplistic way to categorise gin is London Dry and non-London Dry. London dry is more complex, all of the flavour comes from the distillation process. It's the natural oil from this process that flavours the gin. Plus, the longevity of the flavour is greater with London dry. At NB Gin, all gin is distilled using the London Dry method.
Non London dry is a slightly different process, and flavour can be added after distillation.
Perfecting the G&T…
This really depends on what gin you're using – different gins call for different garnishes. For example, NB Gin goes extremely well with citrus fruits such as oranges or pink grapefruit, whereas if you're drinking Hendrix, you would tend to garnish with cucumber. Generally, the flavour of the garnish should complement the type of gin you're drinking.
A quick and easy gin cocktail recipe…
An NB Seadog. This combines fresh thyme, pink grapefruit juice and a hint of black pepper with NB Gin to create a unique, modern cocktail.

Ingredients:
2 sprig of fresh thyme
50ml NB Gin
Fresh Pink Grapefruit Juice
2 twists of black pepper
Wedge of lemon

Method:
Place the thyme in a tall glass; add crushed ice and the NB Gin; top up with the grapefruit juice. Add a couple of twists of black pepper and a wedge of lemon.
Key ingredients to stock up on this summer…
Blood orange season is coming up - a really simple, refreshing gin serve is blood orange juice, light tonic, NB Gin and some ice. So I'd definitely say key ingredients to stock up on this summer are blood oranges or blood orange juice.
Top tips when serving Gin…
Classic G&T's are always the best – light, refreshing and drinkable throughout any season.
If you're using NB Gin, light tonic and any citrus fruit to garnish will work wonderfully, however NB Gin was designed to stand on its own – so you don't necessarily need a garnish at all.
When entertaining guests, "a build your own" gin station is a quirky, fun way to try out different serves. Set out glasses, an ice bowl, straws and a selection of fruits and herbs so your guests can create their own personal G&T. A great start to any party!
Celebrity gin…
NB Gin created a cocktail for the BRIT Awards After Party. It pairs citrus and honey – a duo made in heaven. Little wonder it was named the B's Knees!

Ingredients:
50ml NB Gin
25ml Lemon
25ml B's Syrup

Method:
Shake all the ingredients over ice in a cocktail shaker and double strain to a coupe glass. No garnish required.

To make the B's Syrup mix the following ingredients together and allow to cool:

250ml Bees Honey
125ml Hot Water
2 Rosemary Sprigs
5g Crushed Black Peppercorns
Published:
29 March 2017 at 08:03