Revitalise your home with 2017's must have shade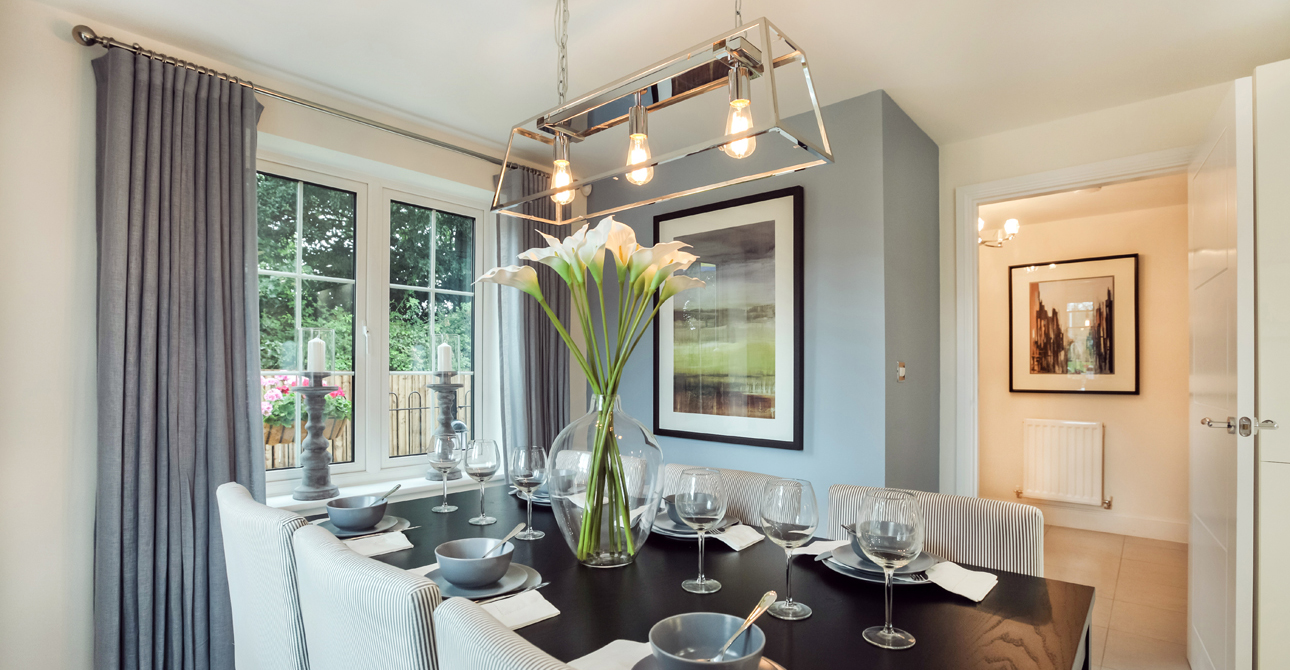 The blue hue 'Denim Drift' has been officially announced as Dulux's Colour of the Year for 2017. The leading paint brand has also created an accompanying colour palette to complement 2017's winning shade, which features a spectrum of blues and blue-hue tones.
We're looking at how you can incorporate this stunning shade into your home, as well as how best to accessorise around this unique and adaptable colour.
The colour…
Blue is the colour of the sky above us, the clothes we wear, our favourite worn our denims and as of this year, the colour to paint our walls. A timeless and versatile shade of grey-blue, 'Denim Drift' is set to be the must-have colour for the year ahead. Even the experts agree! Dulux's Colour and Design Trend Expert Rebecca Williamson says:
"Denim Drift and its complementary colour palette of tonal blues shows the growing importance of this colour area which we are constantly surrounded by. It's the world's favourite colour. There is a colour combination for everyone's taste and preference, but just like in our wardrobes, that soothing denim blue is our firm favourite."
'Denim Drift' combined with the lighter shades of paint in the palette has a crisp and airy feel, whereas with the darker colours it's more dramatic and moody, creating a truly accessible range that can be easily translated into interior decorating
In the home…
Ideal for using in living spaces to bedrooms, the calming influence of blue will bring a great ambience to your home.
When using blues in the home, deep shades work well in larger rooms, as the space will not feel enclose. The Dulux shade 'Story Teller' is ideal and will provide an air of graciousness and dignity. Alternatively, a dusty shade of blue will add personality to even the smallest of rooms. A paler blue on the walls will help the room feel bright and airy rather than small and cramped. 'Tumbled Glass' by Dulux would be a great shade for smaller spaces.
Deep grayish blues work very well in contemporary spaces. This is a nice alternative to pure greys, which can sometimes look dull. You may find that painting one accent wall is enough to add dimension to your room without making it feel closed in. Why not try Dulux's 'Denim Drift' or 'Garden Grey' from the Colour of the Year collection.
Cool blues such as 'Blue Incense' from Dulux, offers a new and understated version of teal and turquoise, yet still has a watery, ocean-like feel. This colour is ideal for bathrooms but also makes a surprisingly nice colour for a family room.
How to accessorise…
Blue and white throw pillows will help revitalise a neutral living room for a fresh spring/summer feel. Cluster a few pieces of blue and white ceramics on the coffee table or a nearby shelf to help the blue feel at home.
Or, for an instant mood lifter, why not try a pop of colour on the ceiling! Soft blue ceilings look amazing with crisp white walls - try this in the kitchen or breakfast nook, or anywhere you want a little boost of happiness and positivity.
If DIY is your strong point, perhaps you could update old wooden furniture with a fresh lick of paint. Wooden kitchen chairs would look great painted blue in a neutral coloured kitchen. Try allowing some of the wood grain to show through to give the furniture a chalky, vintage look.
So if this has inspired you, why not start the New Year off with a bang by planning a move into your dream property with Miller Homes. All properties have been designed to the highest specification with family living in mind. To find out more about a development in your area visit www.millerhomes.co.uk.
Published:
09 January 2017 at 10:01