Get on your bike this Summer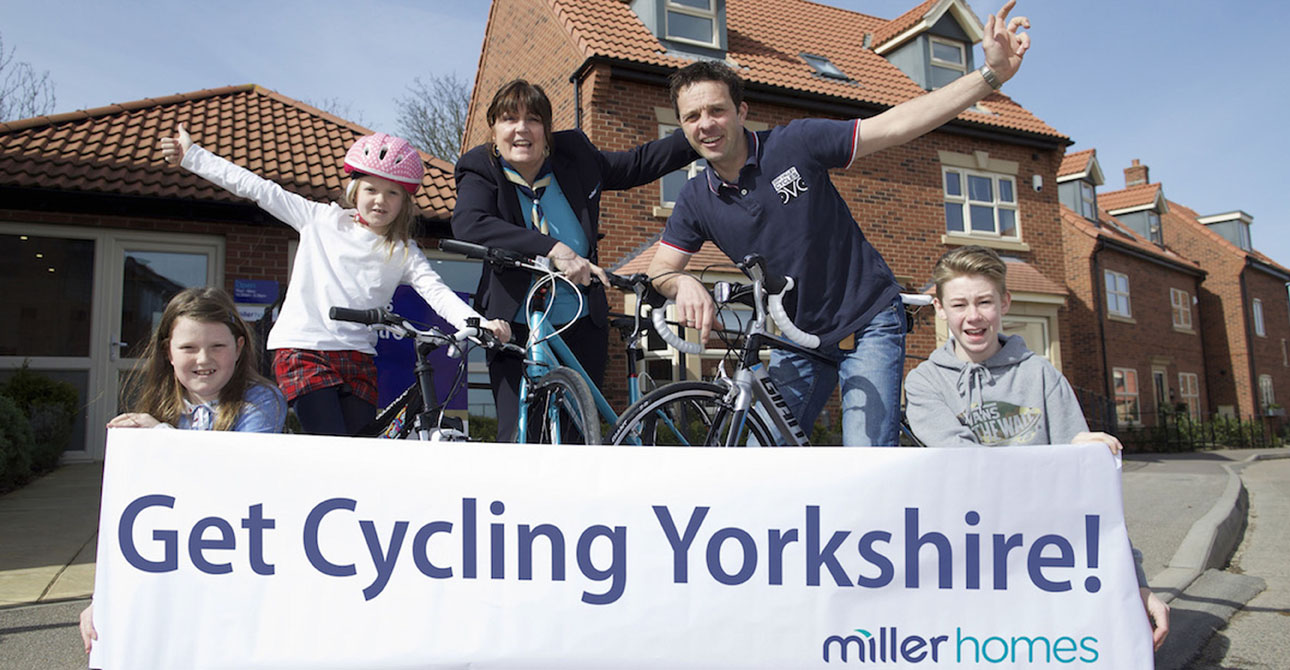 Last year it was the Tour de France that swept through the rolling hills and industrial heartlands of Yorkshire; this year it's the inaugural Tour de Yorkshire! So, as you can imagine cycling fever is gripping the county once again.
Our team in Yorkshire has embraced the event, hosting a competition and working with a school sports partnership to promote cycling as a great way to keep fit for all the family.
But whether you're a complete novice or a seasoned pro, we take a look at how you can get on your bike this summer and the benefits it brings with the help of Martin Maltby owner of Don Valley Cycles Doncaster and winner of Miller Homes Yorkshire 'Summer of Sport' 2014.
Here are our top reasons to get your wheels spinning
- Cycling will help you get fit or get fitter as you use not only your legs to make the bike go but your arms and core muscles to stay on.

- Fresh air and fitness give you a great well-being boost, even in the rain.

- By using your bike for journeys to work or nipping to the shop and it's a great way to do your bit for the environment and reduce your carbon footprint. Calculate your carbon footprint here - with cycling you can only decrease your impact!

- If you're looking to drop a few pounds pre or post summer holiday, 30 minutes cycling at 5mph will burn between 75 and 155 kcal whilst adopting a speed of 15mph could see you burn up to 670kcal (depending on height, weight and exertion). Why not map your ride and know your exact distance and calories burned!

- If you fancy becoming a more competitive cyclist it would be worth investing in some software that can track your ride performance, your routes and your fitness levels. Great to keep you competitive even against yourself!

- It's not all about Lycra but investing in the right clothing which will make your ride more comfortable by keeping you cool or warm whatever the weather.

- Never ever ride without a helmet. No ifs, not buts. Just buy one and wear it!

- Look after your bike and it will look after you. Better than being stranded if it breaks because you didn't clean/oil/service it.
Martin Maltby owner Don Valley Cycles Doncaster, chair of Doncaster Wheelers Cycling club and winner of Miller Homes Summer of Sport competition 2014, said: "We have seen a huge surge in the numbers of people taking up the sport or striving to improve since last year's Tour de France and hope that the Tour de Yorkshire will encourage even more people to take to two wheels and discover what a great place Yorkshire is."
Miller Homes is all about making a difference to the homes and the regions we live. By discovering a love for cycling you can also discover your local environment and build some important community connections whilst having fun with friends or family too!
Have you got the cycling bug and know of good routes around Yorkshire or across the UK? Share them with us by commenting on here or on our Facebook and Twitter pages.
We have also pulled together a Get Yorkshire Cycling Pinterest board to keep you inspired… get pinning!
Published:
05 May 2015 at 02:05