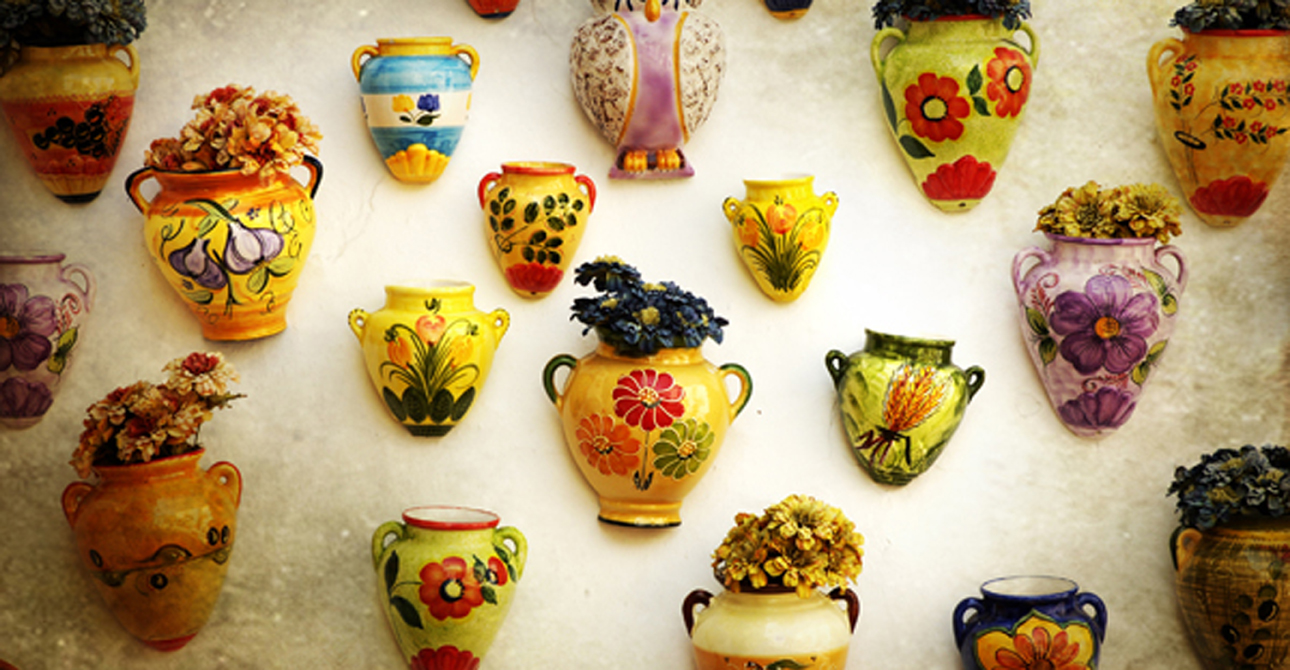 Our home décor can really be personalised by taking inspiration from a variety of sources. As we hit the holiday season, travel and the culture of different countries can offer endless opportunities for inspiration, which can be built upon over the years.
No matter if your favourite travel destination is in Europe, South America or Asia, there are lots of ways that you can bring this part of your life and the world into your home.
We've taken a look at some of the most popular travel destinations for people in the UK and some of the items you could collect whilst you are there.
Spain
Spain is a great place to pick up brightly coloured and patterned handmade pottery. Markets are held in most Spanish towns once or even twice a week. At the markets you can pick up fresh produce, crockery and textiles, which you could use to make items such as curtains or table cloths.
One of the most popular patterns you'll find in Spain is Moorish. You can find handmade tiles, pottery and textiles all displaying the traditional Moorish pattern.
Netherlands
Cloggs and wooden shoes are a typical tourist item to buy in the Netherlands, however they can make great ornaments for your home. They'll look great either on a shelf or hung from a wall.
Delftware originates from Delft in the Netherlands. Delfts blauw more commonly known to us as blue porcelain, is sold almost everywhere in The Netherlands. You can get an endless variety of items in the classic Delftware pattern.
Turkey
The spice markets in Turkey are a fantastic experience, you'll find stall after stall displaying countless sacks of spices. You'll also find lots of spice grinders and racks, in a variety of colours and styles. This will be a great accessory in your kitchen.
Turkey's tribal carpets and kilims represent a cultural tradition that goes back centuries. Kilims will look great in your living room under a coffee table and are much cheaper and better quality than what you could buy in the UK. Collectors travel from all over the world to snap up the carpets and kilims made in Turkey because of their expert artistry and quality.
Mexico
Mexican pottery reflects ancient techniques and modern skills. Uriarte is the place to go for tiles, pottery and ceramics, they have a large selection.
Textiles are another item that is worth picking up whilst you're in Mexico. To decorate a home in traditional Mexican style, look out for bright warm toned hand-woven rugs and blankets.
Morocco
During your visit to Morocco you'll see hundreds of different types of ceramics, including plates, bowls, cups, and decorative pieces.
Traditional Moroccan colours are bright, but you'll still be able to find natural coloured ceramics and pottery. Make sure you wrap any ceramics or pottery that you buy in bubble wrap or even a beach towel will help to protect your items from breaking whilst you are travelling.
A handmade Moroccan lamp or lantern is a great home décor item and they can be easily transported. At markets and shops you'll find an extensive range of shapes, sizes and materials.
Thailand
If you're visiting Thailand bring home a mango wood vase - you'll be able to find them in a variety of shapes and sizes.
You should also take a look at the bright coloured and patterned table runners available in Thailand. Table runners are light weight, therefore perfect for fitting into a suitcase or backpack.
If you visit the Thai markets you'll be able to pick up fresh soap ornaments. You could hang them in your home or car as they look and smell nice.
Thai silk, is another great purchase which can be made into household items such as cushion covers, table mats, runners and bed spreads. The silk can be found in a variety of bright colours. If the silk is a little out of your budget you'll be able to find similar textiles at market stalls and beach vendors.
Throughout Thailand you'll find a lot of very pretty lamps, lanterns and fairy lights. The lamps and lanterns all come in a great range of colours and patterns that will look really nice at home.
Buying authentic items whilst you are on your travels can create an interesting talking point for visitors.
For more inspiration for home décor visit our Pinterest boards.
Do you have items in your home that you have bought on your travels?
Published:
22 July 2015 at 10:07