Become an Energy Superhero this Earth Hour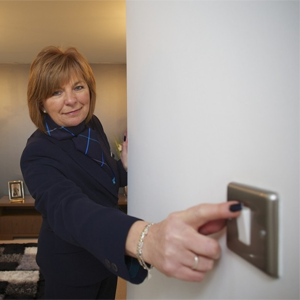 With backing from celebrity superstars such as The Amazing Spider-man's Andrew Garfield and Emma Stone,
WWF's Earth Hour
is fast approaching and this year you can transform into your own superhero by switching off for an hour this Saturday (March 29th).
Earth Hour is the world's biggest celebration of our planet with millions of people from across the globe coming together in a symbolic and spectacular light-outs display to show support for action on climate change and for more sustainable planet.
CO2 emissions are the cause of climate change and global warming. The primary source of CO2 in the UK is electricity generation, responsible for a third of the nation's emissions. Changing the way we use electricity in our homes can help to significantly reduce our emissions and has the added benefit of saving us money in our electricity bills.
In support of our pledge to create
A Better Place
through our new sustainability strategy, we have compiled some top tips on how we can all make a difference around the home and take the step towards a brighter future.
• Turn off any electrical appliances instead of leaving them on standby. A computer left on 24 hours a day can add £50 a year to your energy bills and appliances left on standby can account for 10% of your electricity bill.
• Defrost fridges and freezers regularly to improve efficiency and don't put hot food in the fridge. Let it cool down first.
• Putting radiator panels behind your radiators could save you up to 20% on energy bills, whilst ditching window blinds and making a style statement with thick curtains will help to keep your home insulated.
• Invest in an eco-kettle. Most people boil enough water for six cups of tea when they are only drinking one. An eco-kettle is an inexpensive way of being energy efficient and bringing down your electricity bills*
Since the officially launch in Sydney in 2007, Earth Hour has grown to engage with more than 7,000 cities and towns. The event is held worldwide towards the end of March annually, encouraging individuals, communities, households and businesses to turn off non-essential lights for one hour as a symbol for their commitment to the planet.
Earth Hour 2014 starts at 8:30pm locally on Saturday March 29th. For further information on how you can help, click here.
For further information on our sustainability strategy, A Better Place, please click here.
*Sources: The Energy Saving Trust, ElectrictyInfo.org
Published:
27 March 2014 at 12:03