The 1970s (A Decade of Major Progress)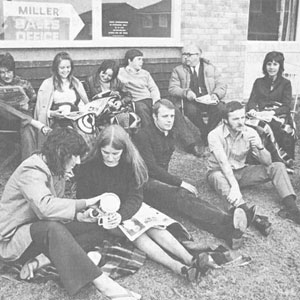 In celebration of our 80th year, we are revisiting our heritage as we outline the story of how we became one of the UK's leading housebuilders.
Following the boom period of the late 1950s and 60s that drove the growth of home ownership, the 1970s was a decade of real progress for Miller Homes, which at the dawn of the decade established 'Miller Homes Northern' as part as part of the wider Miller Group's expansion plans.
Meanwhile, our Southern division was going from strength to strength, with all 20 new homes at the first phase of a new development in Chatham selling on the day of release. Some young couples had camped out on the lawn of the show home for three days to secure their new home! In November 1972 we celebrated the handover of the 1000th house at this development and it remains one of our largest to date.
Further reinforcing the point that the desirability of our homes was as intense in the 1970s as it is now, in 1976 customers queued for up to 48 hours before the release of the third phase of homes at Greenfields Estate in Whitfield, Dover! Twenty, two- and three-bedroomed properties were released and sold within the day, with prices between £10,900 and £12,500.
Our designs have always been progressive and throughout the decade we introduced several new house types to the market in a bid to meet the needs and wants of our customers. We also introduced the concept of a 'garden room' in 1974 - a large basement room covering the entire floor area of the house. At the time a garden room would increase the value of a £8,450 villa by £500.
Benefits and incentives became prominent during the 1970s and in 1975 we introduced an innovative cash benefits scheme at developments in Bearsden and Paisley where buyers received monthly cash payments into their savings account over a three-year period. This scheme was originally introduced to assist first time buyers.
We also began to be recognised for our high health and safety standards and in 1975 we received an award from the British Safety Council for our outstanding record. A Miller home has always represented good value and in 1977 we were recognised for having a 'Best Value for Money Home' in the Buying Your Home magazine awards.
To see a range of historic Miller Homes photography be sure to follow our pinterest board.
For information on our developments please visit our website.
Published:
02 June 2014 at 12:06