Creating Homes For Nature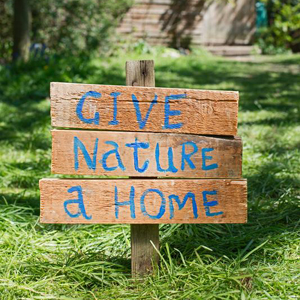 Almost a year ago we launched our 'Giving Nature a Home' campaign, which aims to tackle the challenges facing some of our best-loved garden wildlife including hedgehogs, birds, butterflies, toads and much more.
Research has shown that of 3, 148 species studied across the UK, more than 60% have declined over the last 50 years. Some common garden species are decreasing rapidly, with starlings, swifts, toads, hedgehogs and others struggling to make home in the wider countryside due to loss of habitat and other factors. Giving Nature a Home is our response to these alarming statistics. We want to encourage as many people as possible to give nature a home where they live, to create one million new homes for nature across the UK and see gardens, allotments, parks and the wider countryside teeming with a wide variety of wildlife.
We've recently teamed up with Miller Homes to encourage its new home owners to welcome wildlife into their gardens and communities. Under this joint initiative, purchasers at selected developments in regions across the country will receive a garden bird nest box along with a booklet of helpful hints and tips on how to encourage biodiversity by making their gardens a place where birds and nature's other creatures can thrive.
If you're interested in finding out more about creating homes for nature, visit our website for a wide range of tips and suggestions. Even simple measures such as planting wildflower for bees and other pollinators, resisting the urge to clear up fallen branches and letting your grass grow longer can really help. Our website also gives examples of some more involved projects like putting up nestboxes for garden birds, creating a pond or water feature, or building a 'wildlife stack' (which is basically a high-rise tower block for garden wildlife!). Projects like these are great for the whole family to take part in, having fun together whilst learning more about the fascinating creatures that share and are important members of our communities!
Catriona Webster
Media and communications officer at the RSPB
Published:
09 June 2014 at 12:06