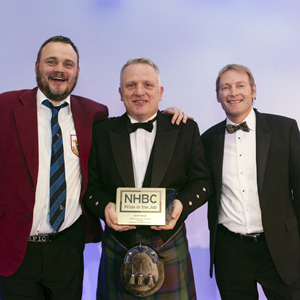 Rounding off another successful year in the NHBC Pride in the Job Awards, I am delighted to announce that Scott Brown has been awarded the prestigious NHBC Supreme Award.
Following an 18 month judging process, Scott was crowned the Supreme Award-winning site manager in the multi-storey category, for his work at our Varcity development in Edinburgh. Fellow site manager, Jim Martin from Regents Park in Fife, also made it through to the Supreme Awards ceremony in London after winning a regional award.
This takes our tally in this year's awards to 23 Quality Awards, 11 Seals of Excellence, two Regional Awards and one Supreme Award – a great result!
Over 13,000 site managers working on NHBC registered sites are automatically entered into the competition and for one of our own to win shows our commitment to delivering the highest quality homes possible. I'm sure everyone at Miller Homes and beyond will join me in congratulating Scott for this recognition.
I would like to once again congratulate all of our site managers who received accolades in yet another successful year in the NHBC Pride in the Job awards and to Scott for this fantastic achievement.
Chris Endsor
Chief Executive
Miller Homes
Published:
22 January 2014 at 12:01