Christmas Wrapped Up For New Home Owners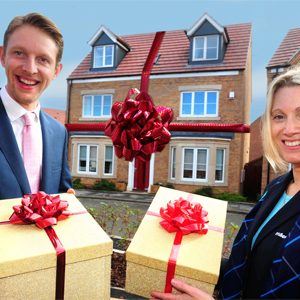 Christmas is only a few days away and there are always a couple of people on our lists that puzzle us when it comes to picking out the perfect present. However, if you have friends or family who have moved recently, something for their new home could be the ideal gift for them.

We've compiled a list of easy to get gifts that will help anyone settle into their new home and bring a smile to their faces come Christmas morning.

• Comfort food recipe book – with the holidays in full swing, new homeowners will want to make the most of their new kitchen during the festive season. A brand new recipe book with easy makes would mean one less thing for them to worry about when it comes to Christmas dinner as well as giving them some new recipes to test out their new gadgets. It will also get them through the cold winter nights if you pick out a book filled to the brim with warming comfort foods and, since it's Christmas, almost every celebrity chef has a new book on the shelves so the choices are never ending.

• New home starter kit – some people don't truly feel at home unless they have a few of their favourite things around them. Get creative and pull together a new home starter kit. This means you can mix and match your gifts while adding a personal touch specific to the owners. Include things like candles, small plants, toiletries or even some essential spices to add to their kitchen.

• Toiletry set – help them settle into their home with a relaxing toiletry set. A fresh set of towels with some soap or a candle will create a spa-like present. Find out what their favourite scents are and include them in your gift to help them soak away any final moving stress.

• Custom art – popular all over the market and bang on trend, custom art is a great gift for anybody. The choices are endless – the date they moved, co-ordinates of their new home, a personal message, their first key framed and so much more. An added benefit? It'll be 100% unique!

We hope our list of last minute gifts gives you some ideas for your friends or family who have recently moved. Be sure to check out our pinterest board for inspiration.

For information on our developments, please visit our website.
Published:
22 December 2014 at 12:12