How to Bring the Outdoors In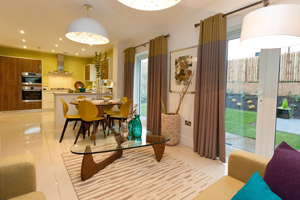 As the weather finally starts to improve it seems everyone is eager to spend more and more time outside. However, although the sun may be shining there is still a nip in the air, so we thought we would share a few handy hints and tips to help bring the outdoors in.
There is no better way to create an indoor/outdoor environment than using fabrics and furniture inspired by nature. Such materials are not only perfect for this time of year to get you in the mood for summer, but ideal all year round too.
The use of natural materials can be a subtle way of bringing a more outdoorsy feel to a home. Wood, slate and stone effect materials are all popular for kitchen top surfaces and flooring and can be lovely and cool underfoot on a warm summer's day.
If you're looking for an understated look, wooden furniture can add a rustic or outdoorsy feeling to any room. Vintage-inspired pieces dominated the trends during 2013 and we can expect to see a lot more wooden furniture retaining that vintage feel throughout 2014.
A feature wall can also add a dramatic focal-point to a room. Using floral wallpaper or one inspired by nature can help you achieve a botanical look in your home. However, if wallpaper isn't your thing, nature inspired colours like olive green, mustard yellow and lights browns will help create the look. Alternatively consider adding some striking wall art to help bring the outdoors in.
Many of our homes, such as The Darwin a three bedroom semi-detached, or the four bedroom detached Glenmuir, include double French doors that open from the living room directly out to the garden. Take advantage of this fabulous feature when entertaining guests or enjoying lazy summer evenings - after all, there's no better way of enjoying the beautiful outdoors and nature than from your own back garden.
If you want real hands on inspiration, why not pop along to one of our Choices Centres where we have a whole range of flooring, carpets, kitchens and bathrooms to offer ideas for your home. We're sure you'll love the range and how we can help bring a little more sunshine into your home.
For more inspiring ideas on how to bring the outside in, visit our
Pinterest board
.
Published:
07 April 2014 at 12:04