Why Recycle When You Can Upcycle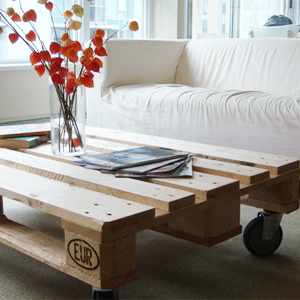 Lurking in sheds, attics and cupboards all over the UK are items that are too good to throw away, but are not wanted or needed anymore. This is where 'upcycling' comes into play - the latest furniture craze sweeping the UK. With upcycling, instead of perfectly useable items going to landfill, someone sees the potential in them and gives them a brand new lease of life.
The ethos of upcycling is to reclaim old treasured pieces by putting a modern stamp on them, perhaps by painting or embellishing them, cutting bits off, or adding bits on. Sometimes the function of an item can be changed completely – for example an old bath tub cut in half could end up as a rather fetching chair!
Upcycling is a great way to personalise your home – after all, who really wants a living room that looks like a page from a home catalogue?
Upcycled furniture is completely unique and can be very stylish; and, what's more, it can also be sourced for free if you know the right places to look!
Websites such as Freegle and Freecycle have brought together grassroots movements of people who are giving (and getting) stuff for free in their own towns. These sites match people who have things they want to get rid of with people who can make use of them, thus reducing consumerism and consequently our impact on the earth. The rules of the sites state that everything posted must be free, presenting a fantastic opportunity for those on limited budgets.
Here are some great upcycling tips:
- Any kind of upcycling is good, but if you can use items made of plastic then all the better. Plastics can take hundreds of years to break down and unfortunately some are predicted to take millions of years. Any plastic that can be upcycled means less in our landfills and a reduction in consumption if you can avoid buying something new.
- Sometimes you don't have to look too far for products or materials to upcycle, and there are hundreds of things you can do with your pre-loved fashion. For example old shirts could be transformed into bags or cushions, and denim can make great upholstery fabric given its durable characteristics. Spare buttons and broken accessories can make great pieces of art - a quick search on the internet will provide endless ideas.
- Take your time! There's no point dedicating time to upcycling something only to end up with a mediocre product that you don't love. Many people associate recycled or upcycled products with poor quality or a sacrifice in design or functionality, but that doesn't have to be the case. Pay attention to detail and take the time to complete a project properly so that your new item will be one of value, and something that you'll want to hold onto for years to come.
- Pallet upcycling is fun and extremely popular at the moment. They're versatile, available in abundance and take up lots of space in landfill - which makes them ideal candidates for furniture projects.
- It doesn't always have to have a purpose. Upcycling is an artform in itself, and there are examples of some incredible pieces of art that have been upcycled from ordinary bits of household junk. Beautiful portraits made of junkmail; enormous sculptures made of tyres and scrap metal; smaller sculptures made of phone cords and wire coat hangers; chandeliers made of spoons, pens and bike chains; wall features and murals from buttons, paint cans, bottle lids and other small objects; and even walls of plastic rubbish as art installations to remind us all that it doesn't just go away. Use your imagination and you'll be amazed at the results.
Achieving a stylish, contemporary home doesn't have to mean spending lots of money. Time, patience and a little bit of ingenuity are all it takes to really personalise your space. Next time you need something new for your home, why not give upcycling a go?!
View our pinterest board for upcycling inspiration.
Published:
17 September 2013 at 11:09