A place for everything and everything in its place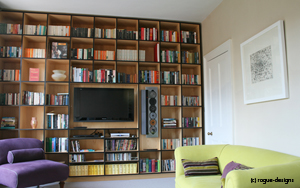 Whatever size of property you are living in, it always seems to be the way that there's just never enough space to store everything… particularly when children are involved!
Nothing makes you feel more uncomfortable in your living space than clutter and disorder, and with that in mind we've come up with a few handy tips to help you to get organised:
• One of the most practical but least utilized storage spaces in the bedroom is underneath the bed. By using underbed storage bags or boxes, you can easily store out-of-season clothing and blankets or other seldom used items.
• Most wardrobe spaces are poorly planned, so don't allow yourself to be limited by the standard hanging bar and shelves. Why not install additional rods, or purchase stackable shelves or rolling carts to increase the useable space.
• In the kitchen, over-the-door racks can be used to store canned goods, spices and other kitchen supplies. Make the most of existing shelves and cupboard space by adding shelf expanders and cabinet organisers.
• In the bathroom, rolling units as well as wall-mounted racks can be used to store personal toiletries. Over-the-door racks can again be used here to hang towels or bathrobes.
• Entertainment systems are a practical way of combining your television, stereo and other media equipment and accessories neatly into one area. Look for a solution that features shelving or drawers above or below in order to really maximise the vertical space.
• Another way of increasing storage capacity in the living room is to use tables or ottomans that double as storage containers.
Published:
23 September 2013 at 08:09