Getting Creative on a Limited Budget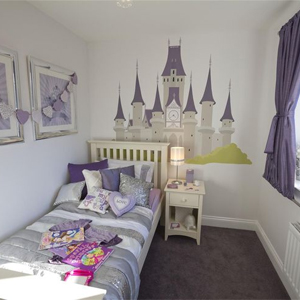 In recent weeks we've been working with leading Yorkshire-based interior designer, Jeanette Holmes, to bring you a series of great design tips for decorating children's bedrooms. Here, Jeanette offers her advice on ways to get creative with a limited budget.
"There are some fantastic products around to create great kids' spaces without spending a fortune.
"A simple painted feature wall with wall stickers or transfers is always a great favourite. Themes can range from 'underwater' to 'monster trucks' - the list is endless. Try eBay for wall stickers, they have a great selection!
"Using wipeable emulsion or even blackboard paint is a great idea. There are endless different types of cost-effective paints available, for example glow in the dark, metallic or glittery – and all can be easily covered once you are ready to redecorate. Using these paints teamed with wall posters and stickers can create a great, cost-effective, spruced-up bedroom.
"Simple transparent storage boxes with lids make great, cost-effective, stackable storage; keeping toys and games easily accessible and tidy.
"There is also a great choice of printed children's bed linen available on the High Street that can add colour and style to any budget room. Add in a few sparkly or fur cushions, giant floor cushions, or simple shelves for books and you can soon achieve great looks for very little outlay."
Published:
22 October 2013 at 04:10